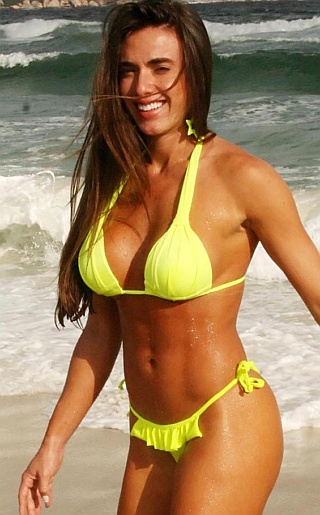 It's the Lance Man back for another week of great Celebrity Bikini Gossip fun.
I thought I'd start this week off with a super hot photo of Brazilian model Nicole Bahls. We featured her before on CBG and our internet fans went crazy over her photos.
Nicole has an absolute fantastic body and face to match. I don't know if she can speak any English but I don't care any about that. I would do anything to be able to get a date with her.
The way she's rocking that yellow bikini is unbelievable and she looks so cute standing up on her tippy toes. I'm going to give her the LANCE MAN BIKINI PICK OF THE WEEK. I'm truly in awe of her.
Ok, dudes and dudettes, the Lance Man is out for a few days and up next is a lovely lady who is looking for Mr. Right but can't get one because she's always worrying about what I'm doing on a Friday night. Yes, it's Jenny Bikini. Ok, I'm out, PEACE!
Photo Credit: Flynet