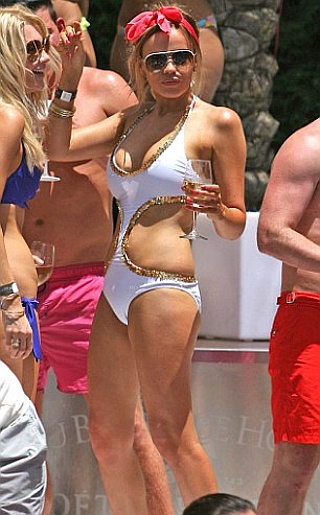 Let's welcome another newbie to Celebrity Bikini Gossip. It's the very outgoing and dynamic Maria Fowler. Who is Maria Fowler? She's an English glamour model and Page 3 Girl. Maria has been featured in UK and Worldwide publications but is most known for her supporting role in hit ITV2 series "The Only Way Is Essex" from 2010-11. That show is super hot and all the ladies on it are beautiful.
Right now Maria is enjoying a cocktail at a bikini beach party. She looks stunning in a white and gold trimmed monokini that brings out her bold hair color. She made sure all eyes were firmly fixed on her with some questionable poolside etiquette, earlier today. The 25-year-old continued her holiday break in Marbella, Spain, by partying with with a large group of friends and sunbathing at Sala Beach Club. That must be really nice.
Ok, dudes and dudettes, it's time for me to glide you over to Miss Jenny Bikini who is always giving me and my buddies Tony Fish, Vinnie Lasagne and Pauly Meathead wierd looks. Maybe she likes one of them and is scared to show it because she's engaged. I don't know but I wish she would stop. They're my buddies and we stick together. She should just worry about driving her boyfriend crazy with wedding plans. I feel a little sorry for him because she's spastic and probably has adult ADD. Where does she get all of that energy? Oh well, this weekend, me and my buds are hanging out local and will probably just go to the beach. No strays, of course. So, don't do anything that we would do and take care of yourself. PEACE!!