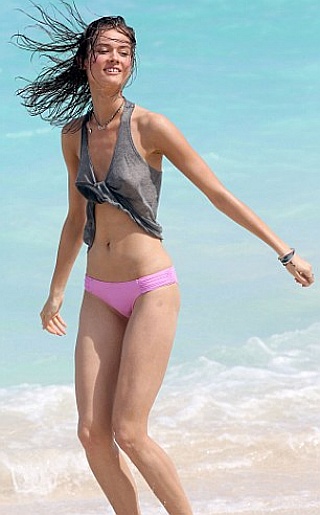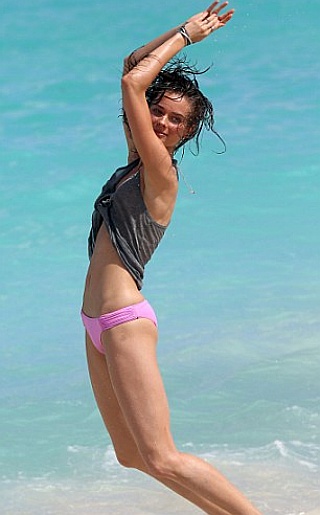 Happy Black Friday! I hope you're recovering well from the feast that you had yesterday because now it's time to shop but, if that's not your style, it's ok, just take it easy and hang out at our website looking at hot celebs wearing sexy bikinis all day. You deserve it.
Ok, let's put down the left-over pumpkin pie for a minute and check out supermodel Monika Jagaciak performing sexy moves while beachside posing on a photo shoot. She's sporting a grey tankini top and pink bikini bottom. Although still in her teens, the brunette beauty is already a veteran in the industry, with dozens of ads and catwalk shows under her belt. She began her career in 2007 and received her first big breaking at the tender age of 13 when she nabbed the fall/winter Hermes campaign. It didn't take long before she began gracing the covers of major fashion magazines around the world, including Elle, Harper's Bazaar and Vogue. However, due to age restriction in the modelling industry, Jagaciak was unable to walk in fashion shows until she turned 15. In 2009, Jagaciak made her runway debut during New York Fashion Week walking for Hervé Léger, Calvin Klein and Donna Karan, to name a few. What a career so far. I'm sure we are going to see so much more of her in years to come.
Alright, my sweet babies, it's time to hand you over to Mr. Lance Butts and his motley crew of dudes who follow him everywhere. They all came back into the office today screaming and yelling really loud just like they always do but because they're guys, they get away with it. I bet if I did that, I would get taken to the side and scolded but he gets free reign. Oh well, I don't mind because I know secretly that I'm my boss' favorite. So remember to love on yourselves this weekend by spoiling and shopping! I'm still stuffed from yesterday and had the best time with my hubby's family. Love you Mom and Dad! Ok, babies, remember that Jenny Bikini LOVES YOU!! Toodles!! Smooches!!