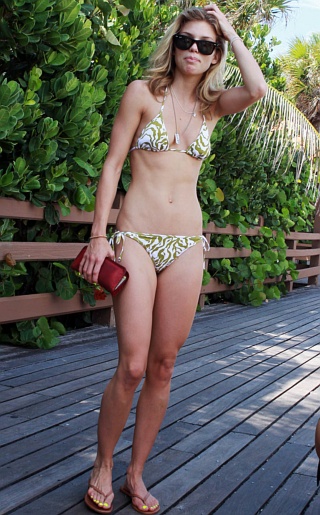 It's the Lance Man and I'm back. Yeah, I know you missed me. I must admit sometimes it's hard getting back to work after spending the entire weekend getting worn out by a bunch of hot bikini models at an exclusive shoot that I was invited too. Yeah we partied afterwards and you know how I party! Ok….let's get started.
Here's a coupla pics of AnnaLynne McCord hanging out around town wearing a really hot bikini. If you don't know who she really is, she's like an actress who always plays the vixen. She was in the FX tv series Nip/Tuck as Eden Lord and was in the movies Transporter 2 and Day of the Dead. So she's getting some work.
I like her because her face is cute and plain while she's walking around normal but hot and sexy when she's on the screen. I just might see if I could hook up with her because I don't see anything about her having a boyfriend and the moment she takes a look at me, I know it's all over.
Ok next……
Photo Credit: Fame