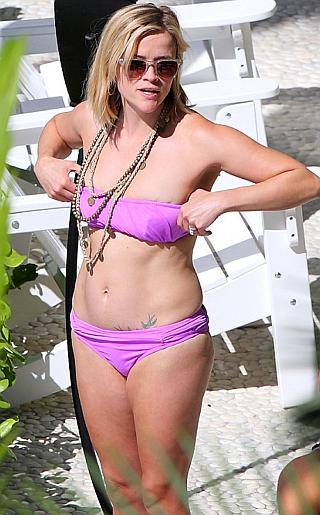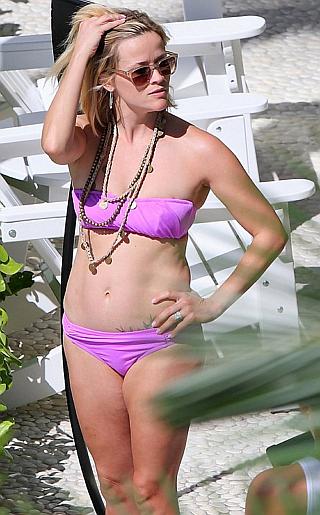 She can be seen hitting the gym on a regular basis. Reese Witherspoon takes a healthy approach to diet and exercise and maintains a slim but curvy figure.
The actress, who has three children, showed off her petite body during a sunbathing session on Sunday. The 37-year-old was seen relaxing in a bright pink bandeau number, showing a hint of the bird tattoo on her hip. Reese made sure to adjust the two-piece so as not to reveal more than she intended to. The actress was joined by a female friend (not pictured because she's not hotter than Reese) and the pair sipped glasses of water throughout the day to ensure they stayed hydrated.
Ok, dudes and dudettes, it's been a fun week posting pictures of hot and sexy celebrities in bikinis and now it's my favorite time of the week! The weekend! My buddies Tony Fish, Vinnie Lasagne and Pauly Meathead and I are hanging out close to home in Florida because it's freezing cold and snow everywhere else in the country. I feel sorry for those people who are totally snowed in and have to shovel their walkway like every day or even a few times a day. I grew up in NYC so I know what the snow life is like and I can say that it's a beautiful thing but I'm not really missing it anytime soon. Give me the beaches and bikinis 24/7. Alright, remember to never do anything that we would do because you are likely to get into trouble! Also remember to never bring home any strays because as you can see from my ex-stalker Josephine, they never want to leave. Ok, PEACE!!