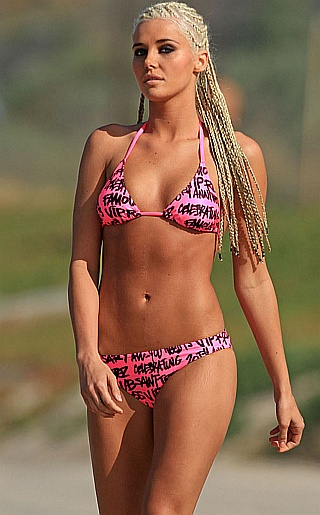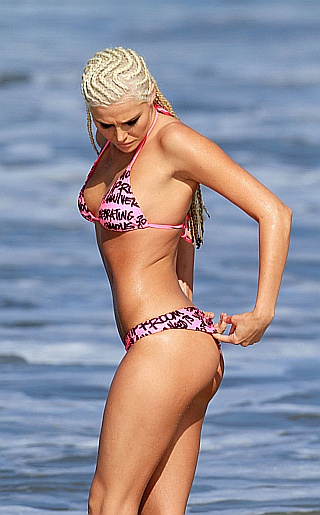 Hey Hey! Yeah it's the Lance Man back to groove and move you with the sexiest celebrities in their hottest bikinis. It's been a long week and lots to catch you up with me!
Before I do that, I want to take a long hard look at these pictures of Playboy Playmate Karissa Shannon looking like "Bo Derek 2011". O…M…G….that about sums up my feelings about how totally mind blowing she looks in her pink bikini with the words "celebrating", "famous" and "VIP" written all over it. Yes she is all of those words and more. Her tan is just mesmerizing and those long blonde braids are truly captivating. It's always such a pleasure Karissa. Now all you need is your own reality TV show with just you.
As for me, my relationship with Gail is under "construction". Oh, yeah, I know just last week we were running through tulips but this past weekend she gave me an ultimatum and the Lance Man doesn't do well with ultimatums. I like being single and hanging out with her but she wants to get really serious…like married serious…so I told her we needed to put a "halt" on things. Even though she wines and dines me, I'm still my own man. Anyways, we'll see how it goes. Oh, btw Barbie and Bambi say "Hi". They came by my place over the weekend with my best friend, Tony Fish, and we had a bbq and all is well. We're friends.
Photo Credit: PacificCoastNews