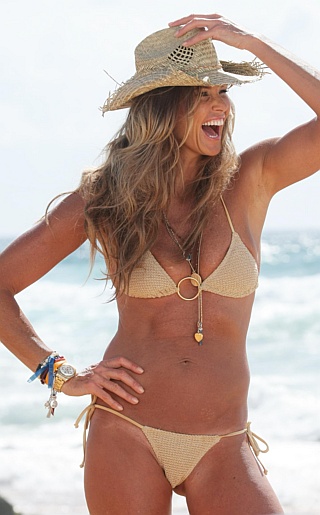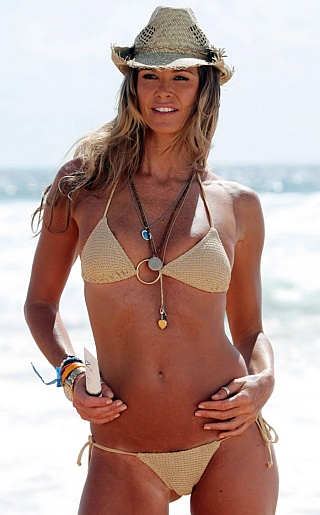 Hey Hey Hey!! Oh yes, it's the super fabulous, fantastic, and fundamentally wonderful Lance Man back from an awesome weekend in Miami with my buddies Vinnie Lasagne, Tony Fish and Pauly Meathead. I love my buds!! You would be very proud of use because we DID NOT bring home any strays!! Although it was very tempting. Come on forget about it, we were in Miami and the strays are plentiful. Vinnie did have a cougar stalker that kept following him around the club but he nipped that in the bud by telling her that he wanted her to tug him in at night and read him bedtime stories. lol
Also, all of the dads, I hope that you had a cool Father's Day.
Ok, let's get this party started out right with new photos of supermodel Elle Macpherson posing in a fabulous cream colored knitted string bikini. Speaking of cougars, at 48 yrs old, Elle looks outstanding. No wonder she was named "The Body" when she posed for a record five cover appearances for the Sports Illustrated Swimsuit Issue. Vinnie likes cougars so when I told him that I was posting pictures of Elle, he nearly had a stroke. Keep up the great work and young ladies take notes from Elle on keeping yourself looking totally hot in your 40's.