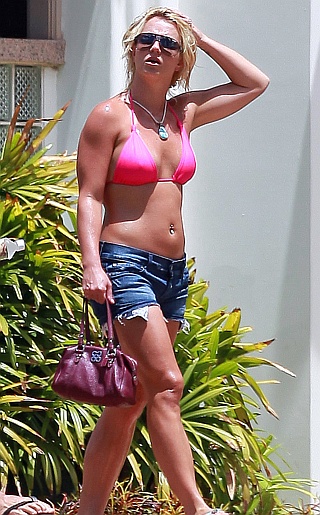 Hey, it's the Lance Man back again with some more pics of super pop star Britney Spears. In these photos she's walking around in a sexy pink bikini top, cut off blue jean shorts and a hot purple purse. Oh and those hot sunglasses of course. I bet she has about 1,000 pair of the most expensive sunglasses you'd ever want to see.
I wish I could get a close up shot of her necklace. It looks really nice and i wonder if it's costume, antique or just plain expensive. There also goes her cute belly button jewelry. All the girls are sporting that and I'm so happy for it.
Brits skin either looks wet or oiled up, I can't really tell. Her hair looks wet too but maybe she's just having an oil day. I could talk about her all day long. Yes, I'm a fan. Not a fanatic but one of her admirers.
One thing that's sad is she might have another 5 years because Britney's premise and stardom is that she's a teen pop star and we still see her as that. When she becomes 35-40 yrs old, she'll have to transition and re-invent herself and I wonder if she can do that. Madonna did but we never saw her as a teen star, she was always just a star. These next 5-10 yrs will be very interesting to see how Brit's career continues, if it does. Who knows who will come out in that time and that person just may blow her out of the water. Stay tuned!
Photo Credit: Flynet