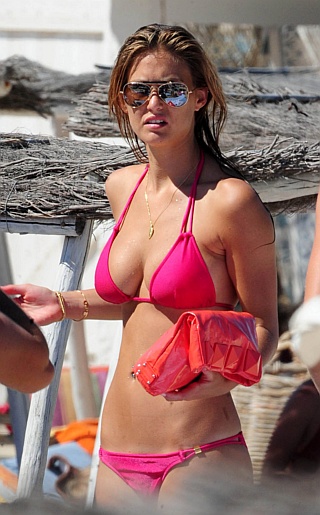 Hey dudes, yeah it's me the Lance Man, barely back from the date from hell. Oh dudes, check this out. Remember I told you I was going on a hot date with this super model chick? Well she turned out to be a psycho stalker chick from hell. Dudes, she tried to slip me something in my drink so I'd marry her, dudes….wtf? I spent the entire time trying to get away from this chick and she was hot! 5'10, 110 pounds, strawberry blonde hair and 44D breasts and a cute face too. But she was super psycho. I'm just happy she doesn't know where I work. Ok, let's get on with the celeb talk. Dudes, she got me scared, dudes…..
Here's the always super hot model Bar Refaeli hanging out in a sweet pink bikini. If you don't know who she is, she's like a model and Leonardo DiCaprio's girlfriend. I bet she doesn't call his cell phone like 50 times in 10 minutes or text him crazy notes. She's hot too but you have to watch out for them, right?
Bar is super hot and I'm just standing by wondering how long her relationship is going to last and if it doesn't, I'll be happy to give her a call. I'd probably just drop Leo a line to ask him a few questions about her, just in case. You never can be too careful, I've learned.
Photo Credit: Inf Daly