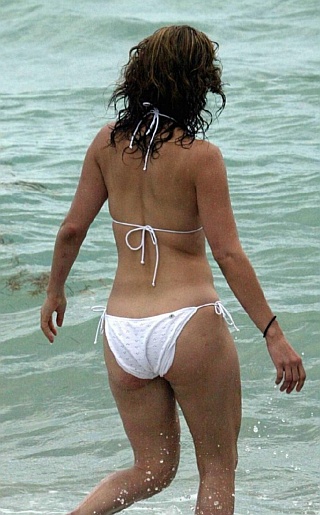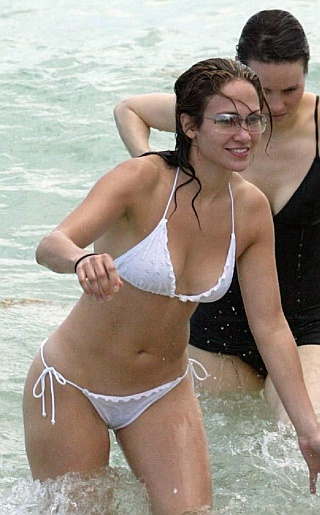 Dudes!! I'm in so much trouble! I can't really remember too much of what happened but I'll tell you all about it. Why am I such a slug? Anyways…
Let's get ready to dance along with Jenny from the Block – aka: Jennifer Lopez. The newest judge on the American tv show "American Idol". I'm anxious to watch the show to see how she will judge the contestants. I think she'll be too easy on them and will probably let through a bunch of no talent losers. You have to be very firm and particular because last season's show really sucked. None of the contestants were any good, in my opinion and as you can see, we haven't even heard anything from last season's winner. Where is he now? What's his name…I forgot…who cares.. I'd be a great judge so if JLo doesn't work out Simon, call me. I'm cheaper too.
Now let's talk about JLo's white bikini pictures. Where's the junk in the trunk JLo? I thought having twins was suppose to make you more curvy. You've been at the treadmill too much. You need to eat some more rice and beans to get that booty back.
Now about my weekend…..dudes….I got married. I think her name was Julie or Julianne or something like that. I woke up in this Vegas hotel with a chick laying on top of me. I jumped out of the bed and ran to toss my cookies in the toilet when she comes in looking at her wedding ring and talking about how much she liked the way I proposed???? What??? I don't even know you! Tony Fish said I got smashed out of my mind, hooked up with this chick and said I loved her and we were married. I need to get out of this mess. Barbie and Bambie are not speaking to me. Tony said he tried to talk me out of it but I wouldn't listen. I can't remember anything. Tequila mixed with rum and a vodka chaser does that to me. Tony said there's a dude in Vegas that specializes in annulments because people do this all of the time in Vegas so I hope he can help. I'm such a slug.
Photo Credit: Jlo Pics