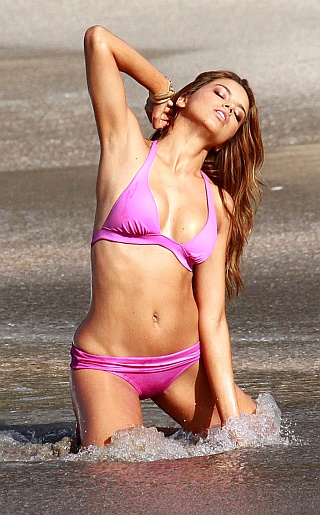 Hey peeps! Yes it's the wonderful Lance Man back to move and groove you with hot celebrities in sexy bikinis! For a while there, drama subsided in my life but it's back. I'll tell you all about it below. So…let's get this party started!
Here is the ultimate goddess Miss Adriana Lima looking fabulous in a purple bikini that's fitting her so perfectly. All I can do is shake my head at her loveliness. It's a good thing that my girlfriends Barbie and Bambi don't get jealous at my comments about other women in bikinis. Hey, it's my job. 🙂
I remember when Adriana Lima first came out. I would search online frantically for pictures of her and now if you search for her on Google, you get a plethora of pictures and we like that. Keep up the great work Adriana, signed your #1 fan.
Ok, well, I have a little bit of drama going on. It seems that Barbie and Bambi have another sister. Can you believe it! Her name is Brittany. She looks just like them and I think I'm a little attracted to her. She's only 2 years younger than them but they all look alike. She's a blonde bombshell too. What am I going to do about this? Barbie and Bambi would kill me if I told them that I liked their sister too. She's down from Chicago visiting them for a few weeks. I hope they go by fast.