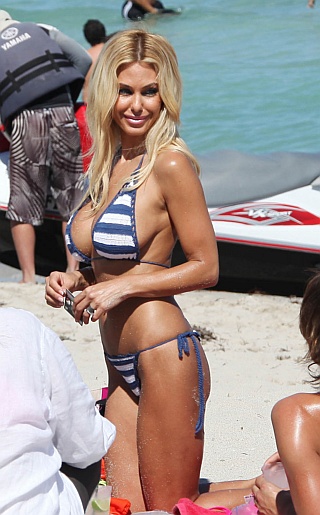 Hey Hey Hey!! It's the Lance Man back to move and groove you with awesome pictures of sexy celebs in hot bikinis. I'm so happy to be back and out of the field. We have so many fabulous galleries of your favorite celebs in bikinis.
To start things off, here are some interesting pictures of Shauna Sand at the beach. In one of these pictures Shauna looks really relaxed like she's had her dose this morning. She's looking like she hasn't a care in the world. In the other picture, Shauna is smiling like she just took a double dose. Well whatever she's having, can I have some? Shauna you look like you are sailing high and it must be nice. She's looking really hot in her bikinis and I'm sure her plastic surgeon is proud of his/her work.
As far as my drama problems, things are going well. After the surprise with Brittany, things were kind of wild at my house. Barbie and Bambi were out for blood but we came up with a better solution to diverting Brittany's attention. We've invited her over to my house tonight along with my friend Tony Fish. Tony is a true ladies man and we're hoping that Brittany gets smitten with his good Italian looks and muscles. He has abs like The Situation from the Jersey Shore. Hopefully that will get her off my back. I'll keep you posted. So until then, take care of yourselves and PEACE!! Up next is the very spunky Jenny Bikini.
Photo Credit: Fame