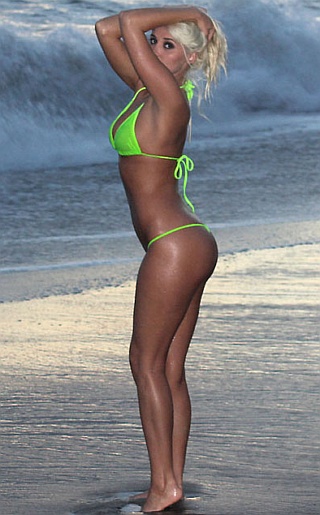 Hey Hey Hey!!! It's the Lance Man back to amaze you with the hottest pics of celebs is sexy bikinis!!! Let's start with these cool pictures of Playboy Playmate Karissa Shannon looking extra hot in a lime green neon bikini at the beach.
She's a twin but in my opinion, I do think she's the cuter one. Those pictures that Jenny Bikini posted of her in the gallery below were so awesome that I thought I'd keep the party going on with this luscious looking beauty. Yeah, she's super fine but my girlfriends Barbie and Bambi look kinda like her but are much cuter me. Don't get me wrong, if Karissa wanted to date me, I'd have a hard time telling her no but I do love my girls.
Things are quiet around my place ever since we introduced Bambi and Barbie's sister Brittany to my friend Tony Fish. Looks like they've hit it off. The only problem is that Tony Fish says that the only problem with Brittany is that she has really bad breath. Knockout looks with breath that smells like an 100 yr old used coffin isn't cool. He said that she likes to kiss but he's not really feeling her. I begged him to hang in there because if this relationship fails, she's going to start back on me again. I can't take it. We need a plan. I'll keep you guys posted.
Photo Credit: PacificCoastNews