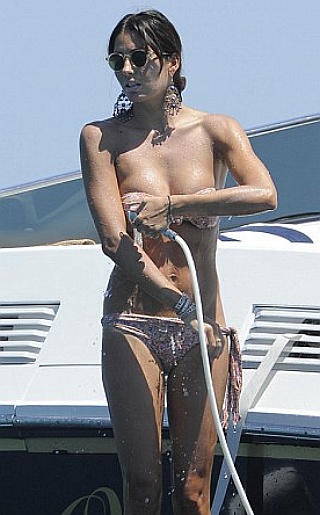 Hello my most dazzling and darling Celebrity Bikini Gossip babies!!! Jenny Bikini has missed you terribly. Before we get started I want to say that Celebrity Bikini Gossip's thoughts and prayers are with the victims and families of the Aurora, Colorado shooting incident. God bless you all.
Ok, now with regard to my wedding, plans are going well with me and my fiance Gerald. We can't decide on a wedding day but I think I'm going with my mother's birthday which is 12-12-12 this year! I know she's looking down on me with love. It's so exciting planning a wedding and with only five months to go, we don't have time to waste. I will keep you updated on everything!!
Alright, back by popular demand is the very beautiful Elisabetta Gregoraci Briatores. Her photos that we posted just last week received a very positive response and you requested more of her and we aim to please. In these pictures, Elisabetta is wearing a pink spiced bikini top and matching bikini bottom on a boat. Must be nice with a rich husband and all. I wonder if she's naturally thin or if all she eats are salads. Inquiring minds want to know Elisabetta!