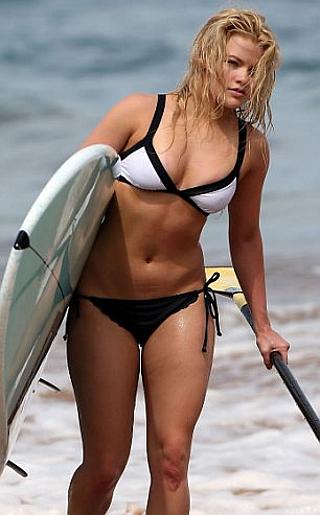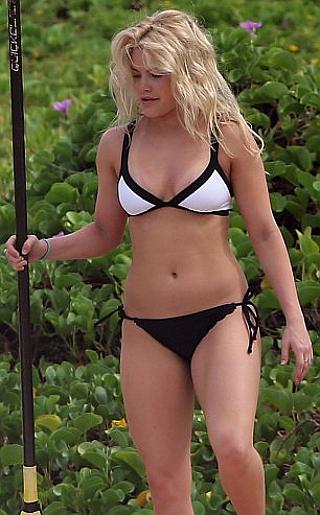 Finishing off this week just right is another newbie to Celebrity Bikini Gossip and that's Dancing with the Stars Pro Witney Carson.
Witney looked stunning in her simple black and white two-piece bikini. Looks like she's a paddle board lover and it helps to keep that perfect dancer's body in wonderful shape.
That day she was hanging out with fellow DWTS professional Lindsay Arnold. It's like that say that the pretty girls hang out together and this is true.
Alright, dudes and dudettes, it's time to pass you over to Mrs. Jenny Bikini. I have to run out and meet with the new furniture guys that are delivering soft leather couches to our new place. Plus, I'm having my bedroom equipped with a red leather sofa because the ladies love red. I have the biggest bedroom with a walk-in closet and my own bathroom so it's extra groovy. It's so much fun because we take turns cooking and cleaning up the place. We all get along and it's like a big fraternity. So far, no strays and that's the way we like it. Although I can see that Vinnie Lasagne is getting weak. He's already talking about inviting over his ex-girlfriend. Ugh, she is a pest but has pretty girlfriends so we don't mind as long as she brings over one of her cute girlfriends with her. Anyways, remember, to take good care of yourself and look after your buds! PEACE!