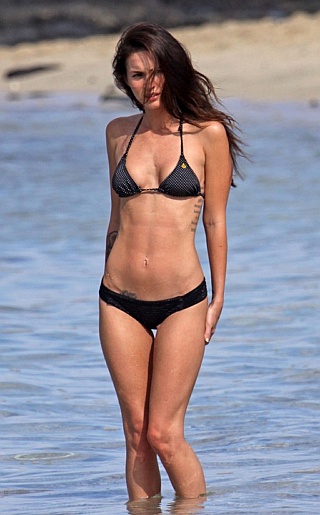 What's up all you beautiful people. I hope you had a Merry Christmas and received exactly what you asked Santa for. It's the Lance Man back for another session of hot gossip about celebrities in sexy bikinis. I'm doing awesome right now. Things are great in my life. No new drama to report and that's rare for me.
But let's get this party started with some pictures of one of my favorite hollywood starlets – Megan Fox. She's a married woman so I can't really lust over her like I used to. I was actually really sad when I heard she got married. Lucky for me, most hollywood marriages don't last so I'm just waiting for that day. I know I'm bad but hey…do you think it'll last? That's what I thought.
Megan looks extra delicious in a black bikini strolling along the beach and wading her sexy feet in the ocean water. I'd do anything to hang out with her. I don't care if her hubby comes along. He can pay for the dinner bill. I love you Megan. I'll wait for you.
As far as my personal life, well Bambi and Barbie called and wanted to meet up with me. I thought they washed their hands of me but we talked and will take it easy and see how things go. I'm just happy that I'm back with the fringe benefits (smile). It's been a while.
Photo Credit: Bauer-Griffin