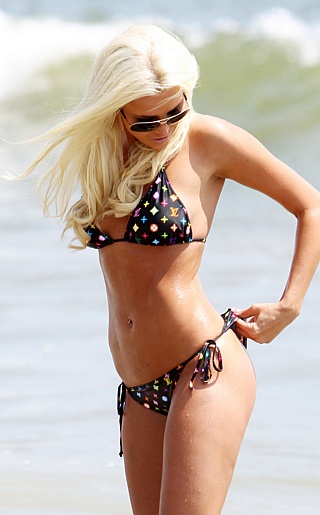 Hey Hey Hey!!!! Yeah yeah it's the Lance Man back from an awesome weekend!!! It was great but of course drama unfolds where ever I'm at. Of course, I'll give you the hot details below.
So let's start this super hot week off with some blazing pictures of Playboy Playmate twin Karissa Shannon. She's my favorite out of the twins. Her sister Kristina is cute too but there's just something about Karissa that makes my heart skip a beat. She's looking mighty fine in a black and white polka dot bikini that really compliments her figure. But, surely, anything she wears compliments her figure. We never see Karissa in anything but a bikini on the beach and I'd like to see her do something on TV, maybe act. I doubt she can because with looks like that, you can't have it all. But I'd still like to see her run along the beach in slow-mo. 🙂
Well, as you all know, I'm in this sorta relationship with my mom's friend Gail. This past weekend we went out to the Florida Keys. She has a beautiful home down there so we relaxed and mostly sat by the pool and got waited on hand and foot. I love the attention but I can tell that she's really getting serious about me. I enjoy being a boy-toy and am just fresh out of a relationship with Barbie and Bambi (who still call). I plan on changing my phone number because the more that I think about them, I would like to distance myself. My best friend Tony Fish wanted to come and hang out with me at the Keys but after what he did with Barbie and Bambi, I'm keeping him at a distance too because I know Tony will jump all over Gail and I kind of want her to myself. Anyways, I want to take things slow but Gail thinks we should tell my mom. I have to think this over because she's a sweet lady and I don't want to lead her on because she's really been nice to me. Of course, I'll keep you all informed on what happens.
Photo Credit: PacificCoastNews