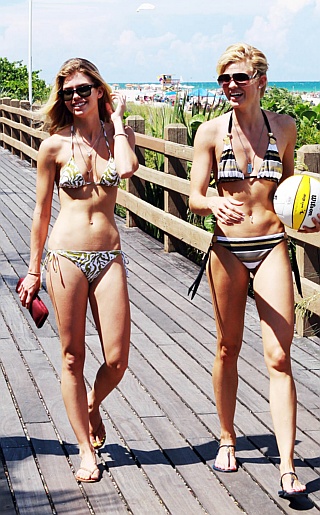 Hey it's more of AnnaLynne McCord and this time she's hanging out with a cute friend. I think she's so hot that she could hold her own with her own tv show of her as a spy or something because she has what it takes.
First it takes a hot body and she has that. Then it takes a cute face. You don't have to be fine but at least cute. Then it takes likeability and people do like her. It's not like her last name is Lohan or anything like that, so she's not box office poison.
Yeah folks, it's time for me to jet but let me first say about what Miss (and you wonder why she's a Miss and not a Mrs) Jenny Bikini said about the $50 bill that she claims I didn't want to break. Get your story straight missy…it's because the lunch boy DIDN'T HAVE CHANGE for a $50 which is why I asked everyone for a dollar. Ok! I'm out….PEACE!
Photo Credit: Fame