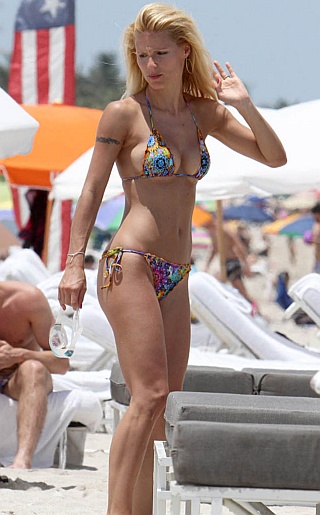 Back by popular demand because we received so much positive feedback and yearning for more pictures is Swiss TV hostess and actress Michelle Hunziker.
I don't blame you for wanting to see more of this lovely blonde beauty. In these pictures, Michelle is sporting a wildly colored string bikini on a beach. Look at the way the wind is blowing her hair around. She's so hot. We're spoiling you with picture of front and back views of Michelle in her darling swimsuit.
Michelle anytime that you want personal bodyguards at no cost, just give me a call and me and my buddies will run to the rescue.
Alright, dudes and dudettes!!! It's time to hand you over to Miss Jenny Bikini who happens to think I'm jealous of her "relationship" if that's what you want to call it. I call it her stalking her boyfriend 24 hours a day until he felt so sorry that he proposed. Sorry Jenny fans but that's my opinion. She calls my buddies creeps and they're my family. So I guess I'm not getting invited to the wedding. Booo Hooo!! Ok, looks like me and my buddies Tony Fish, Pauly Meathead and Vinnie Lasagne are heading out to Miami!! What happens in Miami, stays in Miami. So until next time, don't do anything that we would do and definitely don't bring home any strays!!! No way!!! PEACE!!