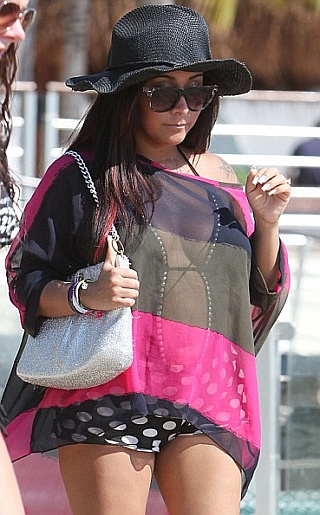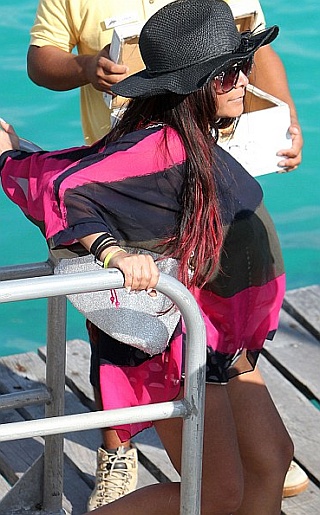 Hey Hey Hey! It's Monday and the Lance Man is back from a spectacular weekend with my buddies Tony Fish, Vinnie Lasagne and Pauly Meathead. We skipped along from party to party all along the Miami beach shore. It's fun being single!
Ok, speaking of the shore, here with a bun in the oven is Snooki from the MTV reality TV show "Jersey Shore". Currently, Snooki is filming her own reality TV show along with her bestie JWOWW. But she's pregnant so I don't think the show will be as interesting. I'm used to Snooki falling down drunk. Oh well, pregnancies only last 9 months so she may resume her throne afterwards. Just because she's had a baby, I doubt it will stop her from drinking. In these photos, she's sporting her baby bump in a black and white monokini with a sheer cover-up. I am very happy for Snooki and wish her all the best.
Alright, dudes and dudettes, it's time to hand you over to Miss Jenny Bikini. She's a spunky one, isn't she? Have a great week and see you soon! And, always remember, DON'T bring home any strays!! PEACE!