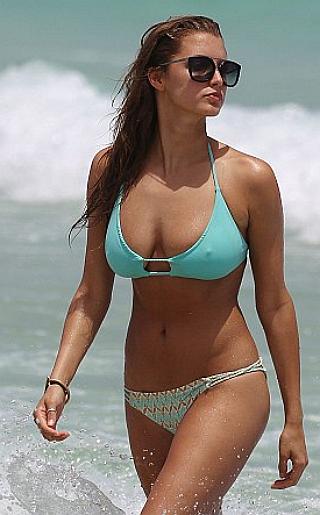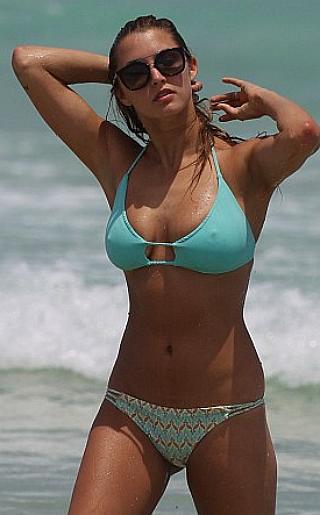 Hey Hey Hey, oh yes!! It's me the most genuine, dazzling, wonderful, fantastical, jovial and bikini loving Mr. Lance Man! I hope that your week has been as great as ours! My buddies Vinnie Lasagne, Tony Fish and Pauly Meathead are having the time of our lives at our new place which we call The Monster Bikini. It's because we host so many hot bikini babes. It never gets boring at our place. My only pet peeve is I like cougars and it's hard to find a good cougar these days..lol. Anyways, we had a cookout last week and it turned out really well. Unfortunately, no hook-ups on my part but I'm deeper than that. I'm a man of substance. (Yeah Right!) This week the boys and I are hosting a bikini party and inviting the local neighborhood to see what's around. So I'll let you know how that goes by this weeks' end.
Oh yes sir, let's get down to bikini business with these pictures of newbie to Celebrity Bikini Gossip, Alyssa Arce.
She's a good friend of pop star Justin Bieber and was seen hanging out on his yacht in Ibiza. It's easy to see why Justin Bieber shared some one-on-one time with 21-year-old model Alyssa Arce if these shots of her in a skimpy two-piece blue toned bikini are anything to go by.
The curvy brunette appears to be just Bieber's type, given that the crooner has developed quite a penchant for sultry models recently. Of course, he's a young man and is sure to have lots of bikini experiences and if they all happen to look like this in a bikini, we hope to get the chance to showcase them too.
Thumbs up Justin!