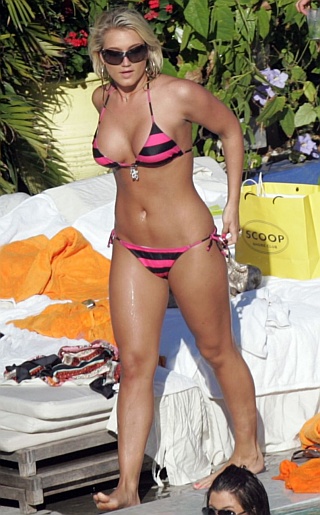 Hey all you celebrity in bikini lovers! It's the awesome Lance Man back to get down and dirty with awesome pictures and hot gossip.
Let's start this week off with a few pictures of Hulk Hogan's daughter Brooke Hogan. Now don't get me wrong, Brooke Hogan has a hot body! It's like she works out every day. She has the body of a female wrestler which makes me a little afraid of Brooke.
Brooke can probably beat the crap out of any dude. She looks very strong and although her body is hot, there's some a bit of masculinity that concerns me. She doesn't look like a man by no means but those shoulders make me wonder.
But she's fine so we'll just ride with that……..
I have some bad news for you guys….I had to break it off with Barbie and Bambi. Yeah, those chicks were just too needy. They each texted me about 40 times per day and sent me all sorts of pictures. I spent my entire day texting them back and talking on the phone…..I need a woman/women who can give me my space. I told them we could still be friends but they cried their pretty little heads off and didn't want to hear that. But oh well, they'll get over it. I have bigger fish to fry. I have my eye on this brazilian model who's in town visiting my buddy Tony Tiger (that's his real name). I'll keep you guys posted. In the meantime, I might have to put Barbie and Bambi on call block.
Photo Credit: Blobbynet