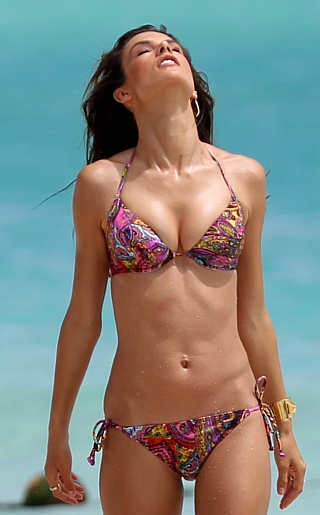 As most of you know, I'm in love with Alessandra Ambrosio. Did you see her on the Victoria Secret show the other day? I was glued to the screen and got goose bumps all over my body whenever she strutted her stuff on the catwalk. She's so hot!
I really wish she's come out with a reality tv show or something so I could watch her over and over again in reruns or something. Her body is perfect and she looks like she has a really nice personality too. I just would love to marry her. She's probably one of the only women in the world that could keep the Lance Man in control. At least for the first 6 months of the marriage. I can't guarantee anything.
Great! TGIF!! I'm so happy it's the weekend because I'm heading out with my best buddy Tony Fish to Vegas. No Miami, we are heading out to the LV so we can party like it's 1999. I'm so tired of the Bambi-Barbie drama. I just need a break from blonde bombshells period. I think we'll take in some sports games, of course, get drunk and just hang out with the guys for once. If we happen to meet beautiful women along the way, well that's ok too. Enjoy yourselves this weekend and I'll surely report any happenings when I get back. PEACE!!!!
Photo Credit: Fanpop