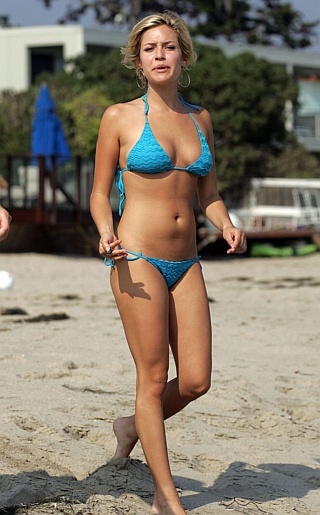 Hey all of you beautiful people! It's the Lance Man back with the hottest gossip about celebs in bikinis. I'm doing very good. Can't complain about anything for a change. A little incident did take place yesterday but hopefully it won't blow up into much of anything. I'll give you the juicy below.
I wanted to bring out a newbie to our sexy Celebrity Bikini Gossip family. Her name is Kristin Cavallari and is an American television personality celebutante and actress. She is widely known for her starring roles on the former MTV programs Laguna Beach: The Real Orange County and its spin-off, The Hills. These are her first pictures on CBG and we want to welcome her in style.
I don't have any juicy gossip probably because she's a do-gooder. Recently, Kristin has been involved in the "Until There's a Cure" public service advertising campaign to raise awareness and funds for AIDS and HIV research and vaccine development. She also appeared as a celebrity spokesperson for "We Are Ellis Island", a campaign for the restoration of historic buildings on Ellis Island. So she's not just another celebrity bimbo. I like that. So I'm going to be nice to her and hopefully we'll see much more of this lovely babe.
As for yesterday, I received a call from some guy who called himself Danno. He claimed to be that girl's boyfriend who I married in Vegas. Oh, her real name was Jennifer. But anyways…no wonder she wanted to get things done as quickly as I did. He was a real cool dude and said he understood what happened and wasn't mad at me. I was sort of shaken up but we ended the conversation on a great note. I just hope I can put this all behind me. I miss Bambi and Barbie. (frown)…..Anyways…enjoy your weekend and don't pick up any strays like me…PEACE!