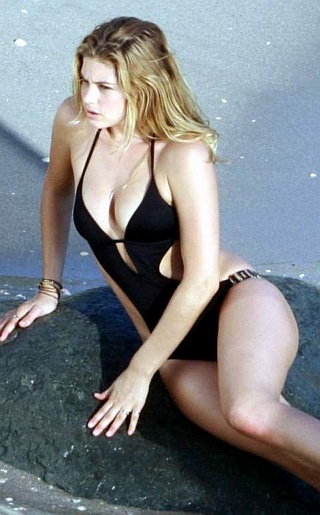 What's up!!! It's the Lance Man in the house ready to rock your world with the coolest pics of naughty celebrities in cute bikinis. As you all may know, the Celebrity Bikini Gossip family are all out in the field working on getting the hottest pictures for this Summer. We are working extra hard and want to thrill and delight you with some of most magnificent photos of celebrities in sweet bikinis. I'm loving the new photos and can't wait to reveal them all.
Right now, I want to show off these hot pics of Doutzen Kroes in a blazing HOT photo shoot! She is so fine! You all know I'm a Victoria Secret Angel lover and somewhat stalker..lol…so these pics of Doutzen are blowing my mind.
I heard that she's married and that's too bad. Bad for me but good for her hubby. (Insert sad face here).
Well, I'm still going through the drama with Barbie, Bambi and Brittany. Brittany wrote me a love letter and she had the nerve to give it to Barbie (her sister and my girlfriend) so she'd give it to me. Instead of tearing it up, Barbie gave it to me and made me read it in front of her. Brittany wrote all of this wild and naughty stuff and I couldn't help but laugh. Barbie says she's gonna stomp her sister but I told her to just let it rest. It's just a crush and it will boil over soon. I just hope it does before she turns into the ultimate fatal attraction..get my drift.