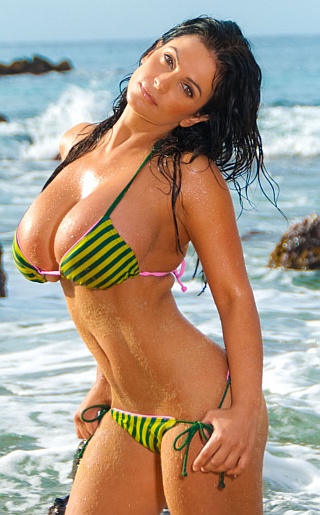 I'm a free man!! Hey Hey Hey to all of our AWESOME Celebrity Bikini Gossip fans! It's the Lance Man here ready to rock and roll with hot pics of celebs in bikinis. I'll fill you in with all of the details after I post these pictures of the very GORGEOUS Denise Milani to help celebrate my new freedom.
I'm in love with this woman. Isn't she magnificent? There aren't too many pictures of her in a bikini circulating around so consider yourself very lucky. We've showcased her on CBG before and we thought it was time for an updated treat. So eat your heart out! However, if you should suddenly have a heart attack while looking at these pics of Denise Milani, make sure you click off our site so they don't blame us.
Now, for the juice!! I dumped both Bambi and Barbie. I had a long talk with my mom and dad who always give the greatest advice. They told me that I deserved more than two hot chicks who want to have babies by my best friend and I kind of agree. So I broke the news over the weekend. There were tears and threats but I had to do it. These are grown women and they need to take responsibility for their own actions. I was very good to Bambi and Barbie but now I'm free. Sure, I'm sad but more than that I'm RELIEVED. I'm not going to take care of Tony Fish's kids even if he is my best friend. I feel sorry for Tony because he said he's not ready to be a dad but that's his problem. You lay, you pay!