Bikini Pictures
September 26th, 2014 by
Lance Butts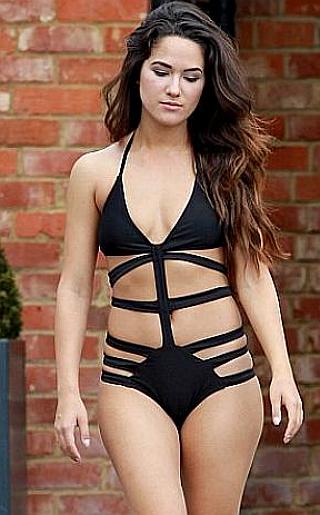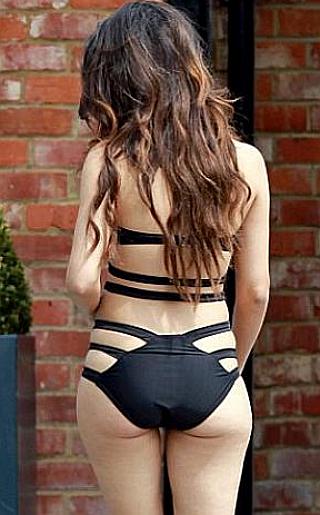 The former Playboy model, 23, showed off her slim figure in a cut-out swimsuit as she enjoyed a weekend away with her boyfriend on Saturday.
She looked deep in thought and was probably thinking about how she was going to impress in her next stunning and sexy skimpy bikini!
Alright dudes and dudettes, it's time to pass you over to Mrs. Jenny Bikini who swears that she is a better bikini poster than I am but I beg to differ. I have the heart for it although she does have some passion. Well, as it stands, my buddies, Tony Fish, Vinnie Lasagne and Pauly Meathead and I are going to head back to NYC for this week to tie up some loose ends. Seems like Tony Fish came across a stray that we told him to leave alone but he just couldn't do it. So we're all going back for moral support so he can basically (yeah dump her) let her down easy. Plus we can party in the clubs some more! Just remember that you are genuine and unique and until next time PEACE!!
---
September 25th, 2014 by
Lance Butts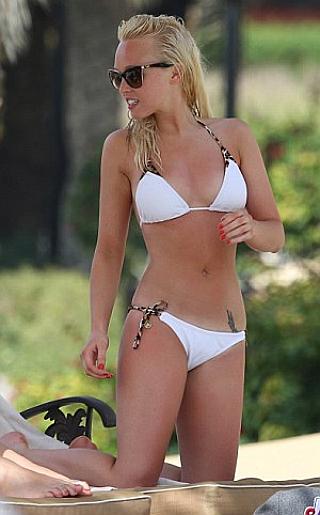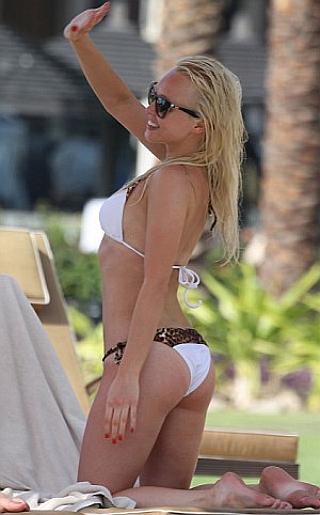 She's best known for playing troubled Theresa McQueen in hit Channel 4 show Hollyoaks – and Jorgie Porter looked incredible when she was pictured on holiday in Dubai on Saturday.
The 26-year-old, who was staying at Le Royal Meridian hotel, turned heads when she modelled a teeny white Vix bikini to catch some rays with her pals.
The pretty blonde could be seen taking selfies to no doubt share with her fans, while striking up a pose wearing a designer pair of sunglasses.
---
September 24th, 2014 by
Lance Butts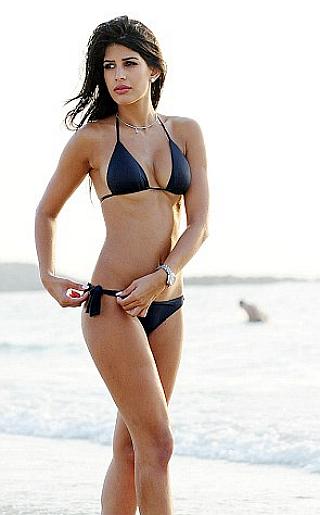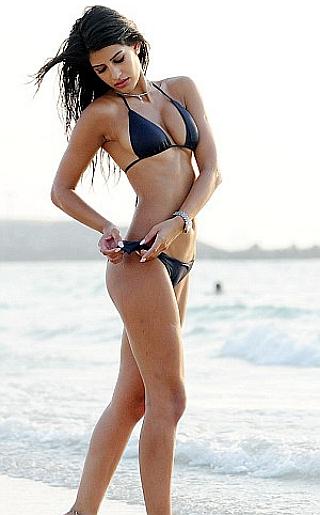 She has a figure made for a bikini.
So it's no surprise that Jasmin Walia opted to show off her enviable frame while on holiday last week.
The brunette beauty out her toned physique on display as she strolled along a beach in Dubai wearing a lovely all black string bikini that complimented her wavy curves.
---
September 23rd, 2014 by
Lance Butts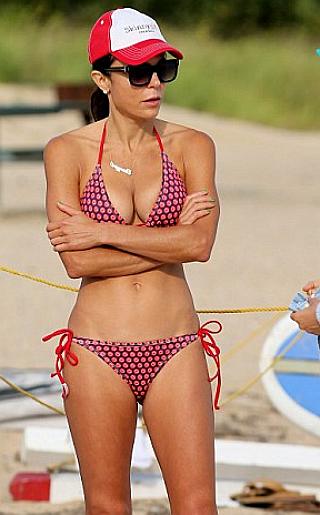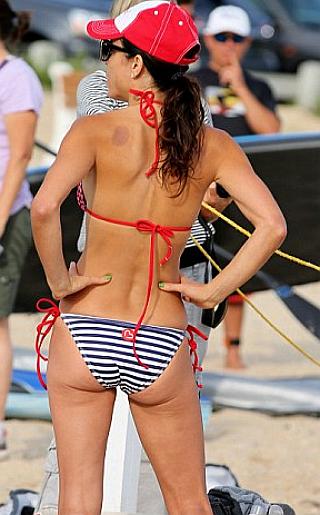 Bethenny Frankel certainly practices what she sells.
The Skinnygirl mogul was looking trim and toned as she hit the beach at Sag Harbor, New York.
The 43-year-old could have easily been mistaking for a woman half her age as she confidently strolled down the sand in her colorful bikini.
She's the hottest cougar ever and just my style. Bethenny's a business woman, has a hot body and knows how to party! So Bethenny whenever you have one of those lonely nights, give me a call!
---
September 22nd, 2014 by
Lance Butts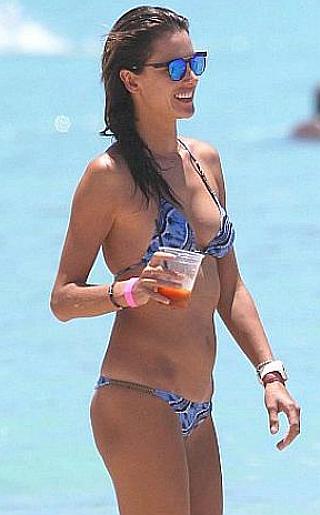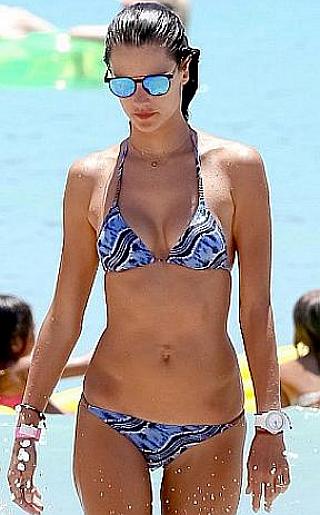 Hey Hey Hey, it's me Mr. Lance Man ready to wow you with the hottest pictures of celebrities in skimpy sexy bikinis. Oh yeah, me and my buddies Vinnie Lasagne, Tony Fish and Pauly Meathead were hanging out in NYC and we were so mesmerized by the beautiful women out there. NYC is so filled with lovely women. We want to go back very soon. The clubs are smoking hot and we're going to go back this week because we left plenty of girls crying over us. It's just that much fun! I'll fill you in on more of the details at the end of the week but we're thinking of getting a second apartment in NYC just to have a place to hang out when we want to party hearty.
Ok, let's start off this week with pictures of supermodel Alessandra Ambrosio. There is no question that model Alessandra Ambrosio is at the top her game.
The Victoria's Secret lingerie model has one of the world's most enviable bikini bodies, and she's not afraid to show it off.
On Tuesday, the mother-of-one was seen displaying her perfectly sculpted physique again on a family holiday in Honolulu, Hawaii, wearing a two-piece blue patterned bikini. She looks smoking hot.
---
September 19th, 2014 by
Jenny Bikini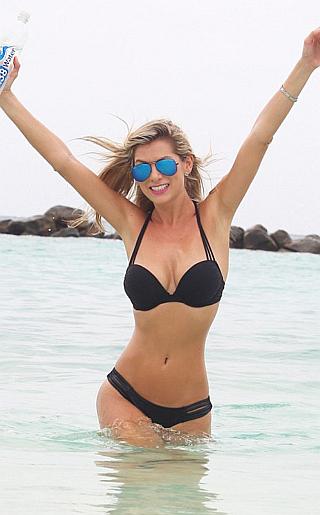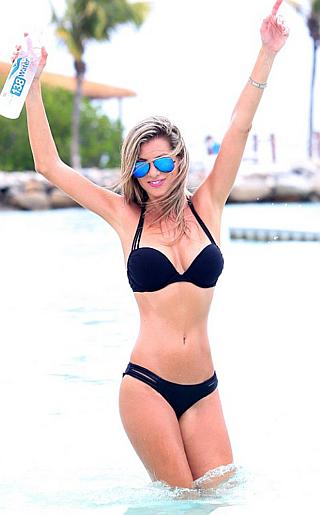 Looks like Venezuela has found its best export. On Tuesday model Yasmine Colt put her enviable figure on display while shooting a campaign for beverage company 138 Water in Aruba. The bikini-clad stunner posed for pictures in a lovely black two-piece bikini while splashing around in the crystal clear ocean and frolicking on the sandy beach. I really like her style. Especially those blue aviator sunglasses. Every time I find those sunglasses, I end up losing them. lol
Ok, my lovely Celebrity Bikini Gossip babies!! It's always so fast that the time passes whenever we're together but I enjoy every moment. Remember that you are special and unique and one-of-a-kind and don't let anyone ever steal your joy. My hubby, Gerald, and I are planning to cuddle up this weekend (like we always do..lol) because we enjoy just sitting quietly with each other. That's love. There's no need to party or go out or entertain each other. Just staring into his eyes is all I need to feel complete! Anyways…before I get carried away talking about the love of my life…just remember that JENNY BIKINI loves YOU!! TOODLES!! SMOOCHES!!
---
September 18th, 2014 by
Jenny Bikini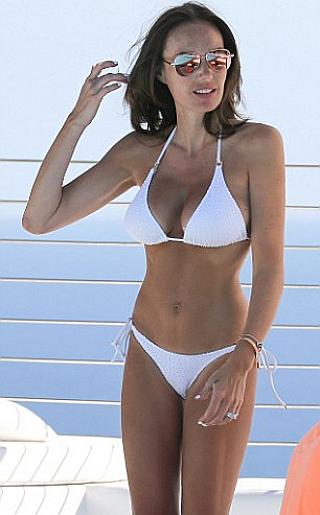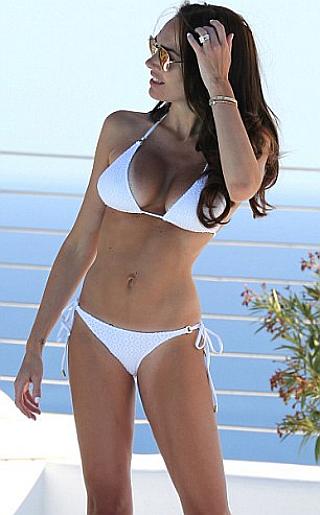 Her prolonged stay in Ibiza has been a time for rest and relaxation with her loved ones, but Tamara Ecclestone was back in her bikini as she topped up her tan by the pool. The 30-year-old socialite, an heiress to father Bernie's Formula One empire, sported a busty white two-piece that gave her ample opportunity to display her remarkably toned body. Tamara's slender frame was all the more impressive given the birth of daughter Sophia – her first child with husband Jay Rutland – in London on March 17. Congratulations! Her baby is so cute and chubby! I love fat babies!! I hope that me and my hubby are gifted as well one day soon.
---
September 17th, 2014 by
Jenny Bikini
Suki Waterhouse looked more like a fifties pin up when she enjoyed a day of sun and surf during her break in Rio de Janeiro, Brazil on Wednesday. The stunning supermodel showed off her toned stomach and endless legs in a retro-inspired floral bikini, which featured high-waisted bottoms and a bandeau top. All I wanna know is who is her trainer? Go Suki!
---
September 16th, 2014 by
Jenny Bikini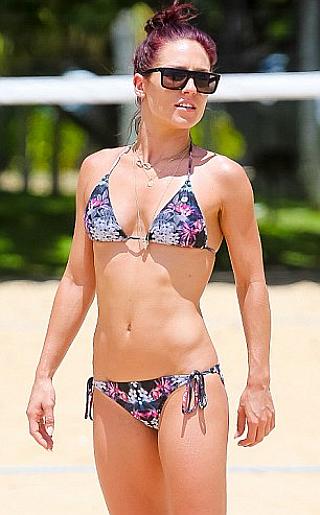 Dancing professional Sharna Burgess was also spotted clad in a string floral bikini that hugged her pert derriere. Volleyball in hand, the 29-year-old appeared to be gearing up for a game of volleyball as she pointed towards the floor. She looks totally stunning in her swimwear, right?
---
September 15th, 2014 by
Jenny Bikini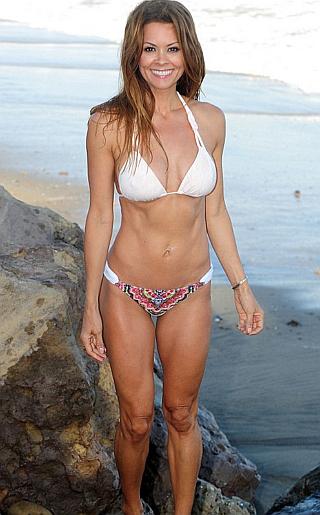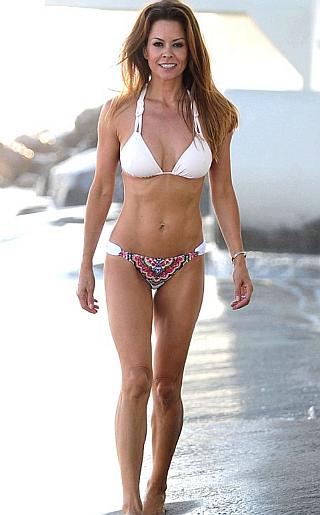 Hello my most delightful, outstanding, genuine and adored Celebrity Bikini Gossip babies!! It's me, Mrs. Jenny Bikini, back from a wonderful cozy weekend with my hubby, Gerald. Oh how he spoils me!! I hope that you had a wonderful Labor Day Holiday. I sure did. We spent it with friends and family and that's the best you can get. Alright, let's get started. Oh, I have a secret to tell you and I will divulge at the end of the week. I'm so excited!
Starting this week off with my favorite reality TV hostess is the lovely Brooke Burke-Charvet sporting super tanned and tight curves in a white bikini top and colorful white bikini bottom hanging out beachside. Do you know that her body looks better than most 20 year olds? Kudos to you Brooke. It goes to show that hard work pays off. She's a mom, a wife, a daughter, a friend and so much more which is why I look up to her. Plus, she has killer abs!! Go Brooke!
---
September 12th, 2014 by
Lance Butts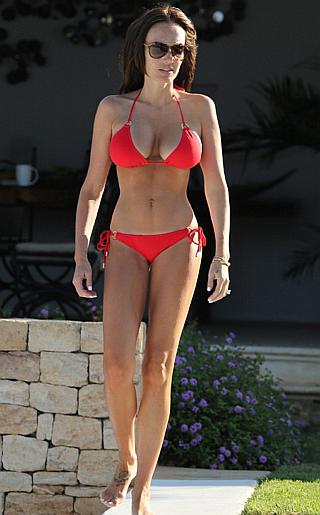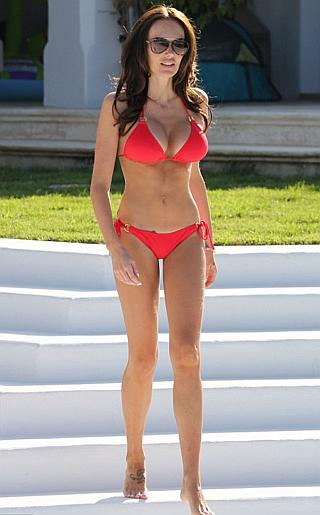 Red hot mumma! Tamara Ecclestone shows her super toned post-baby body in a red hot bikini in Ibiza.
She pretty much bounced back into shape nearly immediately after giving birth to her first child.
So it's no wonder Tamara Ecclestone is enjoying the opportunity to show off her impressive physique as she soaks up the sun in Ibiza.
Alright, dudes and dudettes, it's time to hand you over to Mrs. Jenny Bikini (see I said Mrs….because she is always stressing that is how we are to address her at the office..whatever!) Anyways, my buddies Tony Fish, Vinnie Lasagne and Pauly Meathead are headed to NYC and we're taking the proper clothing in hopes it gets cold. Yeah, a little over the heat down here in Florida and would really love to see snow but know that won't happen for at least a few more months up there. I will give you all of the fun details when we get back and this just calls for lots of celebration but we keep it safe and remember to NEVER bring home any STRAYS!! I'm looking for a hot cougar ladies so be on the look-out!! lol PEACE!!
---
September 11th, 2014 by
Lance Butts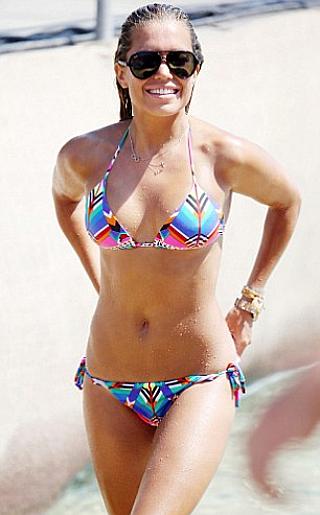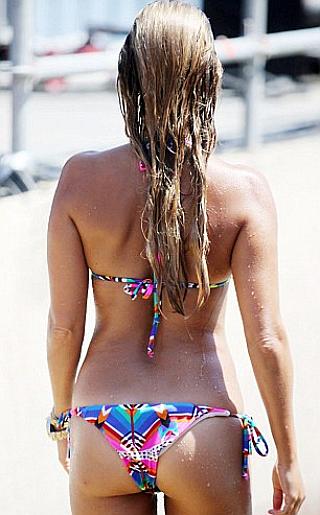 She is often seen parading her incredible bikini body during her luxurious beach breaks.
Sylvie van der Vaart was more than happy to show off her enviable frame as she soaked up the sunshine in Greece on Sunday.
The 36-year-old looked sensational in a colourful print bikini as she went swimming in the sea in Mykonos.
---
September 10th, 2014 by
Lance Butts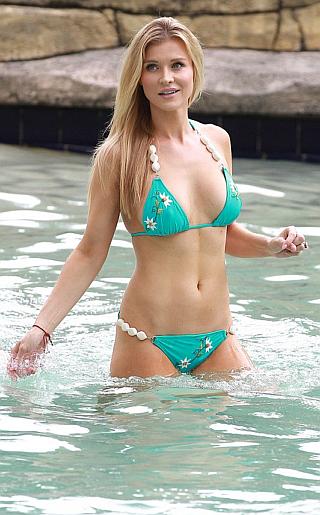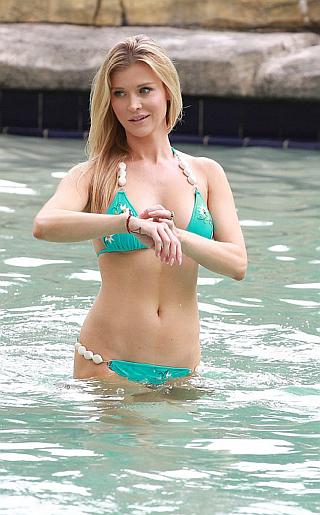 She recently took a stand and did her own variation on the Ice Bucket Challenge as a stand against animal testing.
Joanna Krupa looked in need of a cool down once again as she heated things up in an emerald green bikini dotted with flowers during a day relaxing by the pool.
The Real Housewives of Miami star looked stunning as she enjoyed a dip in the pool at the Seminole Hard Rock Hotel & Casino in Fort Lauderdale.
---
September 9th, 2014 by
Lance Butts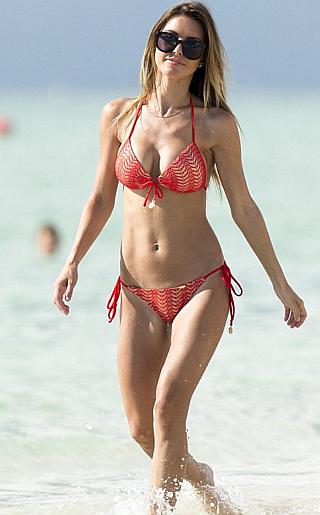 As host of lifestyle series 1st Look, single-again Audrina Patridge has things to do and exciting places to see.
The former star of The Hills set her sights on the clear warm waters of Miami Beach, Florida to film a segment of 1st Look on Tuesday.
Audrina, 29, who broke up from her boyfriend of five years Corey Bohan in late July, certainly wasn't lacking for attention as she pranced around shore in a two-piece red knit swimsuit.
Oh, poor Audrina, you can cry on my shoulders.
---
September 8th, 2014 by
Lance Butts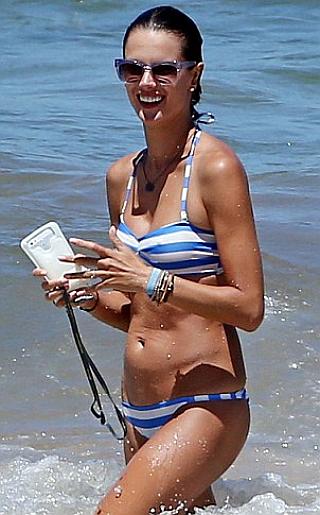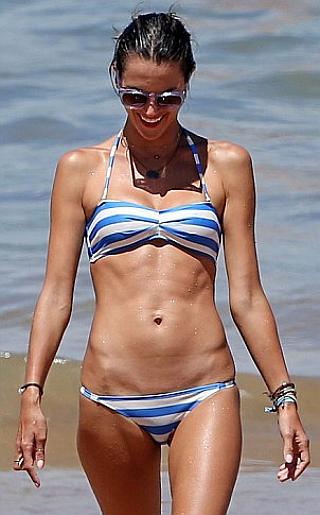 Hey hey hey!! Oh yeah, it's me Mr. Lance Man back from a spectacular weekend with my special buds Tony Fish, Vinnie Lasagne and Pauly Meathead. Ok, yeah we worked out all of those issues with our new place The Monster Bikini and now everything is on track like we all want. I get the cougars, Tony gets the redheads, Pauly gets the blondes and Vinnie gets to run around after college sorority girls all day long. As long as we don't step on each other's toes, everything is perfect. Inviting girls over to the house is boring now so we're venturing out again and this week we're going to jet set to NYC and never sleep there. Take in a few shows, eat some expensive food and experience the change of season since that never happens in Florida. I'll give you all of the details when we get back…but for now…on with the sexy bikinis!!
Starting off this week with pictures of supermodel Alessandra Ambrosio who looks stunning in anything she puts on.
She's been hitting the beach on the daily in an array of colorful bikinis this past week.
Alessandra Ambrosio paraded her stunning physique in a blue and white striped two-piece as she vacationed in Maui on Sunday. This shows off why she's one of the hottest and most in-demand supermodels in the world. Wow check out those abs!
---