Bikini Pictures
September 19th, 2014 by
Jenny Bikini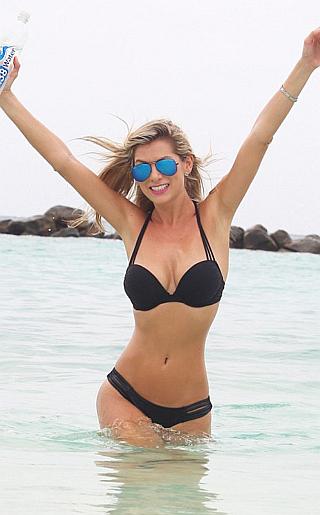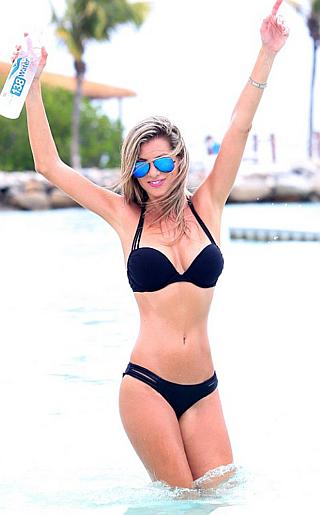 Looks like Venezuela has found its best export. On Tuesday model Yasmine Colt put her enviable figure on display while shooting a campaign for beverage company 138 Water in Aruba. The bikini-clad stunner posed for pictures in a lovely black two-piece bikini while splashing around in the crystal clear ocean and frolicking on the sandy beach. I really like her style. Especially those blue aviator sunglasses. Every time I find those sunglasses, I end up losing them. lol
Ok, my lovely Celebrity Bikini Gossip babies!! It's always so fast that the time passes whenever we're together but I enjoy every moment. Remember that you are special and unique and one-of-a-kind and don't let anyone ever steal your joy. My hubby, Gerald, and I are planning to cuddle up this weekend (like we always do..lol) because we enjoy just sitting quietly with each other. That's love. There's no need to party or go out or entertain each other. Just staring into his eyes is all I need to feel complete! Anyways…before I get carried away talking about the love of my life…just remember that JENNY BIKINI loves YOU!! TOODLES!! SMOOCHES!!
---
September 18th, 2014 by
Jenny Bikini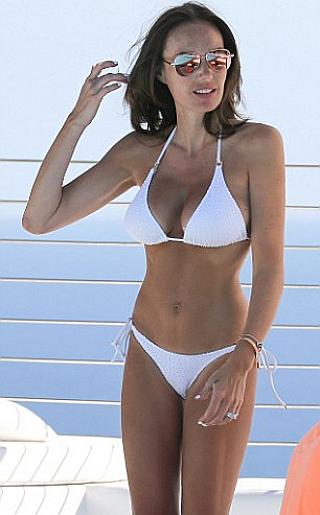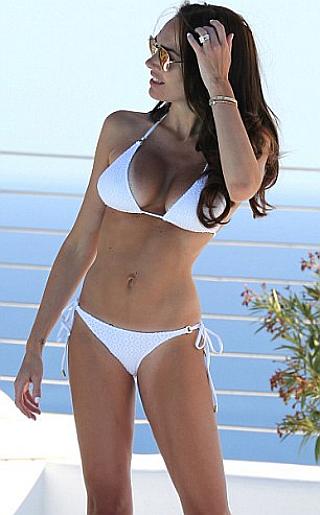 Her prolonged stay in Ibiza has been a time for rest and relaxation with her loved ones, but Tamara Ecclestone was back in her bikini as she topped up her tan by the pool. The 30-year-old socialite, an heiress to father Bernie's Formula One empire, sported a busty white two-piece that gave her ample opportunity to display her remarkably toned body. Tamara's slender frame was all the more impressive given the birth of daughter Sophia – her first child with husband Jay Rutland – in London on March 17. Congratulations! Her baby is so cute and chubby! I love fat babies!! I hope that me and my hubby are gifted as well one day soon.
---
September 17th, 2014 by
Jenny Bikini
Suki Waterhouse looked more like a fifties pin up when she enjoyed a day of sun and surf during her break in Rio de Janeiro, Brazil on Wednesday. The stunning supermodel showed off her toned stomach and endless legs in a retro-inspired floral bikini, which featured high-waisted bottoms and a bandeau top. All I wanna know is who is her trainer? Go Suki!
---
September 16th, 2014 by
Jenny Bikini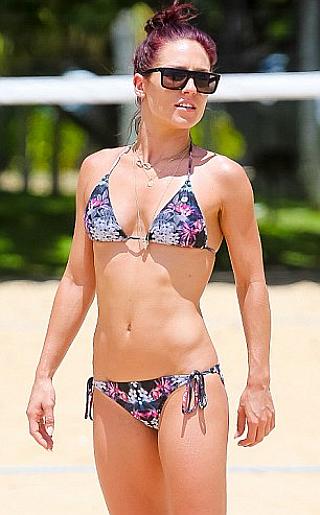 Dancing professional Sharna Burgess was also spotted clad in a string floral bikini that hugged her pert derriere. Volleyball in hand, the 29-year-old appeared to be gearing up for a game of volleyball as she pointed towards the floor. She looks totally stunning in her swimwear, right?
---
September 15th, 2014 by
Jenny Bikini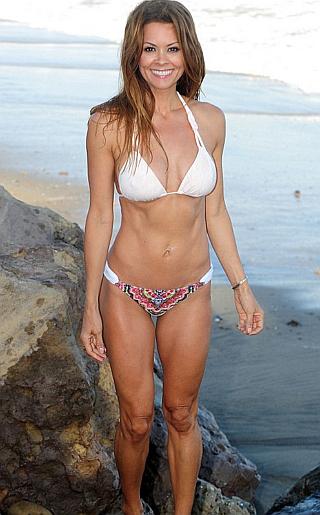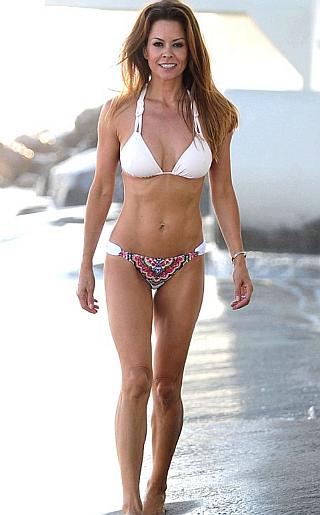 Hello my most delightful, outstanding, genuine and adored Celebrity Bikini Gossip babies!! It's me, Mrs. Jenny Bikini, back from a wonderful cozy weekend with my hubby, Gerald. Oh how he spoils me!! I hope that you had a wonderful Labor Day Holiday. I sure did. We spent it with friends and family and that's the best you can get. Alright, let's get started. Oh, I have a secret to tell you and I will divulge at the end of the week. I'm so excited!
Starting this week off with my favorite reality TV hostess is the lovely Brooke Burke-Charvet sporting super tanned and tight curves in a white bikini top and colorful white bikini bottom hanging out beachside. Do you know that her body looks better than most 20 year olds? Kudos to you Brooke. It goes to show that hard work pays off. She's a mom, a wife, a daughter, a friend and so much more which is why I look up to her. Plus, she has killer abs!! Go Brooke!
---
September 12th, 2014 by
Lance Butts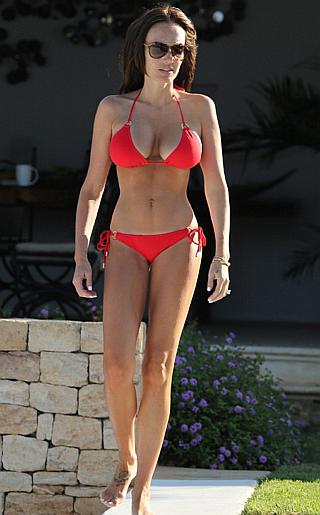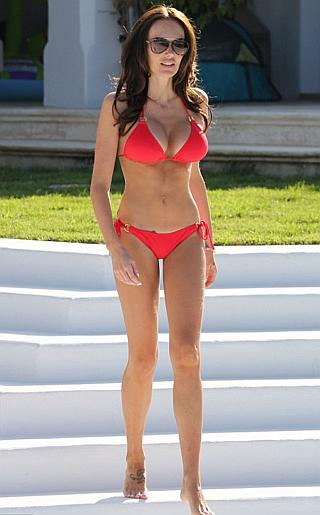 Red hot mumma! Tamara Ecclestone shows her super toned post-baby body in a red hot bikini in Ibiza.
She pretty much bounced back into shape nearly immediately after giving birth to her first child.
So it's no wonder Tamara Ecclestone is enjoying the opportunity to show off her impressive physique as she soaks up the sun in Ibiza.
Alright, dudes and dudettes, it's time to hand you over to Mrs. Jenny Bikini (see I said Mrs….because she is always stressing that is how we are to address her at the office..whatever!) Anyways, my buddies Tony Fish, Vinnie Lasagne and Pauly Meathead are headed to NYC and we're taking the proper clothing in hopes it gets cold. Yeah, a little over the heat down here in Florida and would really love to see snow but know that won't happen for at least a few more months up there. I will give you all of the fun details when we get back and this just calls for lots of celebration but we keep it safe and remember to NEVER bring home any STRAYS!! I'm looking for a hot cougar ladies so be on the look-out!! lol PEACE!!
---
September 11th, 2014 by
Lance Butts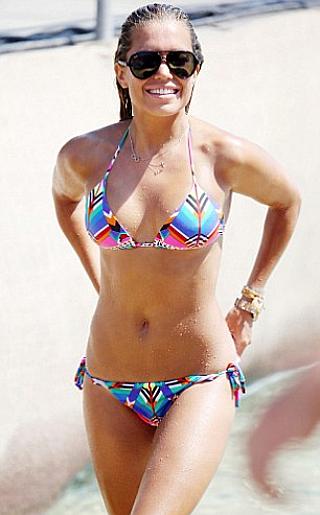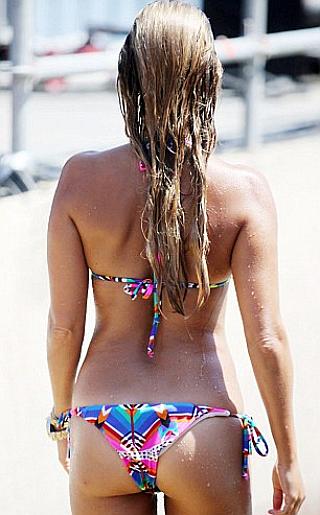 She is often seen parading her incredible bikini body during her luxurious beach breaks.
Sylvie van der Vaart was more than happy to show off her enviable frame as she soaked up the sunshine in Greece on Sunday.
The 36-year-old looked sensational in a colourful print bikini as she went swimming in the sea in Mykonos.
---
September 10th, 2014 by
Lance Butts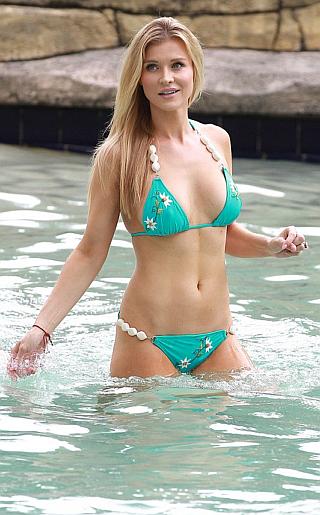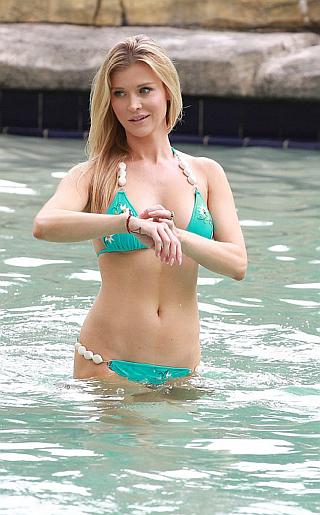 She recently took a stand and did her own variation on the Ice Bucket Challenge as a stand against animal testing.
Joanna Krupa looked in need of a cool down once again as she heated things up in an emerald green bikini dotted with flowers during a day relaxing by the pool.
The Real Housewives of Miami star looked stunning as she enjoyed a dip in the pool at the Seminole Hard Rock Hotel & Casino in Fort Lauderdale.
---
September 9th, 2014 by
Lance Butts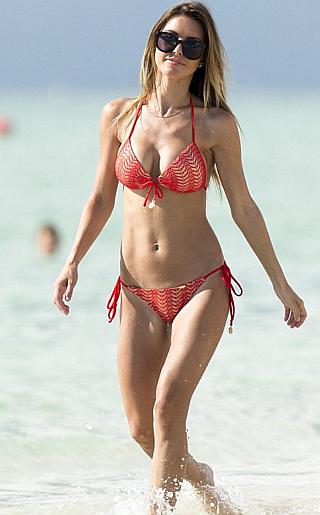 As host of lifestyle series 1st Look, single-again Audrina Patridge has things to do and exciting places to see.
The former star of The Hills set her sights on the clear warm waters of Miami Beach, Florida to film a segment of 1st Look on Tuesday.
Audrina, 29, who broke up from her boyfriend of five years Corey Bohan in late July, certainly wasn't lacking for attention as she pranced around shore in a two-piece red knit swimsuit.
Oh, poor Audrina, you can cry on my shoulders.
---
September 8th, 2014 by
Lance Butts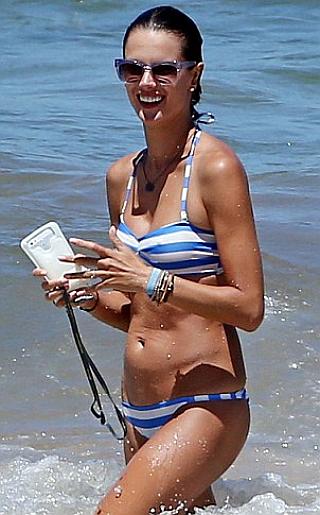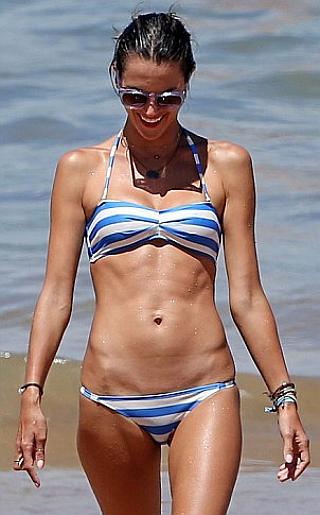 Hey hey hey!! Oh yeah, it's me Mr. Lance Man back from a spectacular weekend with my special buds Tony Fish, Vinnie Lasagne and Pauly Meathead. Ok, yeah we worked out all of those issues with our new place The Monster Bikini and now everything is on track like we all want. I get the cougars, Tony gets the redheads, Pauly gets the blondes and Vinnie gets to run around after college sorority girls all day long. As long as we don't step on each other's toes, everything is perfect. Inviting girls over to the house is boring now so we're venturing out again and this week we're going to jet set to NYC and never sleep there. Take in a few shows, eat some expensive food and experience the change of season since that never happens in Florida. I'll give you all of the details when we get back…but for now…on with the sexy bikinis!!
Starting off this week with pictures of supermodel Alessandra Ambrosio who looks stunning in anything she puts on.
She's been hitting the beach on the daily in an array of colorful bikinis this past week.
Alessandra Ambrosio paraded her stunning physique in a blue and white striped two-piece as she vacationed in Maui on Sunday. This shows off why she's one of the hottest and most in-demand supermodels in the world. Wow check out those abs!
---
September 5th, 2014 by
Jenny Bikini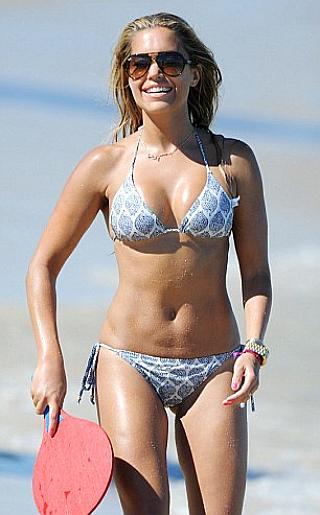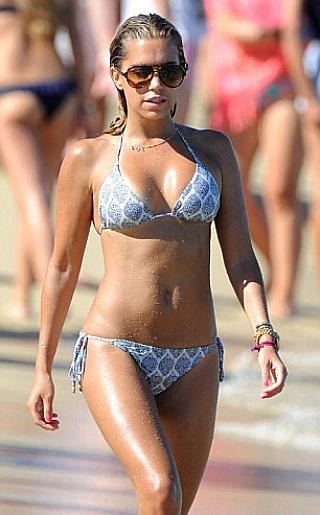 Sylvia Van der Vaart was spotted enjoying a kickabout on the beach in St Tropez on Wednesday. The 36-year-old looked simply sensational while doing so, as she wore a tiny blue and white paisley bikini. Her long blonde hair was slicked off her face creating a sexy look and she wore a pair of modern aviator style sunglasses. Totally stunning!!
Ok, my most wonderful Celebrity Bikini Gossip babies!! Wow, doesn't time fly by so fast when we're having fun posting pictures of sexy celebs in stunning bikinis? This weekend my hubby, Gerald, and I are going to stay home and rent a whole bunch of movies and just snuggle up on the sofa with my favorite things which are popcorn and banana pudding and, of course, Gerald. I hope that you have a great weekend too! I hear that the motley crew (Mr. Lance Butts…etc…Vinnie Pasta (or whatever his name is..)), are having issues in paradise in their new "Monster Bikini" place with little arguments between them and it makes me want to giggle because they walk around here like the Little Rascals buddies practically holding hands. Hmm, I'm dying to know what's really going on? Hehehe. Oh well, sometimes you can't live with anyone because you call them your "friend" and maybe they're figuring that out. Our boss adores Mr. Lance Butts so he gets to do whatever he wants and have anyone he wants in the office, and maybe I am a little jealous but it evens out when I get to post the hottest bikini pictures and I love to see the steam rising from Mr. Lance Butts' head. lol. Alright, my lovies, remember that JENNY BIKINI LOVES YOU!! Toodles!! Smooches!!
---
September 4th, 2014 by
Jenny Bikini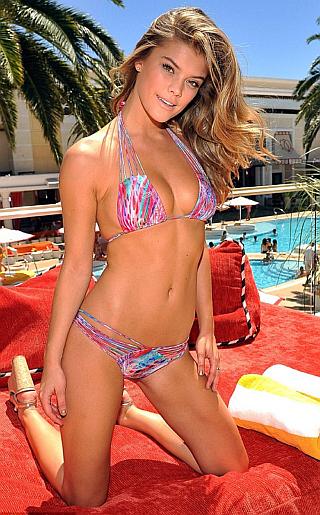 In early 2014 Nina Agdal flaunted her bikini body on the cover of the annual Sports Illustrated Swimsuit Issue next to Chrissy Teigen and Lily Aldridge. Now, the 22-year-old Danish model is at it again. This time revealing her famous figure while co-hosting a pool party at the Encore Beach Club in Las Vegas, Nevada. In a multi-coloured string bikini, the starlet posed for cameras while preparing to act as a judge for a bikini contest in which the winner won $25,000. Way to go!!
---
September 3rd, 2014 by
Jenny Bikini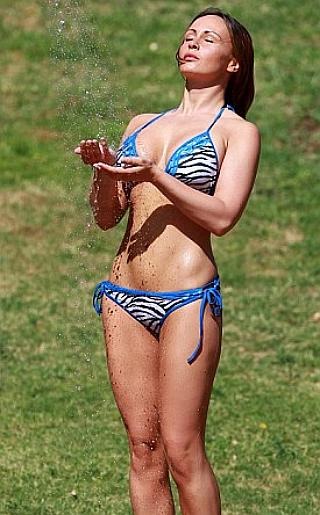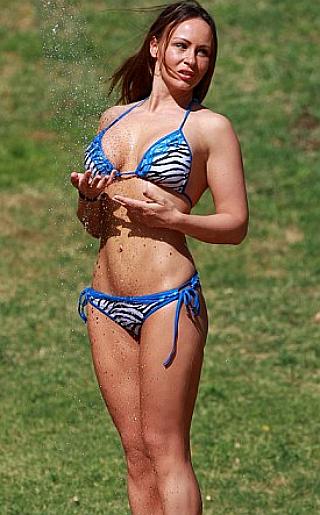 She revealed her incredible weight loss earlier this year as she went from a size 14 to a size 8. So it's no surprise that Chanelle Hayes was happy to put her svelte bikini body on display in Egypt last week. The 26-year-old looked trim in a zebra print bikini as she soaked up the sunrays during her luxurious holiday. The former Big Brother star has been working hard to regain her slim figure over the past year and her efforts have not gone to waist as the starlet showcased her lean physique in a zebra print two-piece that feature blue lace detail. Awesome! Keep up the great job Chanelle and we look forward to showing your new body off in hot and beautiful bikinis.
---
September 2nd, 2014 by
Jenny Bikini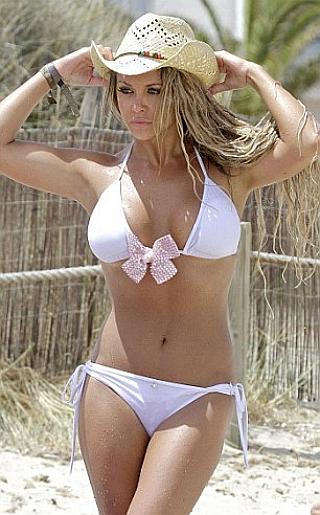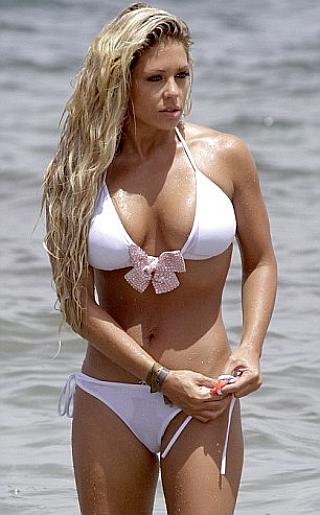 She's not known for her shyness when it comes to her voluptuous curves. So, in typical fashion, model Bianca Gascoigne wore a tiny white string bikini with a big pink bejeweled bow in the center of the halter top as she flaunted her beach body on holiday this week. One photo she sported a floppy hat to guard her delicate skin from the rays of the sun. The 27-year-old star was seen frolicking in the sea on Tuesday and is clearly having a good time. There was also sighting of her boxer and businessman boyfriend Brett Marshall. Thankfully, they've already enjoyed a recent holiday to Ibiza, which suggests she's taking a break from work projects. In 2006, she won ITV's reality TV show Love Island, which was set in Fiji, going on to also win the TV show Gladiators in a celebrity special. Expect to see much more of this cute blonde in hot bikinis in the future.
---
September 1st, 2014 by
Jenny Bikini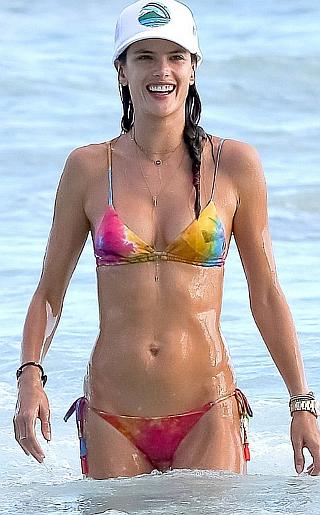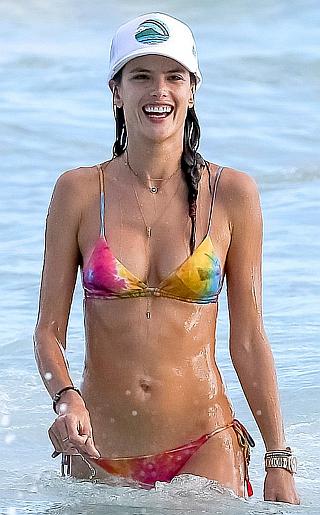 Hello my most delightful, stunning, vivacious, delicious and vibrant Celebrity Bikini Gossip babies!! It's me, your favorite celebrity bikini reporter, Mrs. Jenny Bikini, back from such a romantic weekend with my hubby, Gerald. We went to Ibiza where all of the celebs hang out and have come back with so many pictures of skimpy bikini wearing celebs. We didn't see Mr. Lance Butts and his motley crew there which was suprising because there are tons of girls there wearing awesomely hot bikinis. I hope that you're doing well and am so excited to share our latest celebs in awesome bikinis with you. The guys in the office (including my boss) are draped over my shoulders right now gawking at the photos of beautiful models wearing bright and colorful bikinis and you can't blame them. LOL!
Let's start this week off with beautiful supermodel Alessandra Ambrosio sporting super slender curves in a multi-colored tie-dyed bikini up to her waist in ocean waters. She was out and about with her family in Hawaii last week. Her smile lets you know that she enjoys bikinis, her family, the ocean and taking pictures. She's my hero!
---