Bikini Pictures
December 12th, 2013 by
Jenny Bikini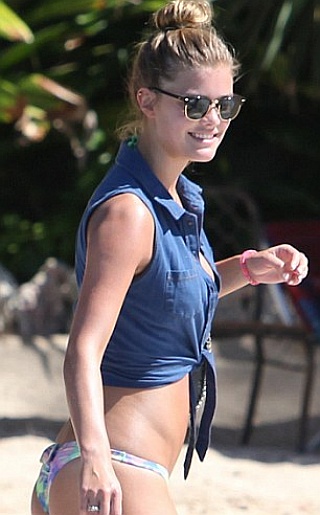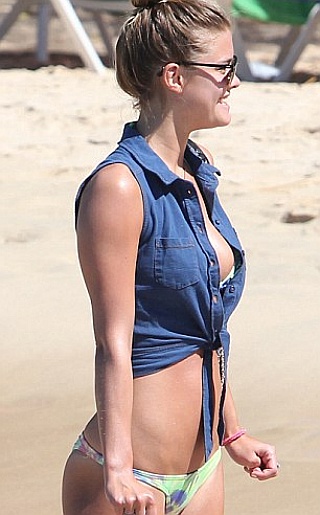 This time hanging out at the beach in a denim top and a pastel blue/green floral bikini is lovely Nina Agdal. Her hair is pulled up in a bun and she looks like a movie star in those cute sunglasses. The 21 yr old beauty is the girlfriend of The Wanted's Max George and if he knows what's good for him, he'll stay a perfect gentleman to keep her near.
Also…Happy Anniversary to my hubby Gerald. One year ago today we were married and today is my mom's birthday (miss you mommy)! You are the best hubby in the whole world! He said he has a sexy night planned for us and I can't wait!!
---
December 11th, 2013 by
Jenny Bikini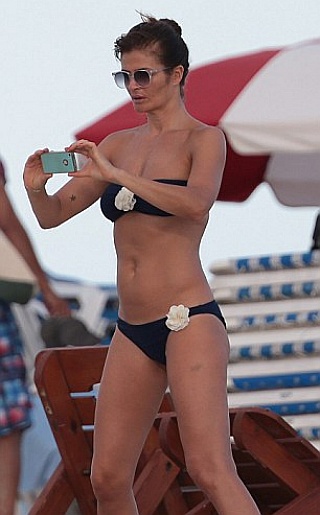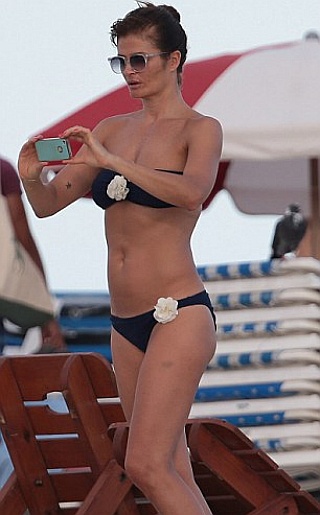 She never wilts! Helena Christensen shows off her enviable figure in a bandeau bikini with floral detail as she hits the beach. She recently wowed as she modelled a collection of vintage-inspired underwear, which she designed herself. Although Helena Christensen doesn't need hair, make-up and a professional shoot to look good in next to nothing – it seems she looks just as incredible caught off guard on the beach. The 44-year-old turned heads as she hit the beach in Miami last week, looking like a woman half her age while frolicking in her black bikini with white rose bows.
---
December 10th, 2013 by
Jenny Bikini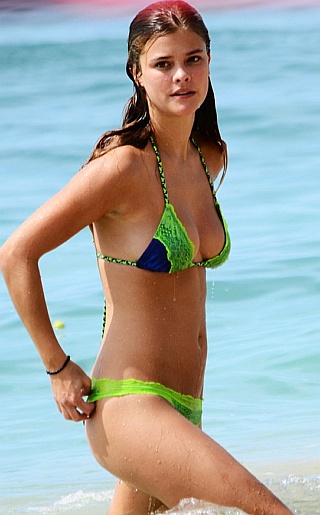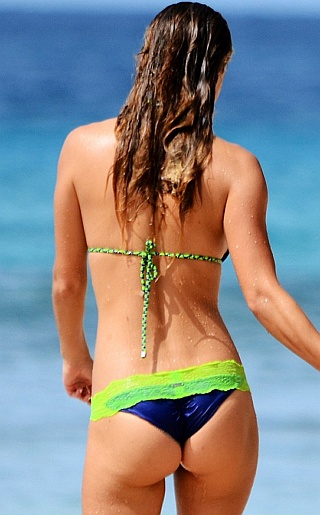 Sporting a lovely blue and green bikini on a beach in Barbados is Nina Agdal looking darling. She's the girlfriend of The Wanted's Max George who is the lead singer. The guys are looking over my shoulder as I make this post and they keep asking how in the world did he land a girl like her? Well maybe he's a nice guy with manners, unlike Mr. Lance Butts and his motley crew who look at all women like they're pieces of meat.
---
December 9th, 2013 by
Jenny Bikini
Hello my super delightful Celebrity Bikini Gossip babies!! I've missed you terribly as usual and also want to spoil you with the hottest pictures of your favorite celebs wearing sexy bikinis!! It's Mrs. Jenny Bikini back to cradle you in my arms with hot bikini photos. I hope that you're enjoying this holiday season and are having fun shopping for Christmas. I like to make gifts for my friends and family members by hand to show just how much I care. Spending money is ok but it's just not personable to me. So I've been knitting and quilting and creating scrap books with my own two little hands. The only problem is I don't know what to get for my hubby. He says that having me as his wife is enough which is so sweet! I'll think of something!
Now, let's get get started with even more pictures of Victoria Secret supermodel Candice Swanepoel posing in a lovely cream floral print bikini. I'm loving the halter top and the way that she strikes stunning poses in it. She really knows how to make the camera love her.
---
December 6th, 2013 by
Lance Butts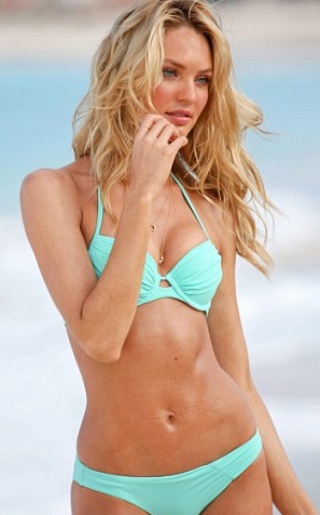 Candice Swanepoel shows off her desirable curves in a delightful pastel green bikini while her long blonde hair flows freely in the wind. Her blue eyes are deeply penetrating and mysterious at the same time. All supermodels look so hot when they pout their lips out like she's doing. She's one of the highest paid and most in demand supermodels all over the world and you can see why. Yeah, sure, I'd date her mom too if she's single. At least you know someone in their family has money. I'm such a brut..yeah, but you still gotta love me.
Alright, dudes and dudettes, it's time to pass you over to the prim and proper Mrs. Jenny Bikini who is perfect in every way. Her wedding anniversary is coming up soon but I hope she doesn't expect me to get her a present. I'm broke and live check to check. Anyways, I'm surprised it lasted this long because she's demanding and sometimes too sweet but her husband is just like her "perky perky perky" so they're a match made in heaven. So…I'm not sure what my buddies, Tony Fish, Vinnie Lasagne and Pauly Meathead and I are going to do this weekend but I'm sure it's going to involve the cops. (just kidding)…so…just remember to never bring home any strays..especially during this holiday season because you'll never get rid of them. PEACE!!!
---
December 5th, 2013 by
Lance Butts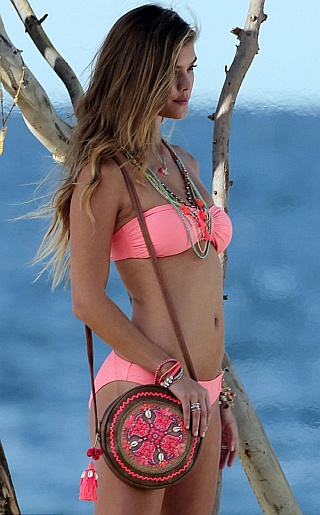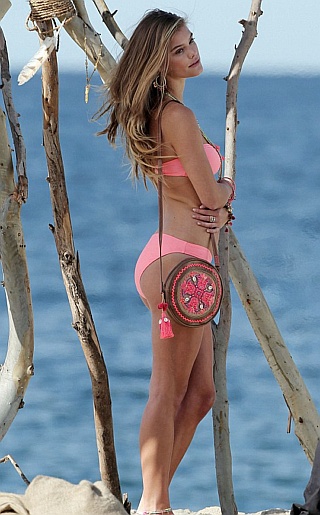 Nina Agdal sure knows how to warm up a rare cold Californian day. The 21-year-old bought her own brand of sunshine as she braved the elements to shoot a campaign for an accessories line while wearing a sexy pink bikini on Friday.
The Danish stunner was ever the professional as she had to strip down to the barely-there garments on a Los Angeles beach. Her boyfriend is George from the pop-group "The Wanted" and again, how did he land a babe like her? Do I need to rent out a guitar and take some singing lessons to land a supermodel?
---
December 4th, 2013 by
Lance Butts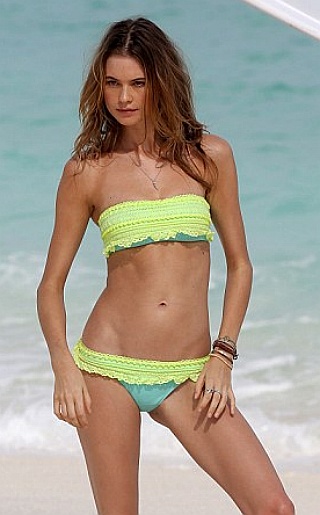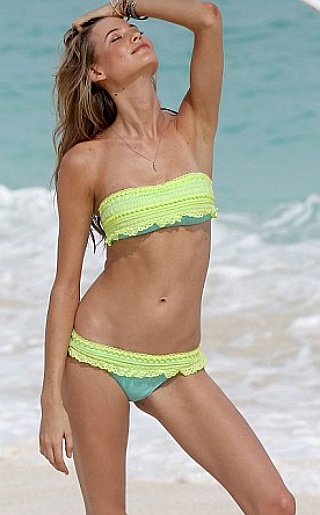 Back by popular demand are vivacious and vivid pictures of supermodel Behati Prinsloo posing in a green and blue bikini on a photo shoot in St. Barts. All I can say is "How in the world did Adam Levine" land her? She's too high class and stunning to go out with a dude like him. She's more my type. Although I would probably like to date her mom too if her mom is single. I'm into cougars and if Behati is that beautiful, then you know that her mom is even more hot.
---
December 3rd, 2013 by
Lance Butts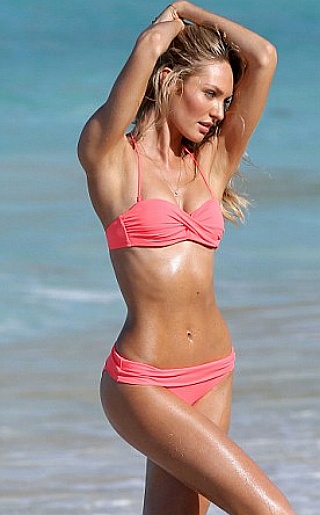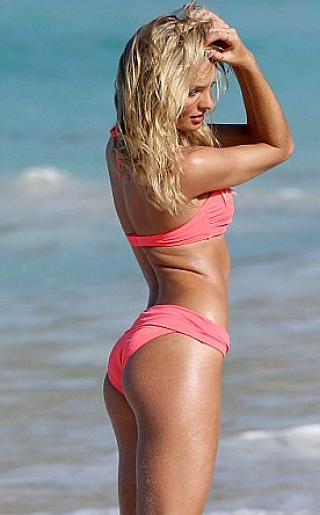 Candice Swanepoel puts her incredible figure on display in skimpy coral two-piece for beachside Victoria's Secret shoot. Candice Swanepoel has been named cover model of Victoria's Secret's highly-esteemed swimsuit catalogue. The 25-year-old 'Angel' proved why as she assumed a few provocative poses on a beach in St Bart's on Friday during the latest photo shoot for the lingerie company. She was wearing the coral two-piece set from next season's swimsuit collection, a hue that showed off her golden tan to perfection.
---
December 2nd, 2013 by
Lance Butts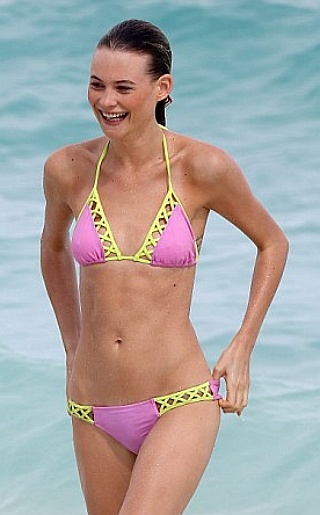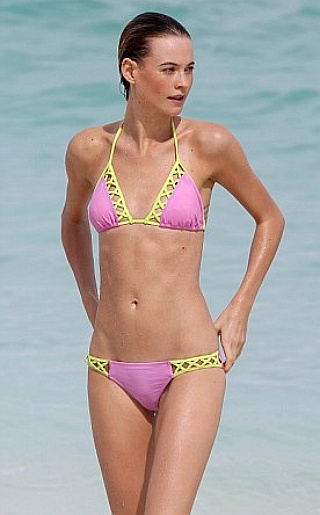 Hey Hey Hey! Oh yeah, it's the most fantastic Mr. Lance Man back from a groovy Thanksgiving holiday with great friends and family members. I ate so much that I passed out to sleep during eating my third plate. By that time the turkey sleep had overcome me and I couldn't take it anymore. I hope that you enjoyed yourself too.
Alright, I'm thinking that Christmas has come early because I get to post pictures of the hottest babes in bikinis this week. I did a double take when my boss told me who I would get to talk about. I'm so happy! First up is the beautiful Behati Prinsloo. She's Adam Levine's fiance but that doesn't stop us guys from staring her down in this lovely pink and yellow trimmed bikini. Very nice fashion. There is more to come from this stunning beauty while she's on a photo shoot in St. Barts. This is only the beginning so guys, get out your drooling bibs.
---
November 29th, 2013 by
Jenny Bikini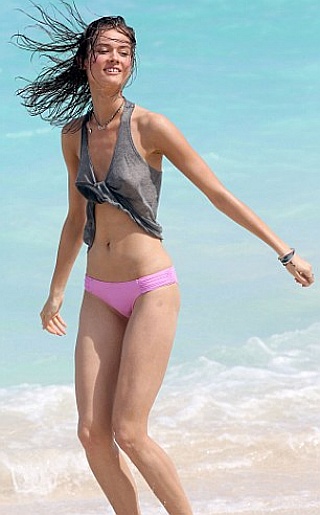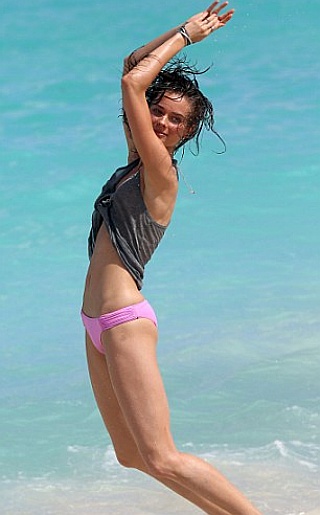 Happy Black Friday! I hope you're recovering well from the feast that you had yesterday because now it's time to shop but, if that's not your style, it's ok, just take it easy and hang out at our website looking at hot celebs wearing sexy bikinis all day. You deserve it.
Ok, let's put down the left-over pumpkin pie for a minute and check out supermodel Monika Jagaciak performing sexy moves while beachside posing on a photo shoot. She's sporting a grey tankini top and pink bikini bottom. Although still in her teens, the brunette beauty is already a veteran in the industry, with dozens of ads and catwalk shows under her belt. She began her career in 2007 and received her first big breaking at the tender age of 13 when she nabbed the fall/winter Hermes campaign. It didn't take long before she began gracing the covers of major fashion magazines around the world, including Elle, Harper's Bazaar and Vogue. However, due to age restriction in the modelling industry, Jagaciak was unable to walk in fashion shows until she turned 15. In 2009, Jagaciak made her runway debut during New York Fashion Week walking for Hervé Léger, Calvin Klein and Donna Karan, to name a few. What a career so far. I'm sure we are going to see so much more of her in years to come.
Alright, my sweet babies, it's time to hand you over to Mr. Lance Butts and his motley crew of dudes who follow him everywhere. They all came back into the office today screaming and yelling really loud just like they always do but because they're guys, they get away with it. I bet if I did that, I would get taken to the side and scolded but he gets free reign. Oh well, I don't mind because I know secretly that I'm my boss' favorite. So remember to love on yourselves this weekend by spoiling and shopping! I'm still stuffed from yesterday and had the best time with my hubby's family. Love you Mom and Dad! Ok, babies, remember that Jenny Bikini LOVES YOU!! Toodles!! Smooches!!
---
November 28th, 2013 by
Jenny Bikini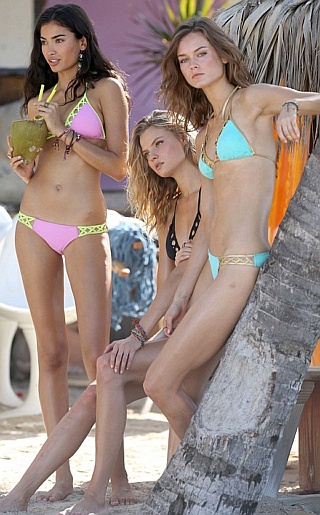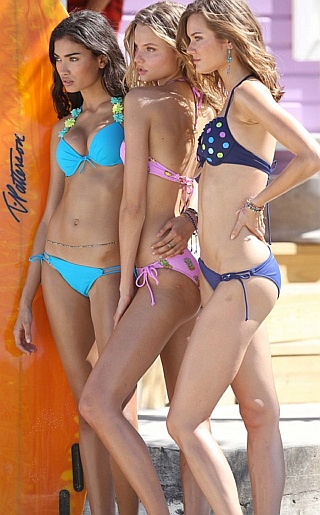 Happy Thanksgiving to you and your family. I hope you're sitting back and relaxing with a nice plate of pumpkin pie and looking at our pages of hot celebs wearing sexy bikinis! Thank you for being such a devoted reader and we aim to provide you with the hottest pictures of your favorite celebrities wearing dynamite swimwear 24/7.
Spoiling you guys is so much fun which is why it's so much fun posting these pictures of Victoria's Secret Angels – Kelly Gale, Monica Jagaciak and Magdalena Frackowiak showing off their bikini bodies on tropical photo-shoot. The toned bodies were present and correct on Sunday as three Victoria's Secret Angels did what they generally do best on a sunny beach in the French West Indies. Indeed, it didn't appear to be the most challenging day's work for the three beauties as they posed for a string of shots on the picturesque island of St. Barths. While the names Magdalena Frackowiak, Monica Jagaciak and Kelly Gale don't roll off the tongue as easily as Miranda Kerr and Candice Swanepoel, the girls were happy to show off the lithe bodies that helped turn them into runway stars.
---
November 27th, 2013 by
Jenny Bikini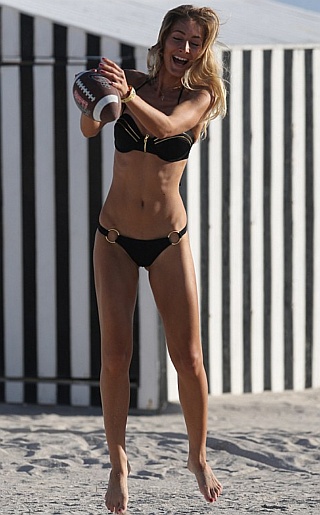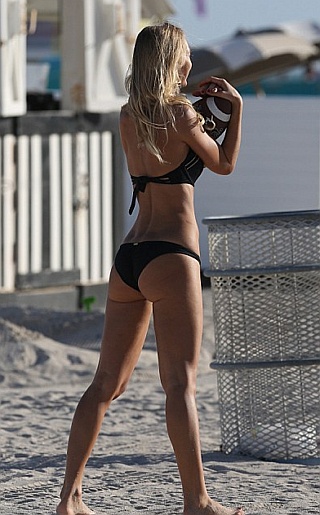 All the guys are so jealous that I get to showcase these pictures of supermodel Petra Benova wearing a seductive black bikini. Model Petra Benova shows off her slim figure in black bikini as she plays ball in Miami. She confirmed her single status over the summer posting a picture of herself wearing a T-shirt saying 'No boyfriend, no problem'. But given her fine form it is unlikely model Petra Benova will stay single for long. The Slovakian stunner flaunted off her incredible physique on Sunday as she enjoyed a day out at the beach.
---
November 26th, 2013 by
Jenny Bikini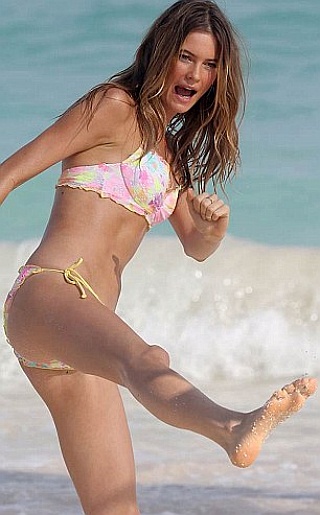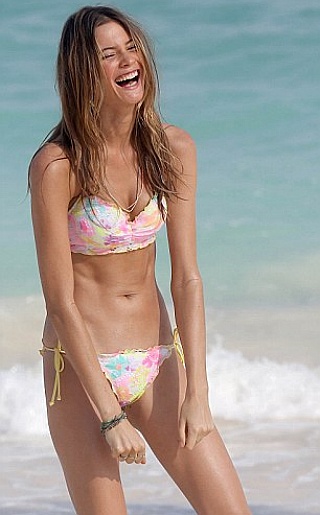 Behati Prinsloo could well be the perfect contender for Rear Of The Year judging by her recent bikini shoot in St. Barts. The Victoria's Secret model showed off her peachy bottom in a floral print bikini as she continued the shoot for the famed lingerie brand on the beach. Even with her hair down flowing freely and wet, the 24-year-old still looked picture perfect from all angles.
---
November 25th, 2013 by
Jenny Bikini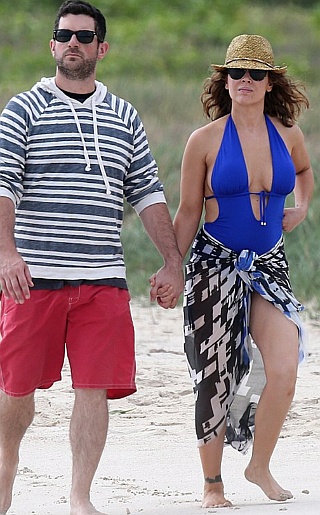 Hello my most special Celebrity Bikini Gossip babies!! It's me, Mrs. Jenny Bikini, your favorite celeb bikini reporter back to delight you with new pictures of super hot stars in sexy swimwear. I've missed you guys so much! It's Thanksgiving week and I hope that you have a wonderful turkey day! I plan on going with my hubby to his parents' home and spending time with them. My parents passed away so Gerald is the only family that I have right now and I'm so stoked to spend our first Thanksgiving together as man and wife. Our anniversary is December 12th so also looking forward to that. Thank you for sharing our happy and sad moments!!! Love you!
Ok, let's get started with some pictures of one of my favorite television sitcom beauties – Alyssa Milano. Alyssa Milano showed off her fabulous beach body on a romantic Hawaiian getaway with her husband David Bugliari on Sunday. The Mistresses star, 40, opted for a revealing yet tasteful one-piece that plunged in the front and tied around her bust. And a halter-style top wrapped around her neck to keep the cut-out number in place. The mother-of-one – who has a two-year-old son Milo – also wrapped a sheer, patterned sarong around her waist. Keen on safeguarding her skin from the damaging effects of the sun, Alyssa made sure to wear sunglasses and a straw brimmed hat. Stay looking great Alyssa! I'm one of your biggest fans.
---
November 22nd, 2013 by
Lance Butts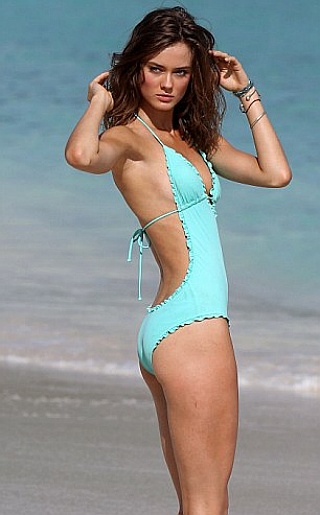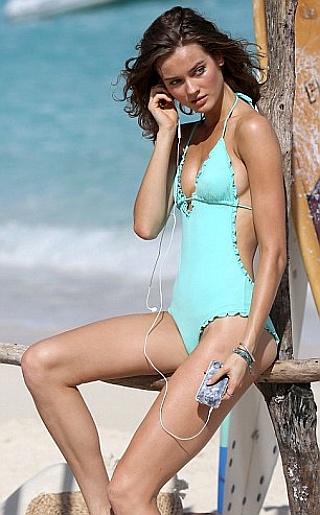 Back by popular demand are more pictures of stunning 19 yr old supermodel Monika Jagaciak. In these pictures, she's looking divine in a electric blue one-piece suit with a halter top. With her hair blowing in the wind and the sun kissing her hair, this delightful brunette beauty is going to stop guys in their tracks with her natural beauty. Keep your eyes and ears wide open for more on this lovely.
Ok, dudes and dudettes, I hope that you have a wonderful Thanksgiving holiday and remember to eat hearty because that's what me any my buddies Tony Fish, Vinnie Lasagne and Pauly Meathead are going to do. The best thing about the holidays are the cute girls that come out of the woodwork because they're on vacation. We plan on hitting some of the clubs in the evenings and just hang out locally. We're planning on a big ski trip in a few weeks so gotta save up for that. I sure hope I can meet a cougar babe along the way who could pay for all of my expenses. At least I'm honest. Alright everyone, take care and remember to NEVER bring home any strays!! PEACE!!
---