Bikini Pictures
April 18th, 2014 by
Jenny Bikini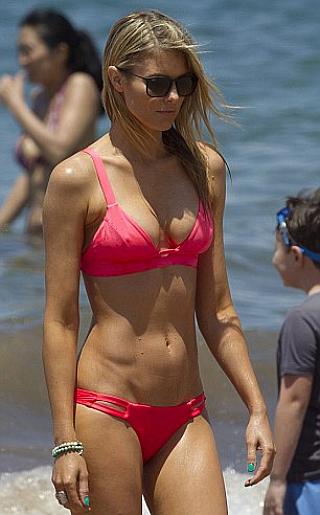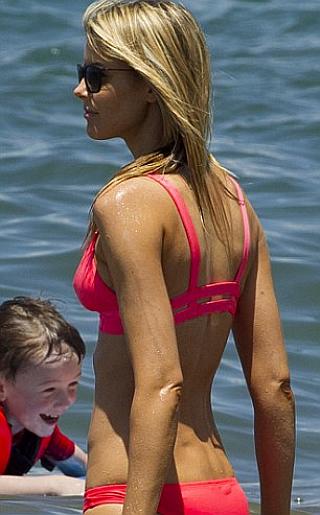 Let's welcome to the first time to Celebrity Bikini Gossip, lovely model Paige Butcher. She's the girlfriend to funny man, Eddie Murphy. They mostly are known for their morning coffee runs and now it seems like she's becoming even more popular due to her current boyfriend status. That's what happens when you date a celebrity. You kind of become one too although she's gaining status as a model. You'll see more of Paige to come on CBG and you are going to get blown away at her natural beauty. Here she's hanging out in a sexy pink bikini and sunglasses which make her look already like a movie star.
Oh, my sweet babies, it's time to pass you over to Mr. Lance Butts and his motley crew of followers. lol. Just remember that Jenny Bikini loves you and I want you to take good care of yourselves and your loved one because life is so short and every moment is precious. So until next time, TOODLES!! SMOOCHES!! Remember you are loved!!! See you soon!!
---
April 17th, 2014 by
Jenny Bikini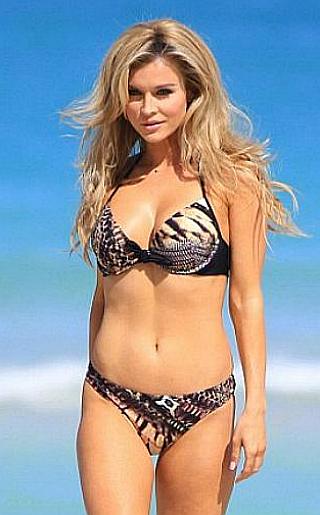 She's one of Poland's top modeling exports, with a body most women would kill for. On Tuesday, the stunning blonde took to the beach in Miami for a photo shoot. Her curves melt in a beautiful animal print two-piece bathing suit. Doesn't it seem like she gets more and more beautiful with each photo shoot? I really like her and want to know who her personal trainer is. Look at those abs!
---
April 15th, 2014 by
Jenny Bikini
She's made no secret of being body-confident and proud of her envy-inducing hourglass figure. Helen Flanagan positively sizzled as she slipped into a typically tiny bikini to put her killer curves on full display on the beach in Dubai. The 23-year-old actress didn't hold back as she posed up a storm for a rather racy swimwear shoot at Le Royal Meridien Hotel, parading her impressive figure in a barely-there navy blue bejewelled two-piece. Simply stunning.
---
April 14th, 2014 by
Jenny Bikini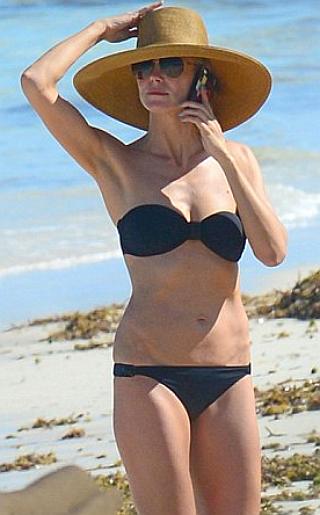 Hello my most wonderful Celebrity Bikini Gossip babies!! I've missed you so much! I've been having so much fun with my hubby, Gerald. We're planning for a family so we're working on that and having the best time, if you know what I mean (lol). I want a little girl and he wants a boy but we will be so happy with a healthy baby period!
Ok, let's start out with a very busy mom herself and that's model Heidi Klum looking stunning in a two-piece black bikini and sun hat to shield her face from the rays of the sun. Heidi Klum, 40, covers up her face from the Bahamas sun but makes sure her fantastic bikini body catches all of its tanning rays. As one of the world's top supermodels, Heidi Klum always turns heads but in a bikini she makes it impossible not to stare. As her and her family's holiday in the sun continues, the 40-year-old star was making the most of it – and looking very impressive doing so – on Monday. The America's Got Talent star and her children – Leni, 9, Johan, 7, Henry, 8, and Lou, 4 – have been in the Bahamas since March 22 and all have seemed to adjust to tropical island life. How very impressive.
---
April 11th, 2014 by
Lance Butts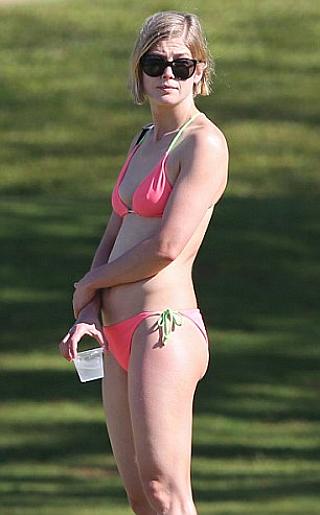 Stepping out in Hawaii this week, the only thing that appeared to be gone were Rosamund Pike's clothes as she showed off a set of nicely sculpted abs. The 35-year-old actress – a former Bond girl – has looked increasingly toned of late, and her recent outing in Southern California revealed the fruits of her healthy lifestyle as she padded across the sand in a pastel pink bikini. Great look.
Ok, dudes and dudettes, it's time for us to temporarily part so you can get spoiled by Mrs. Jenny Bikini. She's such a spunky one, isn't she? But she's nice and is always bringing in treats like donuts and cakes into the office. I think she does it so the guys will stay fat and single. Just kidding…Anyways, my buddies Tony Fish, Vinnie Lasagne, Pauly Meathead and I are heading out the the Jersey Shore! I'm very excited about that. Both Pauly and I have relatives that live out there and it's always a good and crazy time when we visit. So I will let you know (if I'm not in a brawl or something) how things went!! So remember to NEVER bring home any strays and we care about you!! PEACE!
---
April 10th, 2014 by
Lance Butts
Back by popular demand are more pictures of sportscaster Jill Martin. This time Jill Martin sports a purple bikini that's two toned. A light purple string bikini top and a darker purple string bikini bottom. She accessorized with dark sunglasses which gives her that Hollywood appeal. Jill was out and about with her new "hunky" boyfriend everyone keeps talking about and as long as she's happy, I'm happy for her. At 37, Jill's body looks more hard and sturdier than most 25 yr olds. You can see that she takes great pride in her body and that's appealing to any guy. I like a secure woman!
---
April 9th, 2014 by
Lance Butts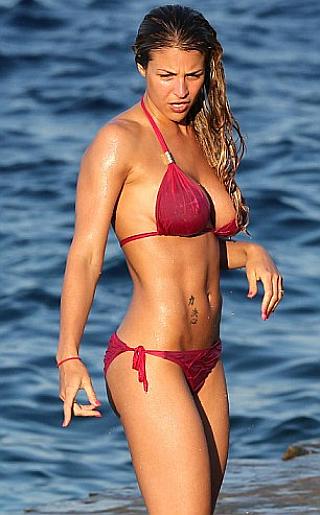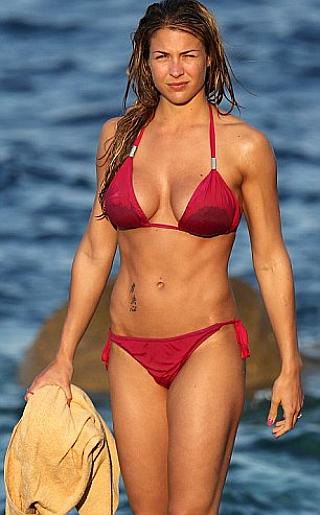 Ripped Gemma Atkinson reveals envy-inducing bikini body as she holidays on the beach in flattering two-piece. Former Hollyoaks actress Gemma Atkinson has unveiled what most people have only just started striving for, this summer – a bikini body. The blonde beauty was pictured holidaying on the beach in a stunning halterneck two-piece on Saturday and boasted a dynamic physique. Enjoying the sun as she sunbathed alone, the model clearly enjoyed her solitude as she continued her dedicated fitness regime alongside the water. This is Gemma's first appearance on Celebrity Bikini Gossip and hopefully not the last. She's not a cougar but wow, what a cougar she will be in a few years! I can wait.
---
April 8th, 2014 by
Lance Butts
Jill Martin parades her sculpted physique in a green bikini top and white sheer knit pants as she frolics on Miami Beach with boyfriend (not pictured because we don't care about him). Valentine's Day went into overtime for New York Knicks sportscaster Jill Martin. Still in the spirit of love, the 37-year-old TV personality opted to show off her sculpted figure in a green bikini top and white sheer pants. While she likes to keep her private life under wraps, the star couldn't have looked happier as she splashed out in the water with her hunky man. She was out and about getting a nice tan and laughing and enjoying herself from her hectic schedule and that's really cool. At 37, she's still pre-cougarish for me…not old enough but we could take it there if she were to ever break up with that "hunky" guy.
---
April 7th, 2014 by
Lance Butts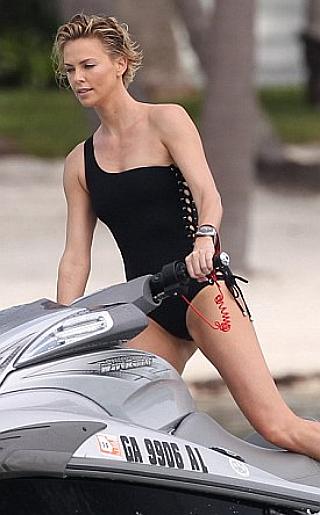 Hey Hey Hey!!! Oh yes, it's the most fantastic Mr. Lance Man back from an awesome weekend with my buddies Tony Fish, Vinnie Lasagne and Pauly Meathead. What a ball we had! Things started out kind of boring but we ended up going to a hotel in Ft. Lauderdale, Florida and little did we know that the babes out there were smoking hot. We stumbled up some sort of Tiki Bar and I can hardly remember anything past that point. I do remember meeting a lovely older woman by the name of Joyce. She had a long mane of white hair which was lovely and of course she was like in her late 50′s which is just my style. Nothing became anything of it because she was just too stunning and I felt like a little dummie hanging around her and her distinguished friends. That's why I love older women because they intimidate me with their confidence. Young girls are too insecure and that's a turn off. So remember that ladies when looking for a man. Show him that you love yourself no matter what and he will follow you around like a puppy! Hmm…I'm going to hang on to Joyce's phone# though.
Ok, dudes and dudettes it's time to start off this week with a super hot MILF who recently hooked up with a Hollywood "bad boy" or "old boy"..lol. It's Charlize Theron who looks stunning in a black one-piece swimsuit out and about on a sports water boat. She adopted a kid and takes him everywhere. It's a package deal with her and that's cool. So Mr. Sean Penn will have to take her and him and so far he's baby proofing his home and plans are that Charlize is going to move in. Now that's a big move and I'm keeping my eyes and ears wide open for this Hollywood disaster in the making. Once the egos come out, it's a wrap. But let's just see how long before all that happens. Right now they are in the true lovey dovey stage…isn't that cute. Wow, she really knows how to handle that boat ride, huh!
---
April 4th, 2014 by
Jenny Bikini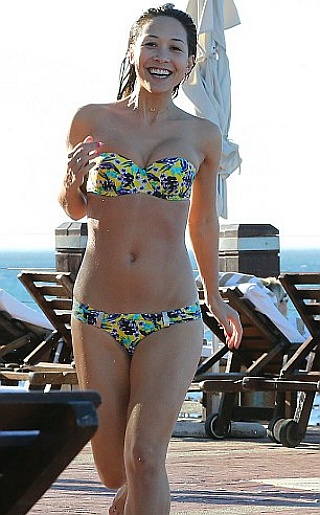 A vacation to South Africa that has involved swimming with sharks, frolicking in a skimpy bikini and enjoying a flirty poolside moment with a mystery man appears to be just the tonic to get Myleene Klass smiling again. The yummy mummy of two, who has been single since her divorce from ex-husband Graham Quinn last April, was spotted wearing a colorful strapless two-piece primarily blue and yellow bandeau bikinis. Myleene appeared to be enjoying the attention of a fellow guest, who simply couldn't take his eyes, and later his hands too, off the radio DJ. Good for her!
Oh wow, the time has come for me to gently hand you back over to Mr. Lance Butts and his motley crew of misfits who follow him everywhere. These guys must live off of their parents because they don't work but always seem to have money to hang out at clubs and eat dinners out every night. I love to cook for my hubby so eating out for us is a very special treat. These guys survive on it. I'm just so glad I'm not dating any of them. Now remember, that you are special and I will miss you every moment that we are away from each other. I really enjoy posting to you and hope that you enjoy my small banter. Always know that Jenny Bikini LOVES YOU!! SMOOCHES!! TOODLES!!!
---
April 3rd, 2014 by
Jenny Bikini
Emily Browning looks stunning in a cream string bikini. If you're not familiar with her, Emily Browning is an Australian film actress, singer and fashion model. After early roles in Ghost Ship and Ned Kelly, she won the 2005 AFI International Award for Best Actress for her breakthrough role as Violet Baudelaire in Lemony Snicket's A Series of Unfortunate Events. She has starred in lead roles in the horror film, The Uninvited (2009), the action film Sucker Punch (2011) and the independent film Sleeping Beauty (2011). So she has quite a few credits underneath her belt. You can see that her bikini fashion style is demure and dainty. Let's hope for more on her.
---
April 2nd, 2014 by
Jenny Bikini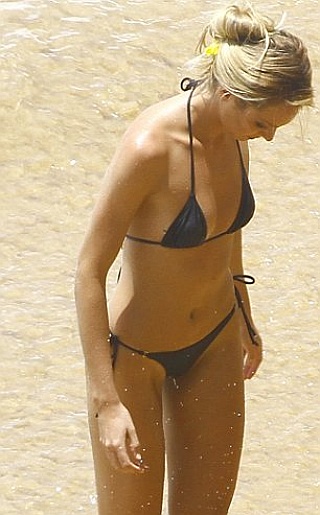 She may be one of Victoria's Secret's biggest stars but Candice Swanepoel was acting like no Angel during a photo shoot on Tuesday. The model was in Fernando de Noronha, Brazil, where she writhed on the sand while leaving little to the imagination as photographers clicked away. The 25-year-old was wearing a black bikini that showcased her phenomenon curves. The star had her hair clipped back and it was unclear if this was part of the photo shoot or if she was taking a dip once it had wrapped. Candice looked like she was having a great time as she cooled off in the ocean while displaying her fantastic bikini body in the teeny triangle number.
---
April 1st, 2014 by
Jenny Bikini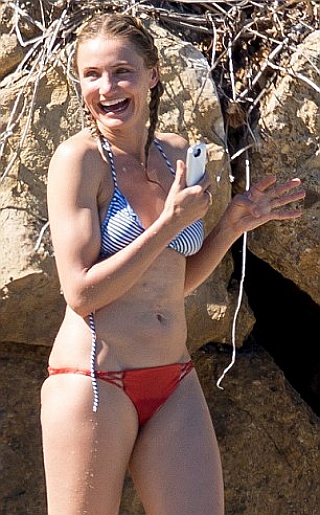 Happy April Fools day! No tricks here. I don't like April Fool jokes for some reason but they sure are playing them here around the office. It would be a cool joke if my boss offered Lance Butt's three buddies jobs but gave them crazy demands like they had to be at work at 5am and work 12 hour days. Let's see them do that! lol
Ok, Cameron Diaz might be getting older, but there can be no doubt that There's Something About Cameron. The fun-loving 41-year-old stripped showed off her wavy curves in a mixed matched blue and white striped bikini top and red bikini bottoms while out and about with friends at the beach. Her healthy figure on full display, Cameron wore her blonde locks tied back in a pretty but functional plaited style for her swim. I love her fun loving attitude and carefree spirit. She doesn't seem to get hung up in the "hollywood" lifestyle even though she probably is but at least she doesn't put on airs that we can see.
---
March 31st, 2014 by
Jenny Bikini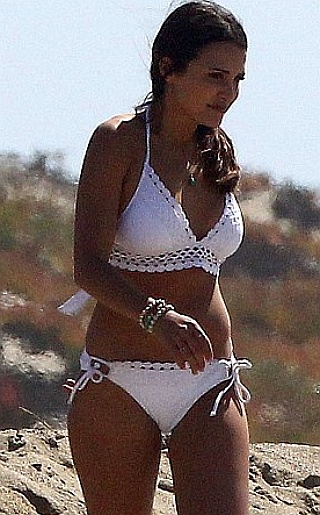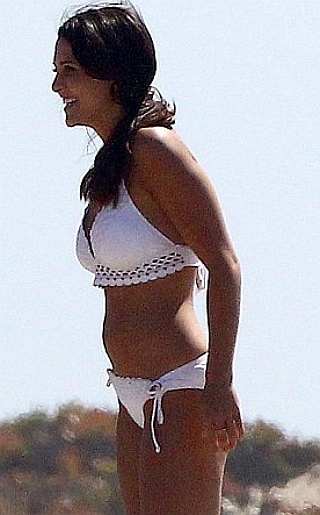 Hello my most precious Celebrity Bikini Gossip babies!! It's me Mrs. Jenny Bikini back to adore you with the hottest celebs in sexy bikinis. It always seem so long when I'm away from you so I wanna make up for it with some really hot pictures this week. I'm still happily married to my hubby, Gerald. My birthday is April 13th and he said that he's going to surprise me with something really special. I hope it's a cruise trip. I love cruises. But anything he gives me, I will know it came from love and it will delight me! I will keep you all posted!
Ok, speaking of love. Starting off this week with the new Bachelorette star – Miss Andi Dorfman. She's an assistant District Attorney which makes her like one of the smartest bachelorettes on the show. In these photos, Andi is on a date with a hunky guy (not pictured so as not to give a spoiler alert). But he's cute and you'll see that ladies. She looks awesome in a white bikini and is just smiling away. I like Andi but she tends to think too much when it gets down to the nitty gritty. You can't when it comes to men. They're simple creatures. She walked away from Juan Pablo on the Bachelor because she said that he didn't know her. Well it's up to her to tell him about her and I think if she did, he would have listened. But these girls get caught up in the romance and it's all about him. I hope she makes it all about her and I'm excited to see if she finds love. Let's all stay tuned.
---
March 28th, 2014 by
Lance Butts
Back by popular demand are more pictures of Victoria Secret supermodel Alessandra Ambrosio wearing a sexy white halter top bikini with a sheer coverup to match. She's one of the most in demand supermodels all over the world and you can see why. You can tell she has a keen fashion sense and looks great in anything that she puts on. This brunette beauty could wear a paper sack in a couture way. Her smile is infectious and it's always fun to showcase her on our site. Very nice.
Ok, dudes and dudettes, it's time to pass you over to Mrs. Jenny Bikini who loves her readers so much. This weekend my buddies, Tony Fish, Vinnie Lasagne and Pauly Meathead and I are headed to New York City. Yeah we are going to take in a few plays, hit some clubs, hang out on 42nd street and even take the subway around. I love NYC and that's where Pauly and Vinnie were born so we will probably visit some of their relatives and eat some good Italian food! Alright, but always remember that we ain't bringing home any strays but it's fun to play! So until next time PEACE!!
---