Bikini Pictures
September 2nd, 2014 by
Jenny Bikini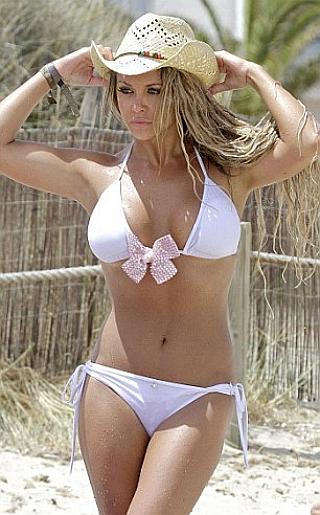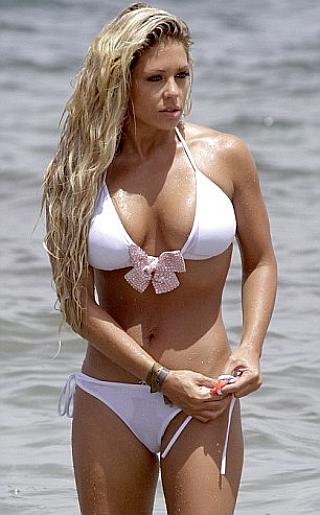 She's not known for her shyness when it comes to her voluptuous curves. So, in typical fashion, model Bianca Gascoigne wore a tiny white string bikini with a big pink bejeweled bow in the center of the halter top as she flaunted her beach body on holiday this week. One photo she sported a floppy hat to guard her delicate skin from the rays of the sun. The 27-year-old star was seen frolicking in the sea on Tuesday and is clearly having a good time. There was also sighting of her boxer and businessman boyfriend Brett Marshall. Thankfully, they've already enjoyed a recent holiday to Ibiza, which suggests she's taking a break from work projects. In 2006, she won ITV's reality TV show Love Island, which was set in Fiji, going on to also win the TV show Gladiators in a celebrity special. Expect to see much more of this cute blonde in hot bikinis in the future.
---
September 1st, 2014 by
Jenny Bikini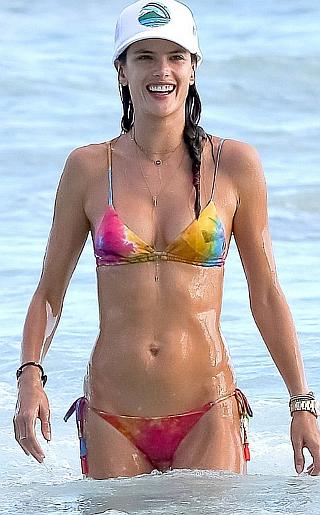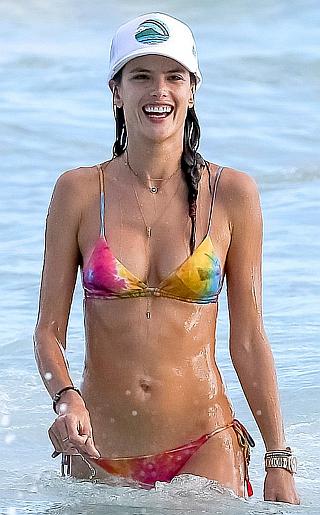 Hello my most delightful, stunning, vivacious, delicious and vibrant Celebrity Bikini Gossip babies!! It's me, your favorite celebrity bikini reporter, Mrs. Jenny Bikini, back from such a romantic weekend with my hubby, Gerald. We went to Ibiza where all of the celebs hang out and have come back with so many pictures of skimpy bikini wearing celebs. We didn't see Mr. Lance Butts and his motley crew there which was suprising because there are tons of girls there wearing awesomely hot bikinis. I hope that you're doing well and am so excited to share our latest celebs in awesome bikinis with you. The guys in the office (including my boss) are draped over my shoulders right now gawking at the photos of beautiful models wearing bright and colorful bikinis and you can't blame them. LOL!
Let's start this week off with beautiful supermodel Alessandra Ambrosio sporting super slender curves in a multi-colored tie-dyed bikini up to her waist in ocean waters. She was out and about with her family in Hawaii last week. Her smile lets you know that she enjoys bikinis, her family, the ocean and taking pictures. She's my hero!
---
August 29th, 2014 by
Lance Butts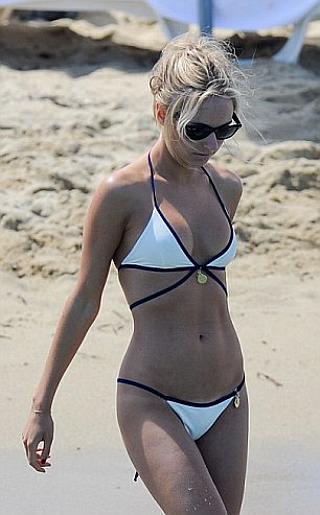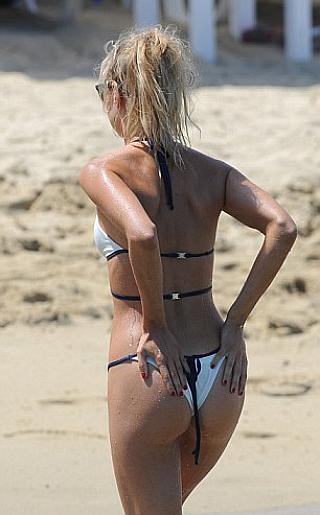 Kimberley Garner looks fabulous in anything that she puts on. What tickles her fancy today is a two piece black and white bikini that wraps itself around her super slender figure. I mean if you look in the dictionary under the words "perfect bikini body", her face is right there. She's very active and was also seen in a speed boat (not pictured) in this gallery. Kimberley Garner's fashion sense is simplistic today in that she fashioned her two-piece black and white bikini only with dark sunglasses. Well it doesn't matter to me because she's totally flawless. Keep up the great work Kim!
Wow, time sure goes by quickly! Now I understand what Mrs. Jenny Bikini is talking about when she says it. It's been a very eventful week. I promised to let you know how our bikini party went and it went really great! I happened to get introduced to a hot cougar named Helen who lives two doors down from our Monster Bikini home. She has two daughters in their 20′s so you know she's just my type. Helen is recently divorced so I plan on being the patient and understanding type of guy with lots of compassion. Wish me luck! My roomies think that I'm crazy going for her when her daughters are hot but I fall in love with a woman's mind first and pocket secondly! LOL!! Ok, remember to NEVER bring home any strays although that motto isn't working around here lately. We need to keep a tight ship around here because I'm waking up to girls sleeping on the sofa and eating up all of our food and I don't even know their names. So it's time for another group house meeting!! Not sure what the agenda is for next week but as soon as I know, you will know!! Ok, dudes and dudettes, until next time PEACE!!!
---
August 28th, 2014 by
Lance Butts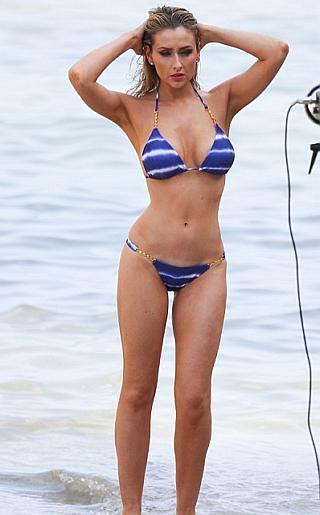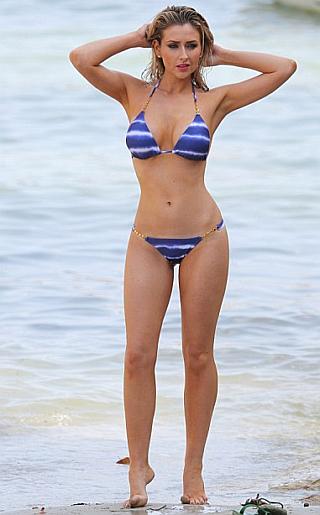 New to Celebrity Bikini Gossip is Gemma Merna who spends most of her time in Chester filming for Channel 4 soap Hollyoaks in which she stars as ditzy Carmel McQueen. However Gemma Merna gave her best sultry pout when she was spotted posing for a swimwear shoot on a beach in Mallorca last week.
The 29-year-old's long blonde hair was slicked back away from her face, while her toned tum and pins proved impossible to miss.
The actress kicked off the racy session in a striking blue tie-dye bikini, which came complete with gold chain detailing on the hips and chest.
Three thumbs up!!
---
August 27th, 2014 by
Lance Butts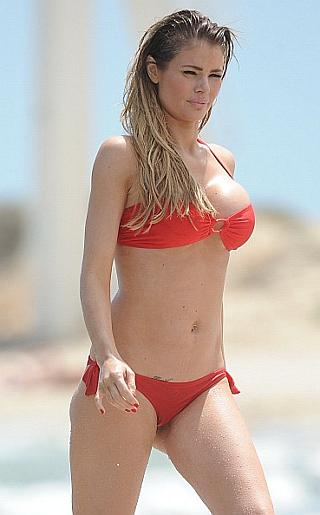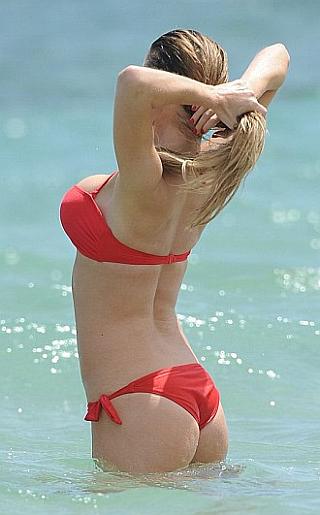 She's currently loved up with TOWIE hunk Elliott Wright after years of struggling to find Mr. Right and Chloe Sims certainly looked like the cat who'd got the cream during a recent holiday in Alicante, Spain as she showed off her slender figure on the beach in a sultry bandeau top two-piece bright red bikini.
The 31-year-old star pulled out her best model poses. The swimsuit left little to the imagination and showed off her ample assets and toned stomach, while giving onlookers a glimpse of a tattoo on her pelvis.
The loveable Essex girl appeared to be having the time of her life during her solo beach trip as she frolicked in the sea and strutted along the sand. Chloe Sims was reluctant to get her long blonde locks wet, however, and couldn't bring herself to wade in past her waist.
---
August 27th, 2014 by
Lance Butts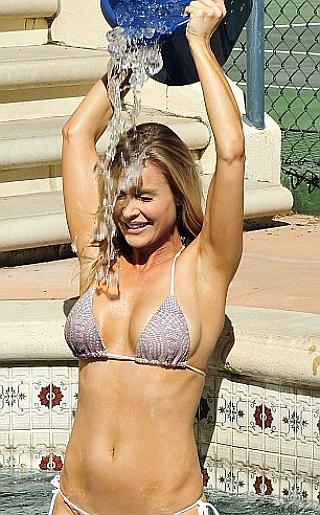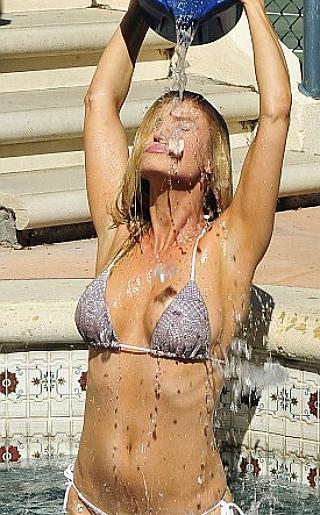 Since you're so special to me, Mr. Lance Butts, me and my buddies (Tony Fish, Vinnie Lasagne and Pauly Meathead) wanted to add an additional page for today "hump day" of beautiful reality TV star Joanna Krupa participating in the ALS challenge. Joanna wouldn't expect anything less! Joanna Krupa calls for ban on animal testing to find a cure for ALS but still does the Ice Bucket Challenge (and naturally, she's wearing a sexy bikini). Enjoy!!!
---
August 26th, 2014 by
Lance Butts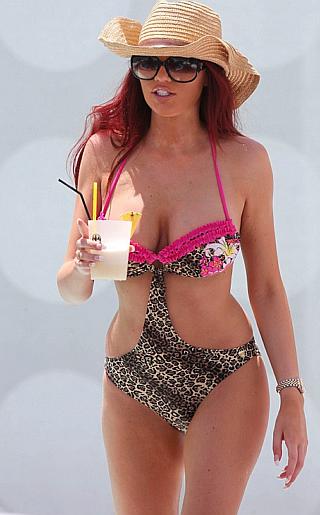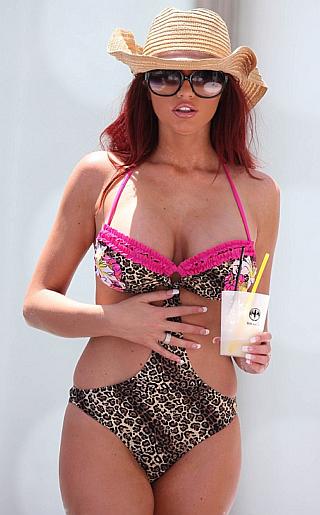 It was all about rest and relaxation for 24-year-old, Amy Childs, sipping on a delicious cocktail as she soaked up the sun. It was a welcome break for the hard-working reality TV star, whose career continues to soar.
The beautician strutted her stuff in a quirky leopard print monokini, which featured generous cut-outs meaning her trim figure was on full display. She topped her swimwear attire with a straw cowgirl hat, dark sunglasses and a watch that completed her fashionable look.
She's really curvy and that's what us guys like.
Curves…waves…so many that you kind of get dizzy!
---
August 25th, 2014 by
Lance Butts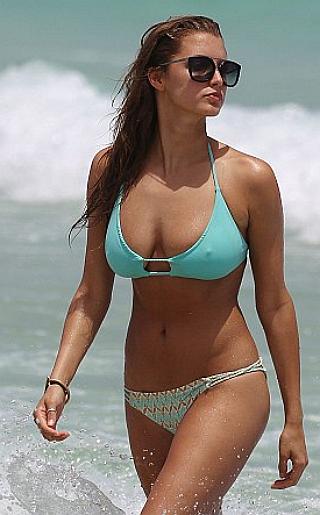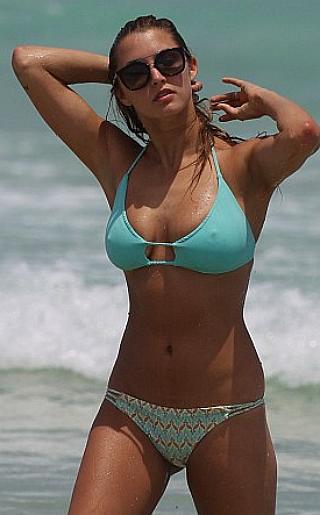 Hey Hey Hey, oh yes!! It's me the most genuine, dazzling, wonderful, fantastical, jovial and bikini loving Mr. Lance Man! I hope that your week has been as great as ours! My buddies Vinnie Lasagne, Tony Fish and Pauly Meathead are having the time of our lives at our new place which we call The Monster Bikini. It's because we host so many hot bikini babes. It never gets boring at our place. My only pet peeve is I like cougars and it's hard to find a good cougar these days..lol. Anyways, we had a cookout last week and it turned out really well. Unfortunately, no hook-ups on my part but I'm deeper than that. I'm a man of substance. (Yeah Right!) This week the boys and I are hosting a bikini party and inviting the local neighborhood to see what's around. So I'll let you know how that goes by this weeks' end.
Oh yes sir, let's get down to bikini business with these pictures of newbie to Celebrity Bikini Gossip, Alyssa Arce.
She's a good friend of pop star Justin Bieber and was seen hanging out on his yacht in Ibiza. It's easy to see why Justin Bieber shared some one-on-one time with 21-year-old model Alyssa Arce if these shots of her in a skimpy two-piece blue toned bikini are anything to go by.
The curvy brunette appears to be just Bieber's type, given that the crooner has developed quite a penchant for sultry models recently. Of course, he's a young man and is sure to have lots of bikini experiences and if they all happen to look like this in a bikini, we hope to get the chance to showcase them too.
Thumbs up Justin!
---
August 22nd, 2014 by
Jenny Bikini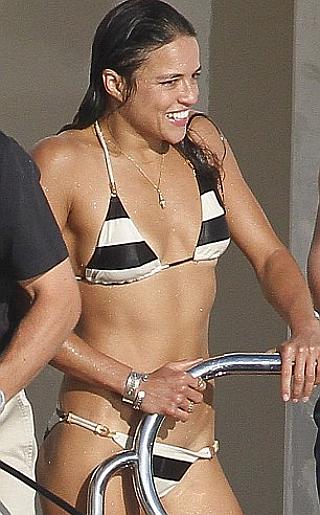 Hanging out on a luxury yacht with the likes of other A-list celebrities such as herself is stunning actress Michelle Rodriguez. We love every time she wears a bikini because her body is always flawless. What is her secret? This time she's wearing a mix-matched black and white bikini that shows off extra thin curves. Michelle Rodriguez stars in the Fast and the Furious franchise and is working on an even newer installment that is due out in 2015! Keep up the great work!
Ok, my lovely babies, it's time to gently pass you over to Mr. Lance Butts! Like I said, my hubby Gerald and I are going to Ibiza this weekend and I'm so excited. At least I don't think Mr. Butts is going but I did hear mention that him and his motley crew would probably stop by there but I hope it's not the same time that we're there. Until we meet again my sweets, remember that Jenny Bikini LOVES YOU! TOODLES!! SMOOCHES!!!
---
August 21st, 2014 by
Jenny Bikini
New to Celebrity Bikini Gossip and married to football player Bacary Sagna (not pictured) for four years is very beautiful Ludvine Sagna. It looked like love was still definitely in the air as they took a beach break in Miami, Florida. Bacary and Ludivine were spotted laughing and joking together on the sand before climbing on board the same jet ski together with the mother-of-two wrapping her arms around the defender's torso. Ludivine showed off her incredible hourglass figure in a brown tie die bikini, with a sarong tied loosely around her waist. Lovely bikini!
---
August 20th, 2014 by
Jenny Bikini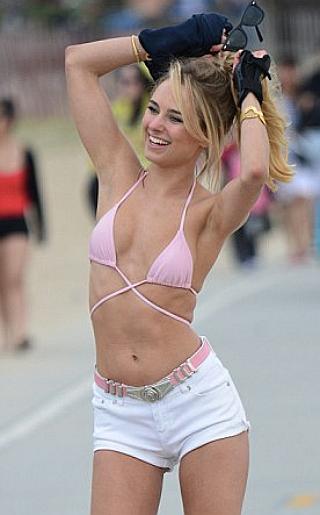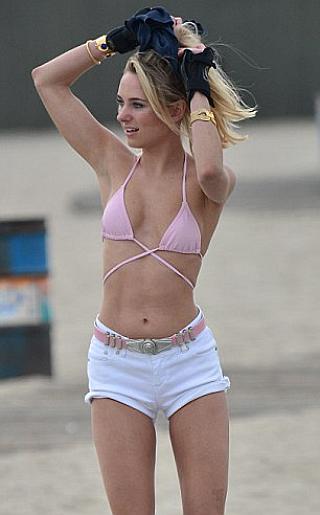 Since leaving Made In Chelsea after just one season, Kimberley Garner has been working hard on new projects in addition to relaxing and enjoying the Summer weather. So it's no surprise that the 24-year-old likes to get out and exercise by rollerblading in Santa Monica over the weekend. The cute blonde made sure all eyes were on her by wearing a very skimpy pink bikini, featuring wrap around straps and tiny white hot pants. She's so pretty.
---
August 19th, 2014 by
Jenny Bikini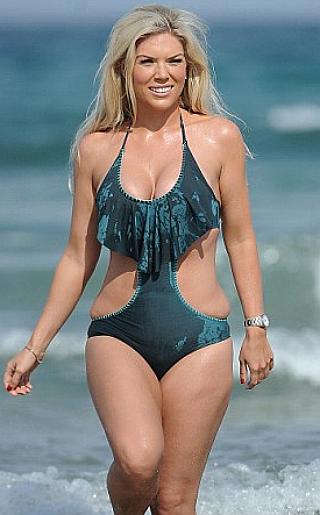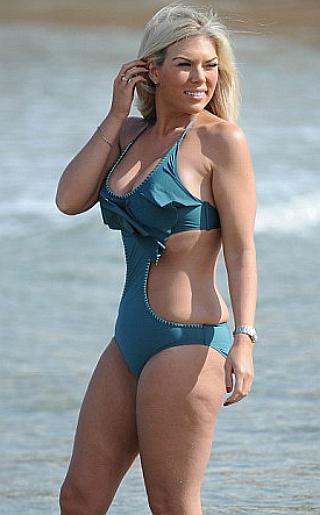 It's been a trying few weeks for Frankie Essex, but the TV personality brushed her trouble to one side while treating onlookers to a heart stopping display during her recent break in Spain. The 26-year-old TOWIE (The Only Way Is Essex) star looked carefree as she ventured onto Alicante beach for a splash in the shallow surf. Sporting a green swimsuit that was clearly designed to accentuate her best assets, Frankie was in high spirits as she charged into the water.
---
August 18th, 2014 by
Jenny Bikini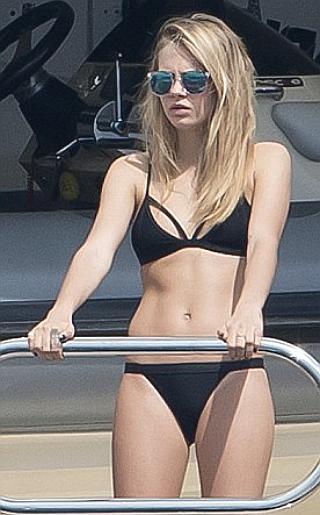 Hello my most darlingicious Celebrity Bikini Gossip babies!! I adore you all so much and it's been like ages since we've been together. It's me, Mrs. Jenny Bikini, your favorite celebrity bikini reporter back to spoil you with the most sexiest pictures of hot celebs in hot bikinis!! Life is so great with my hubby, Gerald! We're going on vacation to Ibiza island next week because that's were all of the celebs are hanging out and he said that he wants me to feel special. Awww, isn't that sweet? Of course, I will share all of the details with you because you're my family too!
Hanging out on a yacht is supermodel Cara Delevinge. She's celebrating the birthday of singer Selena Gomez (not pictured here today). Cara Delevinge looks spectacular in a two-piece black string bikini that shows off her super slender model curves. She's fashioned it with high-fashioned reflector sunglasses which are my very favorite by the way!
---
August 15th, 2014 by
Lance Butts
Back because I said so is super beautiful Tori Spelling, this time, on a family vacation, she was donning a white and red two-piece bikini and fine accessorize. Those dark sunglasses and the white handbag really make Tori Spelling's fashion look complete. She is a fashion icon in her own right and she is passing on the Spelling last name to keep up great TV for generations to come. I think her sons will.
Alright dudes and dudettes, it's time to pass you over to Mrs. Jenny Bikini. She has lots of nerve to talk about my friends but since I'm in a good mood after just posting pictures of Tori Spelling, we will give her a break today. This weekend we're having a cookout and there are tons of celebs that I would like to invite but their hubbies may not allow that. So I may just sit around a nurse a cocktail or may be meet someone that someone brings along as a date. Of course, will let you know what the outcome is. Until then, remember, no strays or at least get them out of the house before the sun comes up (lol)….PEACE!!!
---
August 14th, 2014 by
Lance Butts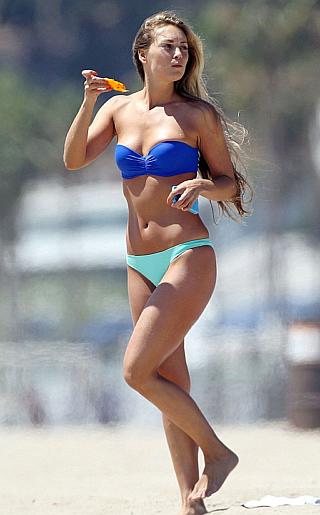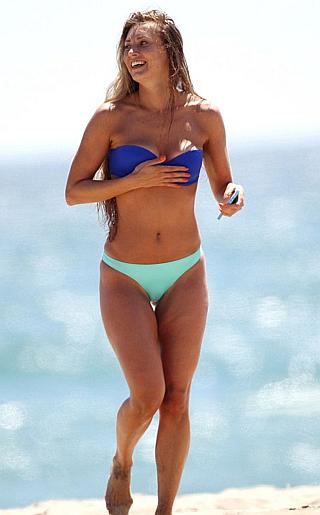 Tim Howard was hailed as a soccer hero this year after setting a World Cup record for most saves as US goalkeeper during a game against Belgium and it seem Tim Howard has scored off the field too. The 35-year-old's new girlfriend, model Nora Segura, showed off her feminine curves in a bikini while frolicking in the ocean recently in Santa Monica. The aspiring actress donned turquoise bottoms and a skimpy dark blue bandeau top as she took selfies and played in the water with a friend. Nora, who will soon be launching a YouTube channel covering health, beauty and fitness, wore her long blonde hair in loose waves and she appeared to go without make-up. The blonde, who describes herself as half Swedish, half Spanish on her personal blog, appeared to be having a ball, splashing around in the water with her gal pal before posing for selfies. Hmm…looking forward to that.
---