Bikini Pictures
August 12th, 2014 by
Lance Butts
Roll on summer! Kimberley Garner keeps it typically skimpy in string bikini top as she goes rollerblading in Los Angeles. Since leaving Made In Chelsea after just one season, Kimberley Garner has been working on getting her next employment opportunties in line. So it's no surprise that the 24-year-old likes to showcase her body whenever she gets the chance and which is exactly what she did while rollerblading in Santa Monica over the weekend. The pretty blonde made sure all eyes were on her by wearing a very skimpy pink bikini, featuring wrap around straps and tiny white hot pants. Kimberley Garner accessorized with black gloves, gold bracelets and dark sunglasses that give her that Hollywood look appeal and we know everyone in LA loves that. The pretty smile on her face lets us know that she's not having a care in the world about her next employment opportunity. With a body like that, would you?
---
August 11th, 2014 by
Lance Butts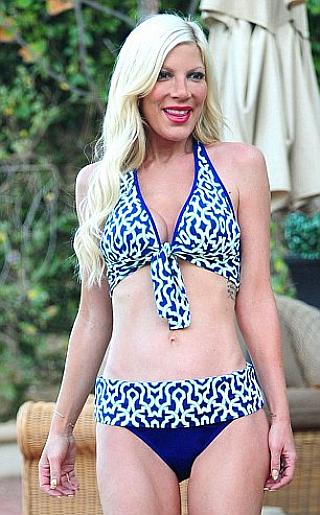 Hello Hello Hello! It's a beautiful week at the Monster Bikini Spot with my buddies Vinnie Lasagne, Pauly Meathead, Tony Fish and I! We finally are working out the living arrangements with regard to the girls! Oh boy we were scared for a moment. I'm a laid back kind of guy so the dudes all know to keep the noise low when I'm around. I have to tolerate some wild craziness from girls now and then and I don't mind it much. I'm still looking for the cougar babe to love me. Speaking of…..
I wanted to start this week off with my favorite cougar American actress! Tori Spelling. Oh boy! I've had a crush on her ever since way back in the days she was on TV and even more now because she's a grown woman ripe with kids and a hubby. Tori needs to get treated like a queen on a pedestal because she's a very nice human being. She'll do anything for her family and it shows. I wish her good luck with her reality TV show and I will continue to grace her in my dreams. Doesn't her figure look amazing in that blue and white patterned bikini? She can wear a paper sack and still look stunning!
---
August 8th, 2014 by
Jenny Bikini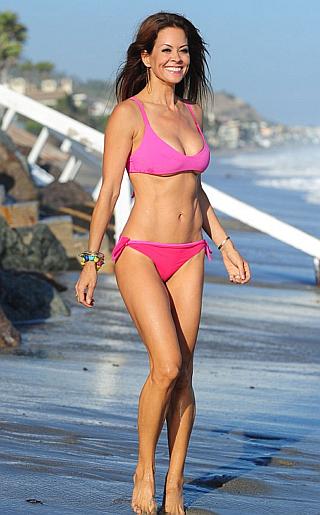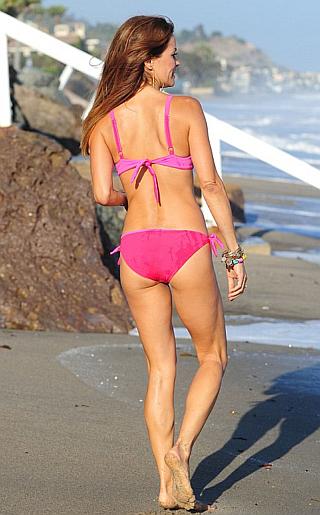 Brooke Burke-Charvet knows how to make a splash! The 42-year-old former Dancing With the Stars hostess kicked up her heels – and the corners of her mouth – while strolling along Malibu beach in a pink bikini. The mother-of-four showed off her super-toned body in the two-toned pink bikini that featured ties at the hip and back. Eat your heart out Mr. Lance Butts! I get to showcase her photo. Happy Days!! He's like her favorite crush in the world! (*sticks out my tongue at him*)
Alright, my most spectacular babies, it's time to pass you back over to Mr. Lance Butts. I tell you that every morning he comes to work whistling probably because all sorts of women are running through that bachelor pad him and his friends share. It probably needs a good cleaning too. Hmm, maybe I should offer to clean it and put up propanda around the house for the girls to run far away and never return. LOL – Anyways! Have a great rest of Summer and remember that Jenny Bikini loves YOU!!! Toodles!! Smooches!!!
---
August 7th, 2014 by
Jenny Bikini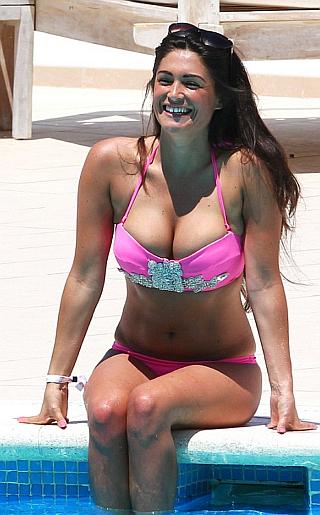 The former Celebrity Big Brother contestant sizzled in the Spanish sun as she showed off her curves by relaxing poolside. The celebrity narrowly avoided a wardrobe malfunction as her assets appeared to be attempting to escape at times while she sat with her legs in the clear blue water. Casey looked to be having a whale of a time as she chilled out under the beating hot Ibiza sun. She really knows how to rock that pink bikini with the bejeweled highlights. It looks like it was especially made just for her.
---
August 6th, 2014 by
Jenny Bikini
Hanging out with hubbie, Steven Gerrard, is Alex Gerrard all dressed up in a white bikini. Steven Gerrad (not pictured) is on the dock but we're not interested in seeing him right now. Alex, The fashion columnist opted for a white string bikini with jewelled detailing. The 31-year-old swept her blonde highlighted hair into a messy top-knot and added reflective sunglasses and bright stacked bracelets to complete her look. He's a lucky guy, just like my hubby Gerald is a lucky guy too! Keep up the great work Alex!!
---
August 5th, 2014 by
Jenny Bikini
Looking bold and beautiful is model Nina Agdal. Her ex-boyfriend Adam Levine was tying the knot with Behati Prinsloo in Mexico on Saturday. But Sports Illustrated cover girl Nina Agdal didn't seem to give it much thought as she showed off her bombshell bikini body in a very skimpy black and white animal print bikini Miami Beach that very same day. It didn't hurt that the 22-year-old Danish looker had a handsome distraction, her model boyfriend, Reid Heidenry, to keep her from feeling any heartbreak. Awww, well I'm sure she won't have any time finding some sort of cheerful way to make her feel better when your ex gets married. I'm available to hang out Nina!
---
August 4th, 2014 by
Jenny Bikini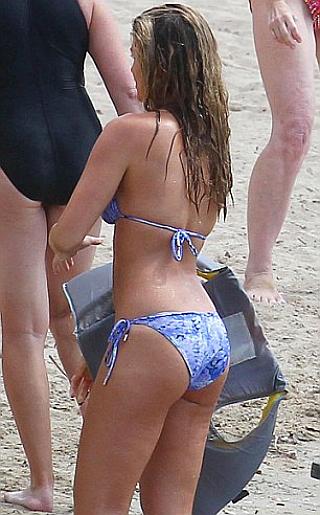 Hello my most vivacious and delightful Celebrity Bikini Gossip babes!!! Always happy to share pictures of awesome celebrities in sexy bikinis is Mrs. Jenny Bikini. I hope you had a great week and will have an even more fun weekend. My life with hubby, Gerald, is always exciting. We can't keep our hands off each other even after a yr of marriage (12/12/2013). But we do ok!
Let's start off this week with hot pictures of Amy Willerton, 21, when she was last seen working up a sweat during an outdoor training session in Ibiza – and the fruits of Amy Willerton's labour were undeniable during a beachfront outing on Wednesday. The Bristol based model sported a tropical print lilac bikini as she strolled close to the surf with male pal during her current sunshine break on the Balearic party island. She's smart toting along a life jacket so I'm going to feature her twice this week. You're welcome!
---
August 1st, 2014 by
Lance Butts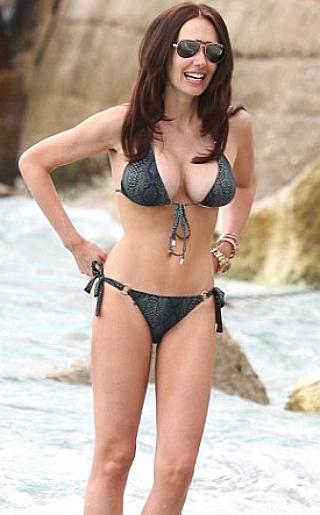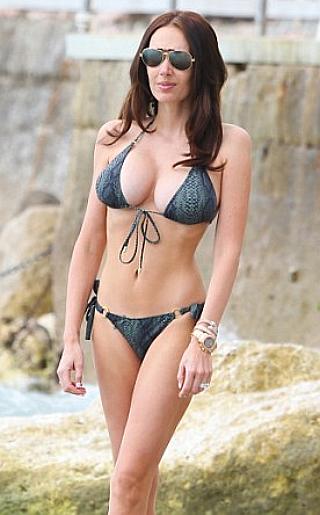 She only gave birth three months ago.
But Tamara Ecclestone has wasted no time at all in shedding any additional pregnancy pounds she may have put on as she showed by looking stunning in a dark grey two-piece string bikini.
The 29-year-old star spent some quality family time in the sun with her husband Jay Rutland and three-month-old daughter Sophia at Monte Carlo Beach Club.
Totally amazing!!!
Ok, dudes and dudettes, it's time to pass you over to Mrs. Jenny Bikini who is more concerned about my life than she is her own. That's so interesting to me. Maybe she really wants to be single again? Oh well, you're not the type of girl that any of my buddies like although Vinnie Lasagne did have a crush on you a while ago before he got to know your true kooky personality. Anyways, not sure what us buds are going to do but we're looking for a new roomie and that will be fun. Will keep you informed as to our progress!! So remember to NEVER bring home any strays and until next time PEACE!!
---
July 31st, 2014 by
Lance Butts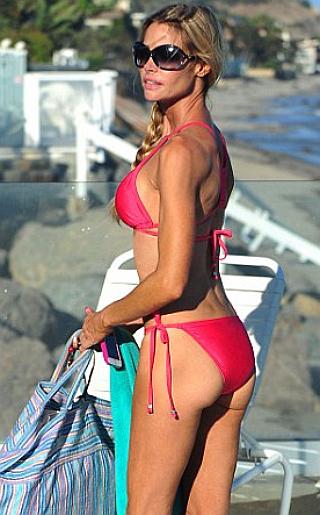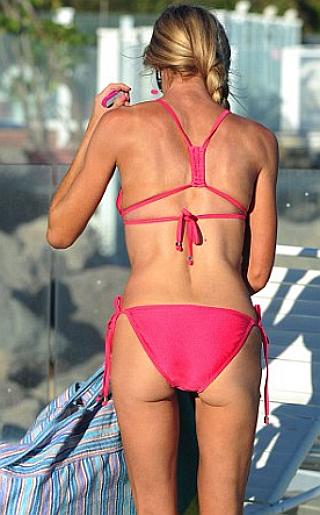 She previously posed in a diamond encrusted bra for Playboy to show that 'mothers can still be sexy'.
Denise Richards showed she was still one hot mother as she showed off her incredibly toned bikini body in a pink two-piece whilst on the beach with nine-year-old daughter Lola in LA.
The 43-year-old actress looked astounding for her age, as she displayed a body any woman half her age would be jealous of.
Now this is what I call the perfect "cougar"…yummy yummy for the tummy!
---
July 30th, 2014 by
Lance Butts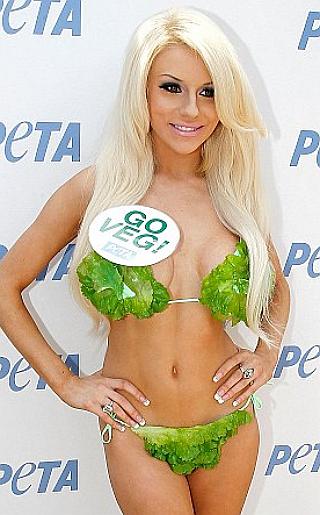 She's salad dressing! Courtney Stodden, 19, wears a miniscule LETTUCE bikini as she serves up veggie hot dogs at PETA's Annual Congressional Veggie Dog Giveaway in Washington D.C. on Wednesday.
The reality star showed off her slender frame in the playful ensemble.
Courtney added her signature 'stripper' heels and wore her platinum blonde hair extensions loose and wavy over her shoulders.
She wore lashings of mascara and thick black eyeliner, while sporting her favorite icy pink lipstick.
---
July 29th, 2014 by
Lance Butts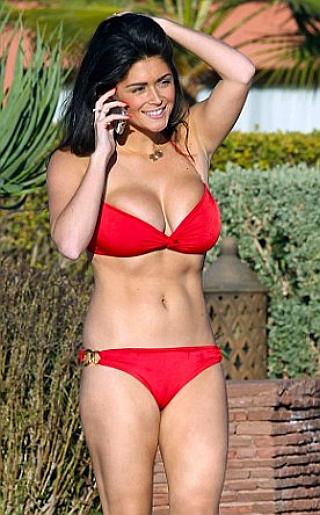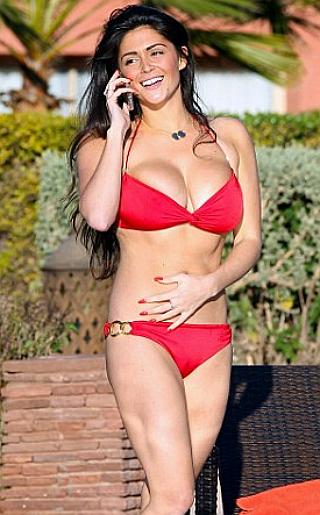 She has a figure to die for and Casey Batchelor showed off her curves in all her glory as she hung out by a pool in Ibiza, Spain.
The 29-year-old dazzled in a red bikini which was a little on the skimpy side, meaning her ample assets nearly spilled out of her top.
The former Celebrity Big Brother star, who was make-up free, made the most out of her relaxing break by chatting on her mobile phone to friends before taking a refreshing dip in the pool.
---
July 28th, 2014 by
Lance Butts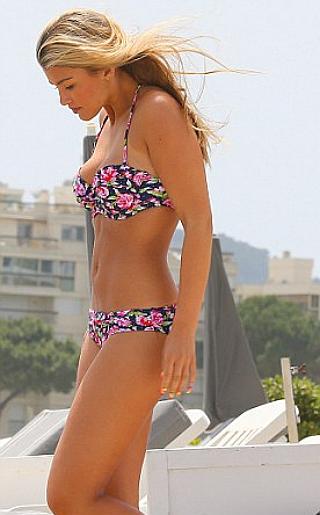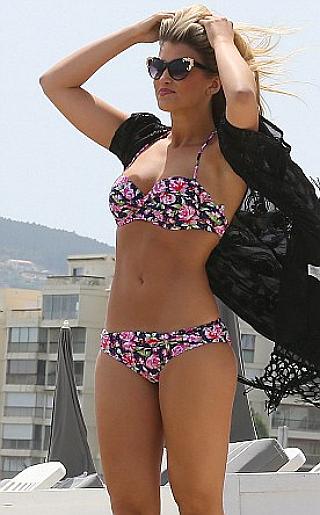 Hey Hey Hey, oh yeah, it's me Mr. Lance Man always ready and willing to go that extra mile for our fans on Celebrity Bikini Gossip. This week is an exciting week with new and hot celebrities in pretty bikinis! Oh yeah, me and my buddies, Tony Fish, Vinnie Lasagne and Pauly Meathead are hanging out at the Monster Bikini House and having so much fun. I'm still single and looking for a hot cougar to love me so ladies keep note. Remember our new rommie Professor Scabs? Well he didn't work out so we're looking for another roomie. Scabs has a baby's momma in New York who went crazy when she heard he wanted to move out here so he had to move back. Oh well, good luck Scabs but we're going to keep the party going here!
Ok, dudes and dudettes, back to Celebrity Bikini Gossip is the very beautiful Amy Willerton.
She insisted she 'was just really normal' as she stripped off for a FHM shoot but she looked far from it when she was spotted running on the beach in the South Of France.
The Bristol-born beauty queen, who said she was 'not the supermodel type', stripped down to her floral bikini for a run in the sun.
Showing just why she is has won prizes for her looks, the 21-year-old turned up the heat in the already hot Côte d'Azur while working out.
Awesome!
---
July 25th, 2014 by
Jenny Bikini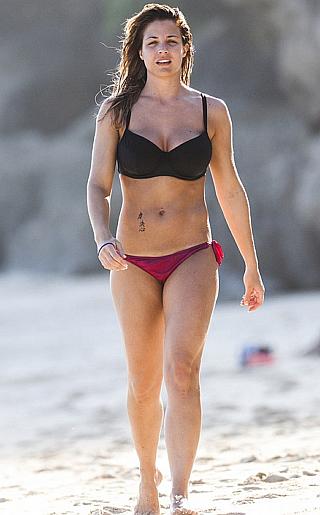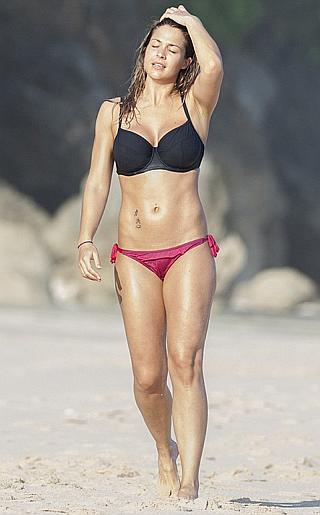 The Casualty actress' ample chest was hard to miss in her black swimsuit as she frolicked on the beach with beau Olly Foster (not pictured) during a holiday to Bali, Indonesia last month. Gemma Atkinsons', 29, toned tum and legs were impossible to miss in her simple two-piece, which included deep red bottoms with tie-detailing on the side. I'm so loving the mix and match of this two-piece. The former Hollyoaks beauty appeared to have been cooling off in the sea as her hair looked damp while worn down over her shoulders. I think she always looks perfect and now you can judge for yourself. """waves""" Hi Gemma! Who is yourxxc trainer??
Ok, my most darling Celebrity Bikini Gossip cuties. It's time to gently pass you over to Mr. Lance Butts and his crazy crew of roommates. I'm so glad I don't live in that house or even near that house because already the neighbors are complaining about the noise and I knew that would happen. Oh well, I guess they're just boys at heart but near 40? Yeah, Mr. Butts is the youngest one but the other guys are almost near 40. It's like they feel they are running out of time so they better act crazy now and bring home as many women (questionable) as they can. Well, I'm happily married and I wish you (if you're single) would find that special one in your life too!! Ok, until next time that we see each other again, remember that Jenny Bikini LOVES YOU!! Toodles! Smooches!!
---
July 24th, 2014 by
Jenny Bikini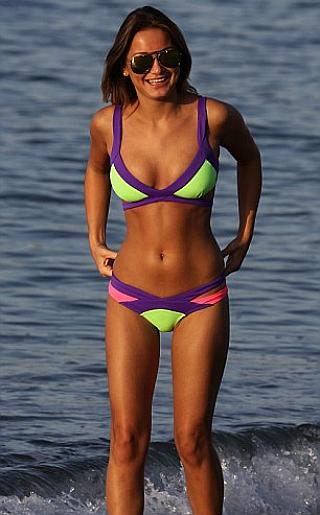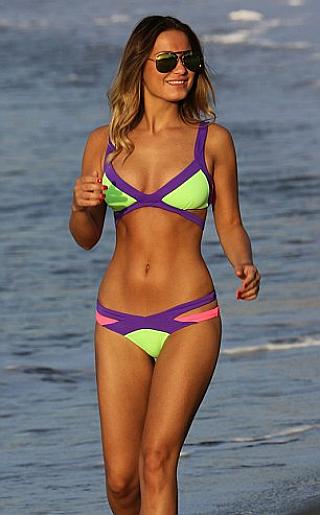 Former TOWIE (The Only Way Is Essex) star, Sam Faiers, 23, looked slim and toned in the neon green bikini which had accents of pink and purple in the design and sexy cut-outs in both the bra top and briefs. Hanging out in Marbella with her (not pictured) was her boyfriend, Joey Essex, who is a hunk. They recently rekindled their love after breaking off their engagement. Wish them all of the luck. Young love is so wonderful!
---
July 23rd, 2014 by
Jenny Bikini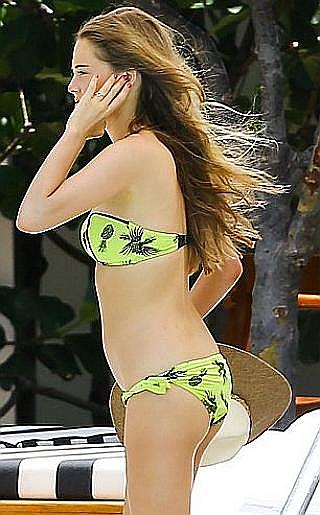 Hanging out with her famous boyfriend, Ryan Phillipee (not pictured because we only wanna see her in a bikini..lol), on a Miami beach, is very pretty Paulina Slagter. The 23-year-old law student was enjoying a romantic vacation in Miami with her beau and when they weren't cuddling up to each other in the pool, they were sharing a smooch beside it. Paulina showed off her figure in a very fine fluorescent yellow floral print bandeau two-piece bikini and also paired it up with a floppy straw hat to add a sense of flair. We're keeping our eyes open for much more from this brunette beauty and cute couple.
---