Bikini Pictures
August 27th, 2014 by
Lance Butts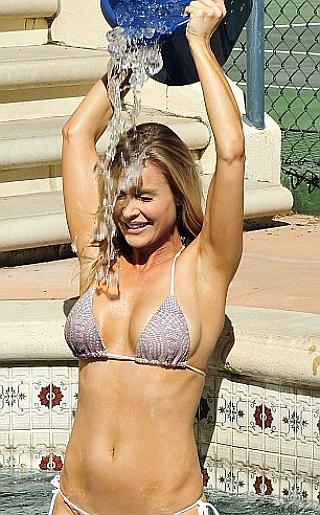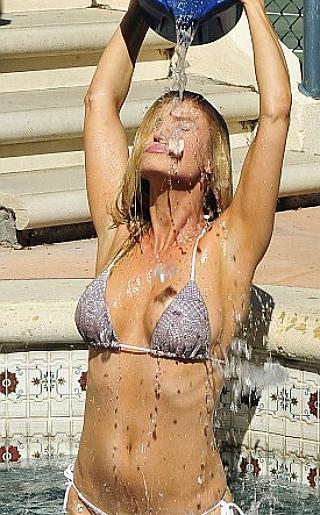 Since you're so special to me, Mr. Lance Butts, me and my buddies (Tony Fish, Vinnie Lasagne and Pauly Meathead) wanted to add an additional page for today "hump day" of beautiful reality TV star Joanna Krupa participating in the ALS challenge. Joanna wouldn't expect anything less! Joanna Krupa calls for ban on animal testing to find a cure for ALS but still does the Ice Bucket Challenge (and naturally, she's wearing a sexy bikini). Enjoy!!!
---
August 26th, 2014 by
Lance Butts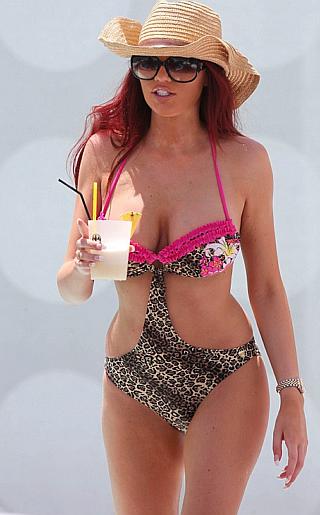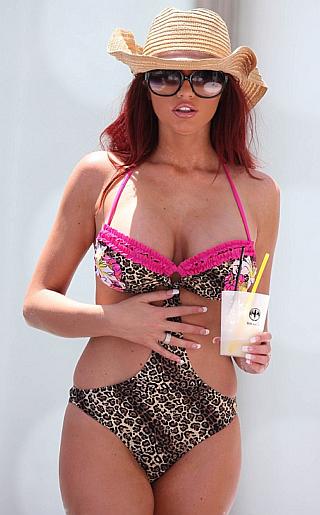 It was all about rest and relaxation for 24-year-old, Amy Childs, sipping on a delicious cocktail as she soaked up the sun. It was a welcome break for the hard-working reality TV star, whose career continues to soar.
The beautician strutted her stuff in a quirky leopard print monokini, which featured generous cut-outs meaning her trim figure was on full display. She topped her swimwear attire with a straw cowgirl hat, dark sunglasses and a watch that completed her fashionable look.
She's really curvy and that's what us guys like.
Curves…waves…so many that you kind of get dizzy!
---
August 25th, 2014 by
Lance Butts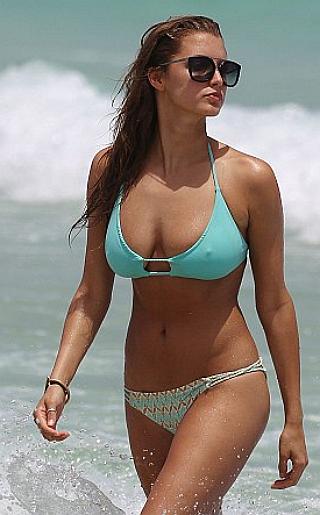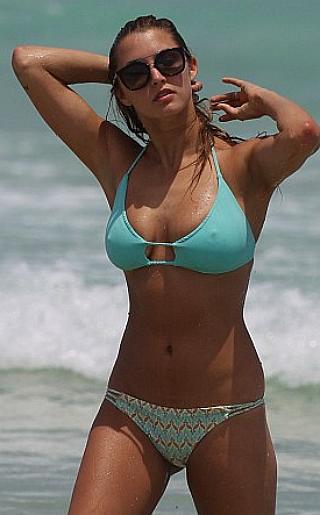 Hey Hey Hey, oh yes!! It's me the most genuine, dazzling, wonderful, fantastical, jovial and bikini loving Mr. Lance Man! I hope that your week has been as great as ours! My buddies Vinnie Lasagne, Tony Fish and Pauly Meathead are having the time of our lives at our new place which we call The Monster Bikini. It's because we host so many hot bikini babes. It never gets boring at our place. My only pet peeve is I like cougars and it's hard to find a good cougar these days..lol. Anyways, we had a cookout last week and it turned out really well. Unfortunately, no hook-ups on my part but I'm deeper than that. I'm a man of substance. (Yeah Right!) This week the boys and I are hosting a bikini party and inviting the local neighborhood to see what's around. So I'll let you know how that goes by this weeks' end.
Oh yes sir, let's get down to bikini business with these pictures of newbie to Celebrity Bikini Gossip, Alyssa Arce.
She's a good friend of pop star Justin Bieber and was seen hanging out on his yacht in Ibiza. It's easy to see why Justin Bieber shared some one-on-one time with 21-year-old model Alyssa Arce if these shots of her in a skimpy two-piece blue toned bikini are anything to go by.
The curvy brunette appears to be just Bieber's type, given that the crooner has developed quite a penchant for sultry models recently. Of course, he's a young man and is sure to have lots of bikini experiences and if they all happen to look like this in a bikini, we hope to get the chance to showcase them too.
Thumbs up Justin!
---
August 22nd, 2014 by
Jenny Bikini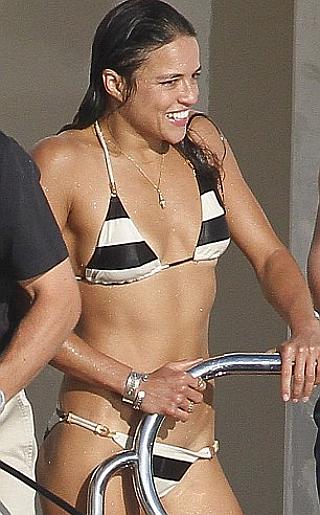 Hanging out on a luxury yacht with the likes of other A-list celebrities such as herself is stunning actress Michelle Rodriguez. We love every time she wears a bikini because her body is always flawless. What is her secret? This time she's wearing a mix-matched black and white bikini that shows off extra thin curves. Michelle Rodriguez stars in the Fast and the Furious franchise and is working on an even newer installment that is due out in 2015! Keep up the great work!
Ok, my lovely babies, it's time to gently pass you over to Mr. Lance Butts! Like I said, my hubby Gerald and I are going to Ibiza this weekend and I'm so excited. At least I don't think Mr. Butts is going but I did hear mention that him and his motley crew would probably stop by there but I hope it's not the same time that we're there. Until we meet again my sweets, remember that Jenny Bikini LOVES YOU! TOODLES!! SMOOCHES!!!
---
August 21st, 2014 by
Jenny Bikini
New to Celebrity Bikini Gossip and married to football player Bacary Sagna (not pictured) for four years is very beautiful Ludvine Sagna. It looked like love was still definitely in the air as they took a beach break in Miami, Florida. Bacary and Ludivine were spotted laughing and joking together on the sand before climbing on board the same jet ski together with the mother-of-two wrapping her arms around the defender's torso. Ludivine showed off her incredible hourglass figure in a brown tie die bikini, with a sarong tied loosely around her waist. Lovely bikini!
---
August 20th, 2014 by
Jenny Bikini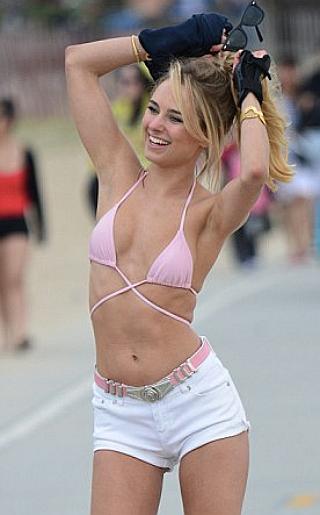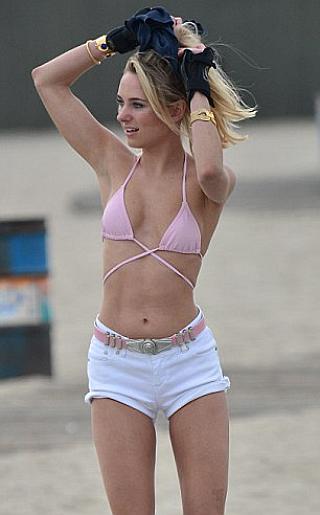 Since leaving Made In Chelsea after just one season, Kimberley Garner has been working hard on new projects in addition to relaxing and enjoying the Summer weather. So it's no surprise that the 24-year-old likes to get out and exercise by rollerblading in Santa Monica over the weekend. The cute blonde made sure all eyes were on her by wearing a very skimpy pink bikini, featuring wrap around straps and tiny white hot pants. She's so pretty.
---
August 19th, 2014 by
Jenny Bikini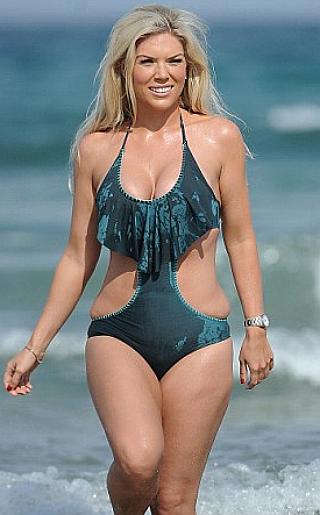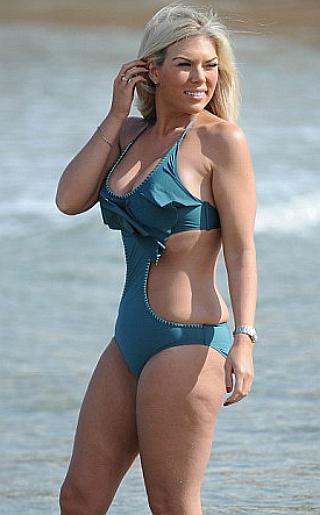 It's been a trying few weeks for Frankie Essex, but the TV personality brushed her trouble to one side while treating onlookers to a heart stopping display during her recent break in Spain. The 26-year-old TOWIE (The Only Way Is Essex) star looked carefree as she ventured onto Alicante beach for a splash in the shallow surf. Sporting a green swimsuit that was clearly designed to accentuate her best assets, Frankie was in high spirits as she charged into the water.
---
August 18th, 2014 by
Jenny Bikini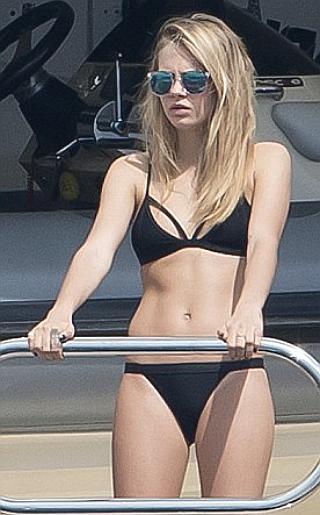 Hello my most darlingicious Celebrity Bikini Gossip babies!! I adore you all so much and it's been like ages since we've been together. It's me, Mrs. Jenny Bikini, your favorite celebrity bikini reporter back to spoil you with the most sexiest pictures of hot celebs in hot bikinis!! Life is so great with my hubby, Gerald! We're going on vacation to Ibiza island next week because that's were all of the celebs are hanging out and he said that he wants me to feel special. Awww, isn't that sweet? Of course, I will share all of the details with you because you're my family too!
Hanging out on a yacht is supermodel Cara Delevinge. She's celebrating the birthday of singer Selena Gomez (not pictured here today). Cara Delevinge looks spectacular in a two-piece black string bikini that shows off her super slender model curves. She's fashioned it with high-fashioned reflector sunglasses which are my very favorite by the way!
---
August 15th, 2014 by
Lance Butts
Back because I said so is super beautiful Tori Spelling, this time, on a family vacation, she was donning a white and red two-piece bikini and fine accessorize. Those dark sunglasses and the white handbag really make Tori Spelling's fashion look complete. She is a fashion icon in her own right and she is passing on the Spelling last name to keep up great TV for generations to come. I think her sons will.
Alright dudes and dudettes, it's time to pass you over to Mrs. Jenny Bikini. She has lots of nerve to talk about my friends but since I'm in a good mood after just posting pictures of Tori Spelling, we will give her a break today. This weekend we're having a cookout and there are tons of celebs that I would like to invite but their hubbies may not allow that. So I may just sit around a nurse a cocktail or may be meet someone that someone brings along as a date. Of course, will let you know what the outcome is. Until then, remember, no strays or at least get them out of the house before the sun comes up (lol)….PEACE!!!
---
August 14th, 2014 by
Lance Butts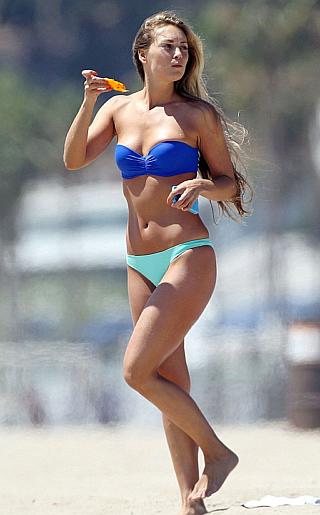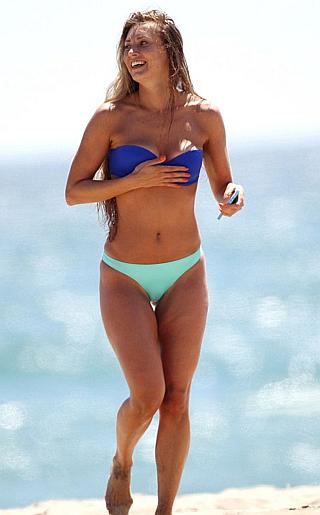 Tim Howard was hailed as a soccer hero this year after setting a World Cup record for most saves as US goalkeeper during a game against Belgium and it seem Tim Howard has scored off the field too. The 35-year-old's new girlfriend, model Nora Segura, showed off her feminine curves in a bikini while frolicking in the ocean recently in Santa Monica. The aspiring actress donned turquoise bottoms and a skimpy dark blue bandeau top as she took selfies and played in the water with a friend. Nora, who will soon be launching a YouTube channel covering health, beauty and fitness, wore her long blonde hair in loose waves and she appeared to go without make-up. The blonde, who describes herself as half Swedish, half Spanish on her personal blog, appeared to be having a ball, splashing around in the water with her gal pal before posing for selfies. Hmm…looking forward to that.
---
August 13th, 2014 by
Lance Butts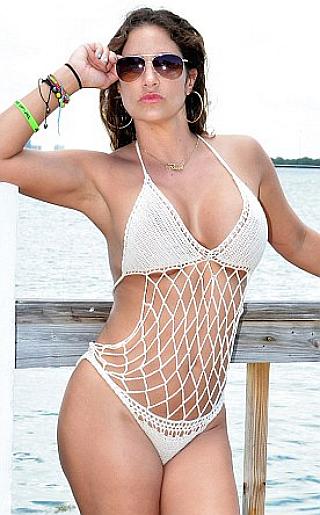 The 39-year-old fitness model and author showed her enviable figure in a nude-coloured crochet net swimsuit at The Standard resort in South Beach. The swimsuit model became a fitness icon when she shed an impressive 70lbs and was crowned Miss Bikini America 2006 after famously beating her battle with the bulge. Jennifer weighed 170lbs when she got married, and continued to pile on the pounds during both of her pregnancies, eventually reaching 200 pounds after the birth of her second child. Jennifer launched her own JNL Fusion Gym in New York earlier this year, added that she maintains her incredible rock hard figure by following the diet and workout plan she herself devised. Very impressive!
---
August 12th, 2014 by
Lance Butts
Roll on summer! Kimberley Garner keeps it typically skimpy in string bikini top as she goes rollerblading in Los Angeles. Since leaving Made In Chelsea after just one season, Kimberley Garner has been working on getting her next employment opportunties in line. So it's no surprise that the 24-year-old likes to showcase her body whenever she gets the chance and which is exactly what she did while rollerblading in Santa Monica over the weekend. The pretty blonde made sure all eyes were on her by wearing a very skimpy pink bikini, featuring wrap around straps and tiny white hot pants. Kimberley Garner accessorized with black gloves, gold bracelets and dark sunglasses that give her that Hollywood look appeal and we know everyone in LA loves that. The pretty smile on her face lets us know that she's not having a care in the world about her next employment opportunity. With a body like that, would you?
---
August 11th, 2014 by
Lance Butts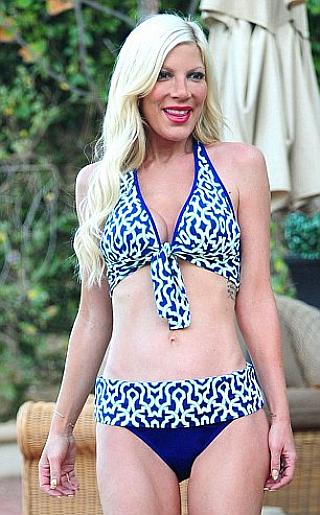 Hello Hello Hello! It's a beautiful week at the Monster Bikini Spot with my buddies Vinnie Lasagne, Pauly Meathead, Tony Fish and I! We finally are working out the living arrangements with regard to the girls! Oh boy we were scared for a moment. I'm a laid back kind of guy so the dudes all know to keep the noise low when I'm around. I have to tolerate some wild craziness from girls now and then and I don't mind it much. I'm still looking for the cougar babe to love me. Speaking of…..
I wanted to start this week off with my favorite cougar American actress! Tori Spelling. Oh boy! I've had a crush on her ever since way back in the days she was on TV and even more now because she's a grown woman ripe with kids and a hubby. Tori needs to get treated like a queen on a pedestal because she's a very nice human being. She'll do anything for her family and it shows. I wish her good luck with her reality TV show and I will continue to grace her in my dreams. Doesn't her figure look amazing in that blue and white patterned bikini? She can wear a paper sack and still look stunning!
---
August 8th, 2014 by
Jenny Bikini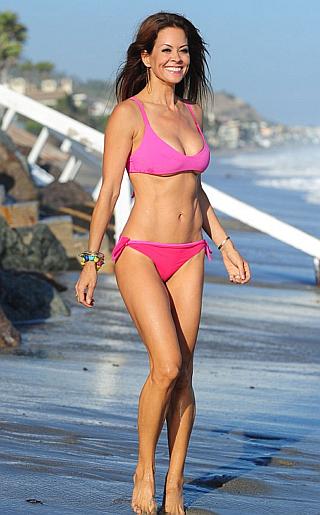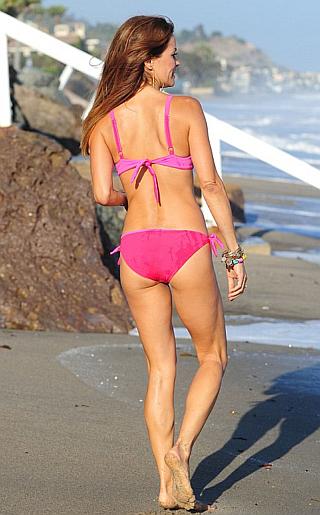 Brooke Burke-Charvet knows how to make a splash! The 42-year-old former Dancing With the Stars hostess kicked up her heels – and the corners of her mouth – while strolling along Malibu beach in a pink bikini. The mother-of-four showed off her super-toned body in the two-toned pink bikini that featured ties at the hip and back. Eat your heart out Mr. Lance Butts! I get to showcase her photo. Happy Days!! He's like her favorite crush in the world! (*sticks out my tongue at him*)
Alright, my most spectacular babies, it's time to pass you back over to Mr. Lance Butts. I tell you that every morning he comes to work whistling probably because all sorts of women are running through that bachelor pad him and his friends share. It probably needs a good cleaning too. Hmm, maybe I should offer to clean it and put up propanda around the house for the girls to run far away and never return. LOL – Anyways! Have a great rest of Summer and remember that Jenny Bikini loves YOU!!! Toodles!! Smooches!!!
---
August 7th, 2014 by
Jenny Bikini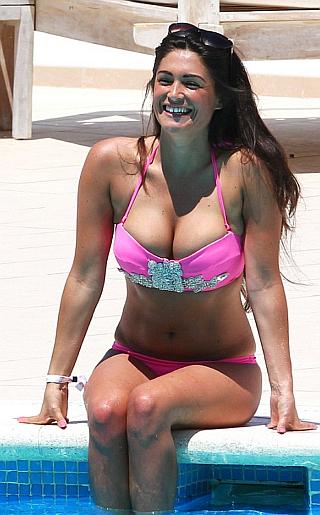 The former Celebrity Big Brother contestant sizzled in the Spanish sun as she showed off her curves by relaxing poolside. The celebrity narrowly avoided a wardrobe malfunction as her assets appeared to be attempting to escape at times while she sat with her legs in the clear blue water. Casey looked to be having a whale of a time as she chilled out under the beating hot Ibiza sun. She really knows how to rock that pink bikini with the bejeweled highlights. It looks like it was especially made just for her.
---