Bikini Pictures
July 11th, 2014 by
Jenny Bikini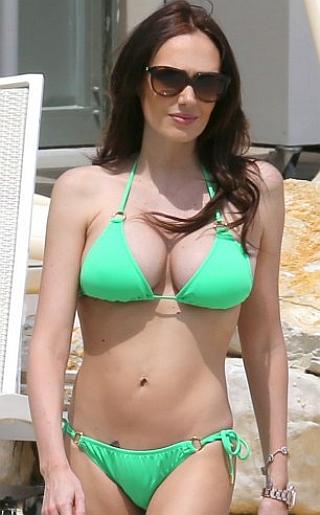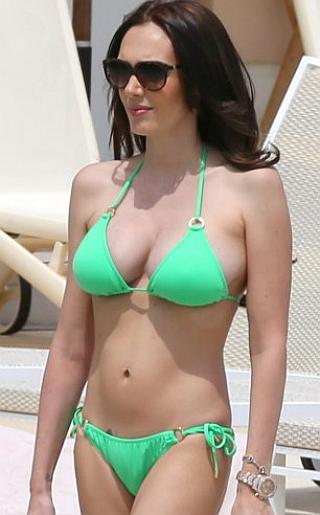 Wow, the first thing I must say about Tamara Ecclestone is how impressed I am at how her post baby body has flexed right back so fast. She just had a baby 3 months ago and you can't tell. Whatever she's doing, please package that so it's ready in time for when my hubby, Gerald, and I have our child. I'm not pregnant yet so I have lots of time but I really hope my body will bounce back like hers did. The 29-year-old socialite and TV presenter looks stunning three months after daughter Sophia's birth in a green bikini. 3 Months? It's amazing!
Ok, my lovies, it's time to gently hand you over to Mr. Lance Butts and his bunch of roomies. They're all living together and from the whispers in the office, things are kind of wild over there with parties and women and the typical bachelor pad sort of things going on. I just hope they have lots of disinfectant. lol Just kidding! Alright, please take good care of yourselves and remember that JENNY BIKINI LOVES YOU!! Toodles! Smooches!!
---
July 10th, 2014 by
Jenny Bikini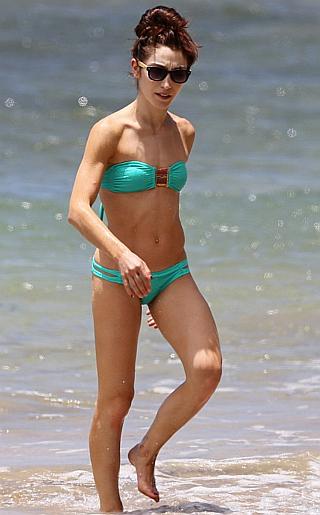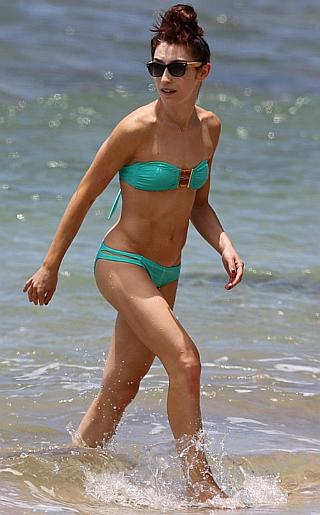 Let's welcome first timer to Celebrity Bikini Gossip – Meryl Davis. She just won season 18 of Dancing With The Stars, and Meryl Davis is making sure to log in some rest and relaxation. The 27-year-old former Olympian was spotted on Wednesday wearing a tiny strapless green bandeau bikini in Hawaii. Splashing about in the sea, Meryl's lean and toned physique was on full display in the daring barely-there swimsuit.
---
July 9th, 2014 by
Jenny Bikini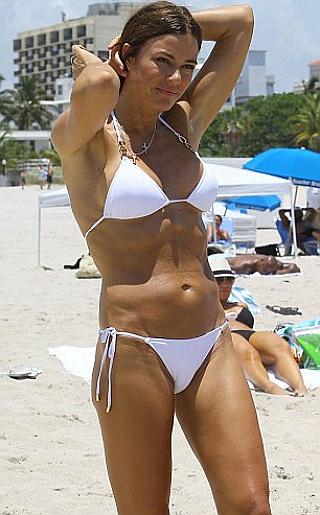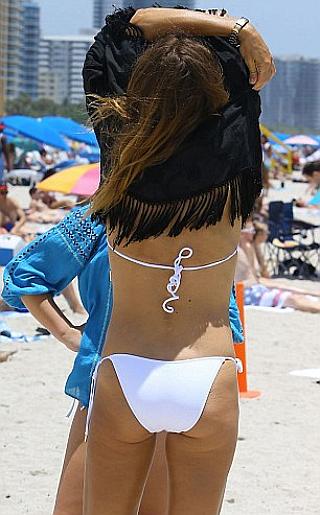 Oh wow, I'm so excited because Kelly Bensimon is Mr. Lance Butts most favorite cougar crush and I get to post pictures of her looking fabulous in a two piece white bikini on the beach in Miami with her family. I can just see the steam rising from his head now…ha!! She always looks her best and today was no exception. As she is known for sticking to a strenuous exercise routine, it comes as no surprise Kelly Bensimon is proud to show off the fruits of her labour. The 46-year-old was seen enjoying herself immensely. The former star of The Real Housewives of New York City displayed her toned body on the outing with daughter Sea Louise – who was born in 1998 – as the two even went for a ride on a jet ski. That's so nice spending family time together. See Mr. Butts, she has a family and doesn't need a bachelor like you sniffing around her. Wait another 10 yrs and you can maybe have a chance with her daughter but if she's smart, she will pass! lol
---
July 8th, 2014 by
Jenny Bikini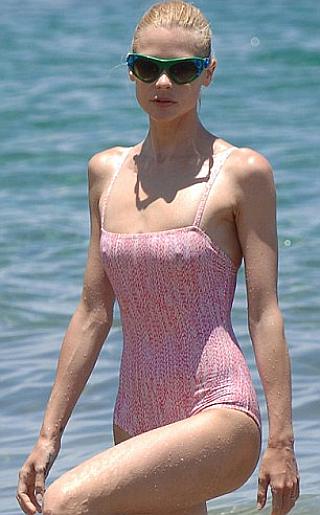 Jaime King, 35, displays slender frame in pink and white spiced one-piece during a family getaway to Hawaii. She wore her blonde hair in a tight bun and shielded her eyes with blue and green sunglasses. Jaime caused a stir recently when she shared a snapshot of herself on Instagram breastfeeding James, her son. The star captioned the image: 'James Knight is now 8 months old! These are the moments a mother lives for. 'Breastfeeding should not be taboo – and bottle feeding should not be judged – it's ALL fun for the whole family.' Jaime explained to People why she posted such an intimate moment: 'I feel like now that I'm a mother, I realize that there's a huge schism out there.' Oh good for you Jamie!
---
July 7th, 2014 by
Jenny Bikini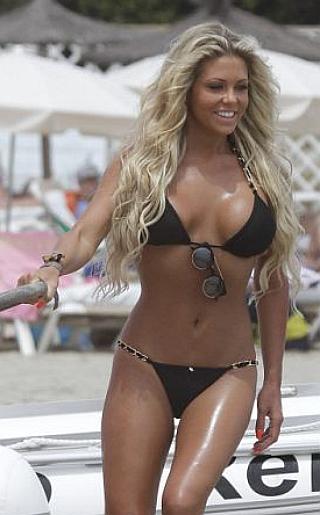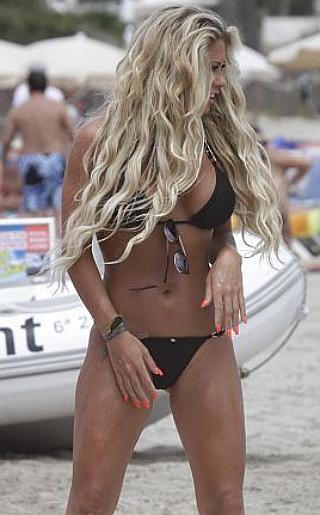 Hello my most divine Celebrity Bikini Gossip lovies!! I hope that you had a nice 4th of July holiday weekend. Isn't it extra nice when the holiday falls on a weekend so you can have even more days off from work? Cool! My hubby, Gerald, and I just snuggled up after BBQ and kissed all day. Marriage life is so rewarding. But the weekend went by too fast! Ok!! Let's get started with some cool pictures of your favorite and new celebs in sexy bikinis.
She's not known for her shyness when it comes to her voluptuous curves and in her typical fashion, Bianca Gascoigne wore a tiny bikini as she put on a very amorous display with her boxer boyfriend, Brett Marshall. The 27-year-old star was seen frolicking on the beach with him while she stuns onlookers in a black two piece bikini. I wasn't even half way with posting this before a few of the guys in the office gathered around my desk asking all sorts of questions about Bianca and you can't blame them. Her long curly blonde mane, bright white smile and flawless tan is quite alluring. Hopefully we will see much more of this head turning beauty in the future.
---
July 4th, 2014 by
Lance Butts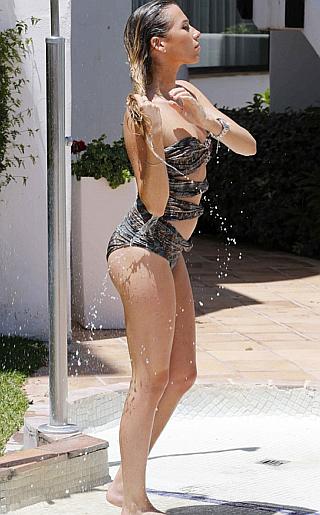 Happy July 4th!!
First timer to Celebrity Bikini Gossip is TOWIE (The Only Way Is Essex) – Robyn Althasen. She is yet to star in a single episode of the series but Robyn Althasen already appeared to have made her mark on Marbella.
Posing for pictures in a one-piece bandeau grey swimsuit that's accessorized with dark sunglasses, she already looks like a budding star. She's best friends with Imogene Leaver and the rest of the TOWIE ladies so get ready to enjoy tons of bikini fun from these hotties who love to hang out by the beach in skimpy bikinis. It's perfect!
Ok, dudes and dudettes, it's time for me and my buddies to jet set out and about town so we can start inviting ladies over to our place for a big party that we're going to have this weekend. I'm in charge of the food but since it's going to have a bikini theme, I most likely will just have carrots and celery sticks because I know how ladies like to look their best. I will let you all know how it turned out. Until next time, remember NO STRAYS and PEACE!!
---
July 3rd, 2014 by
Lance Butts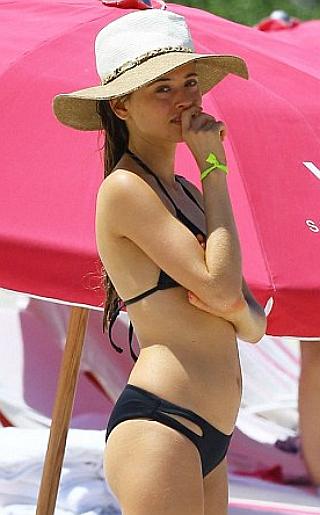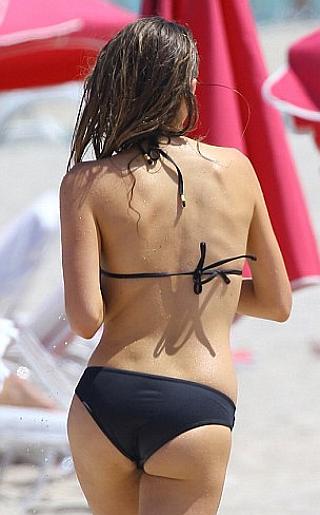 When you have a famous celebrity boyfriend like Ryan Phillippe (starred in movie Cruel Intentions), sooner or later you're going to get noticed.
That's the case with 22 yr old Paulina Slagter.
Toned and tanned: Paulina showcased her incredible bikini body in a black two-piece, while sheltering her face from the sun with a wide-brimmed straw hat.
We're keeping out eyes and ears open to see where this romance goes but it's rumored that they are a tight item. "Hi 5 Ryan!"
---
July 2nd, 2014 by
Lance Butts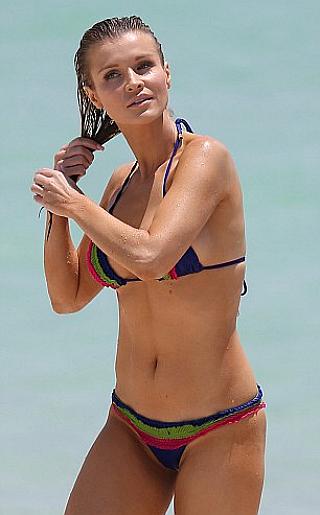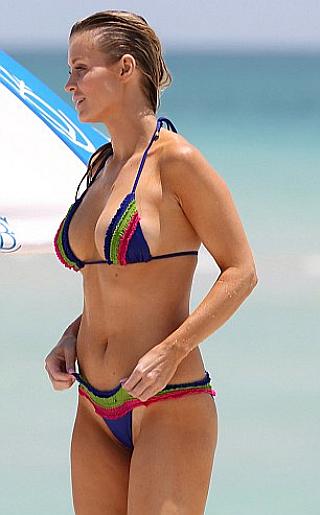 Joanna Krupa's TV show, The Real Housewives Of Miami, allegedly has been cancelled.
However, Joanna Krupa isn't letting the news get her down.
The reality star showed off her toned physique in a skimpy blue, pink and green bikini as she enjoyed a dip oceanside in Miami.
With a body like that, I don't think she'll have any problem getting another show or gig. Do you? Hubba Hubba!
---
July 1st, 2014 by
Lance Butts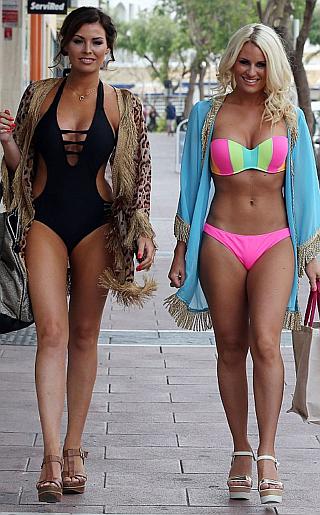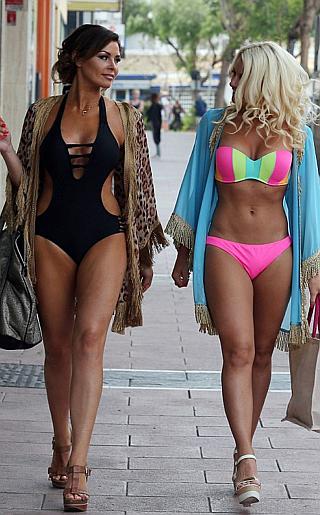 They say that beautiful friends hang together and it must be true because TOWIE's (The Only Way is Essex) stars – Jessica Wright and Danielle Armstrong are strolling along the avenue in sexy bikinis and looking super duper hot!
Raven haired Jessica Wright stuns us in a black monokini that she accessorizes with an oversized bronzed handbag, animal print jacket shawl drape, and wedge heels.
Bleach blonded Danielle Armstrong went for a bolder look in a two-piece neon rainbow bandeau bikini top and neon pink bikini bottoms, paired with a blue jacket, a cream bag and off-white heels.
Both of these ladies look amazing and also expect to see more of them in the weeks to come. How exciting!
---
June 30th, 2014 by
Lance Butts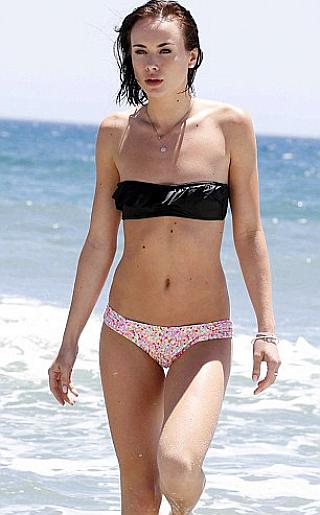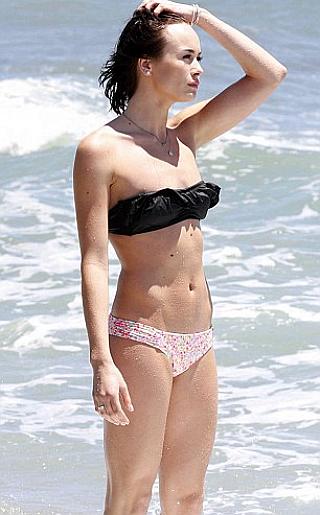 Hey Hey Hey!! Oh yeah, it's the most wonderful, fantastical, fabulous, daring, dynamite and darling Mr. Lance Man hanging out with my "motley crew" of buds, Vinnie Lasagne, Tony Fish and Pauly Meathead in our brand new house! We're living it up like four bachelors and loving every moment. So we're finished with the decorating. We just let Vinnie's sister Agnes handle it since she's an interior designer and now we're ready to invite babes over to party. Our motto is "Bros before H!'s" and we plan on sticking to it so if you wanna hang out with us, get ready to partay!
Alright, let's start out with some newbies this week. Prancing onto the Celebrity Bikini Gossip scene is TOWIE's (The Only Way Is Essex) – Imogene Leaver. You're going to see lots of her in the weeks to come. She loves the beach and wearing bikinis. Imogene Leaver dazzles in a divine two-piece black bandeau bikini top and spicy red and white bikini bottom while splashing oceanside. Loving her short cut and looking forward to more of this beautiful raven haired beauty flaunting svelte slender curves.
---
June 27th, 2014 by
Jenny Bikini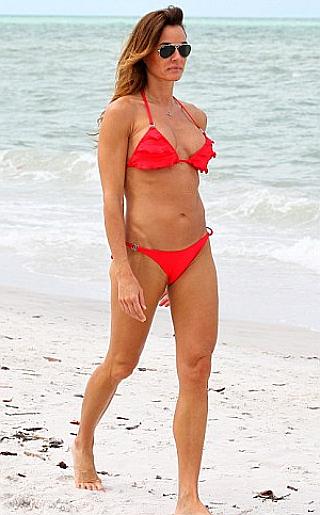 One of the most impressive abs that I've ever seen is the flat tummy on Kelly Bensimon. Her stomach must have a hidden 12-pack. She always looks very svelte. Kelly says 'I eat well and exercise daily!'. She says there's 'no secret' to looking this good at age 45 as she showcases her bikini body in Florida. Uh oh bingo! 45 yrs of age gets her so much attention around here. I think she looks wonderful and it just goes to show that if you take care of your body, it will take care of you. Kelly Bensimon wears a red bikini like it's her skin. I think she should do a workout tape and write a book. I will be one of the first in line to get them. Great going always Kelly!
It's been so wonderful spending time with you this week my Celebrity Bikini Gossip hunnies. I hope that you've enjoyed this week's celebrity bikini showcases because I have had so much pleasure hanging out with you all and am going to miss you terribly. Things around the office are kind of quite since the motley crew of Mr. Lance Butts and his friends have all moved in together. I guess they're too tired from staying up all night long and by the time he gets into the office, he's tuckered out. Yippee!! Ok, my lovelies, always remember to love yourself because JENNY BIKINI LOVES YOU!! Toodles!! Smooches!!
---
June 26th, 2014 by
Jenny Bikini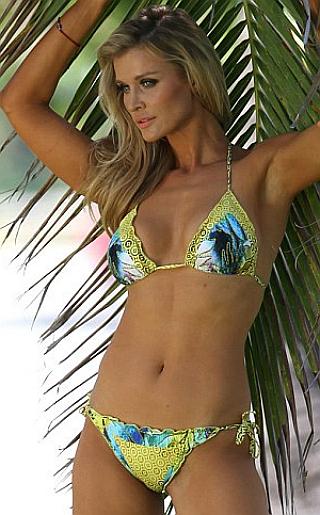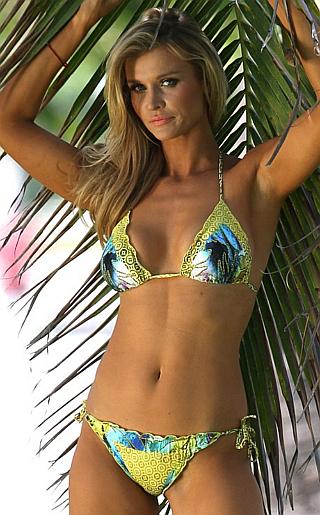 Always looking her best is reality TV star Joanna Krupa looking extra special. She may be a famous reality star but Joanne Krupa is also a stunning model. Recent, the Real Housewives Of Miami star showed the secret to her success during a tropical photo shoot. The 35-year-old star wore a pretty patterned bikini with yellow lace detail. No wonder the guys in the office are hovering over my shoulder. All you have to do around her is mention over 30+ and these guys go crazy for what they call "cougars". Joanna isn't quite a cougar because I think it's closer to 40+ but it doesn't stop them from drooling on the spot over her.
---
June 25th, 2014 by
Jenny Bikini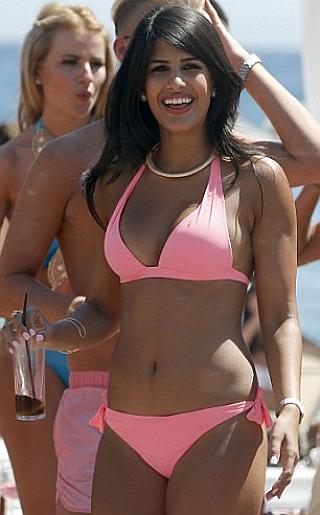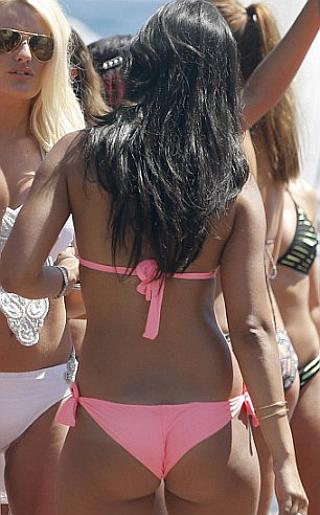 TOWIE's (The Only Way Is Essex) TV show's Jasmine Walia is bursting on the scene and her first time here at Celebrity Bikini Gossip wearing a very alert salmon pink two-piece as she rocked out by the pool. Her eye catching swimwear is very pretty and it matches perfectly with her stunning tan. She accessorized her bikini with a gold necklace, gold watch, gold bracelet and wedge high heels while walking around and frolicking with the other cast members at the event that was going on. The guys in the office are going gaga over her and I can see why. I'm sure you'll see much more of this naturally stunning beauty in the future.
---
June 24th, 2014 by
Jenny Bikini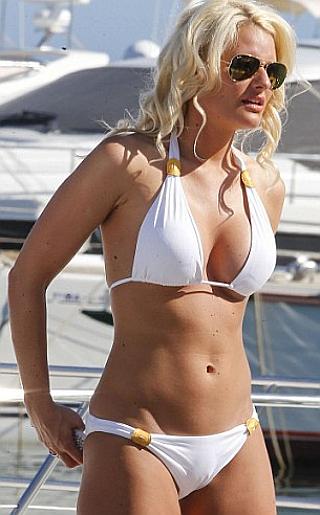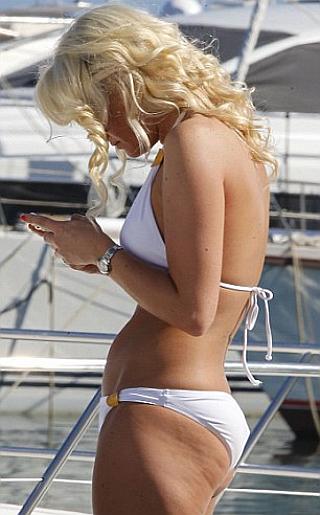 Let's welcome first time to Celebrity Bikini Gossip, Danielle Amstrong. TOWIE's Danielle Armstrong lets it all hang out in a white bikini on cruise holiday in Marbella. The blonde beauty sported a very daring two-piece as she sunned herself on the deck of a private yacht. Accessorizing with a pair of aviator sunglasses, a silver watch and some minimal pink nail-varnish, the reality TV star was clearly body confident as she enjoyed the scorching temperatures. Her Grecian-inspired bikini look was certainly flattering as it featured gold detailing on both pieces. Meanwhile, her hair was worn in a cascade of ringlets, proving that she was keen to make en effort for her Spanish jaunt.
---
June 23rd, 2014 by
Jenny Bikini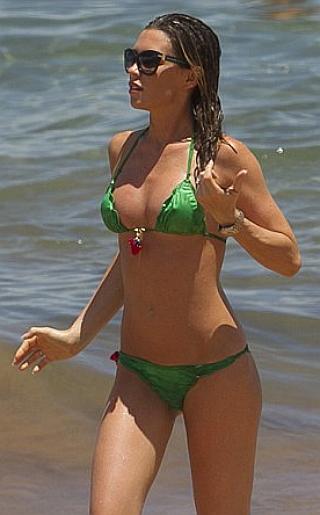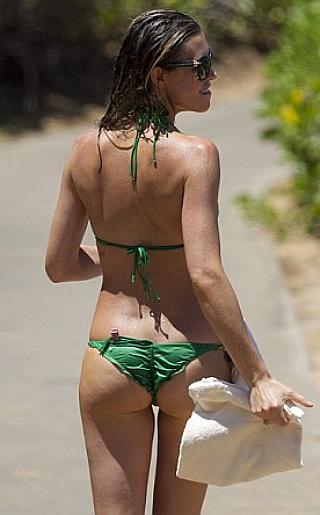 Hello my most delightfully wonderful Celebrity Bikini Gossip babies. Oh how I've missed you so much! It's Mrs. Jenny Bikini, your favorite bikini celebrity reporter and do we have a fantastic week for you! I'm so excited and just want to get started right away.
Back by popular demand is Abbey Clancy who is shaping up nicely! Bikini-clad Abbey Clancy is a vision in green as she parades her taut body on Hawaiian break. She was on form in a stunning forest green bikini that once again gave her the opportunity to flaunt her incredibly toned body.
---