Bikini Pictures
July 4th, 2014 by
Lance Butts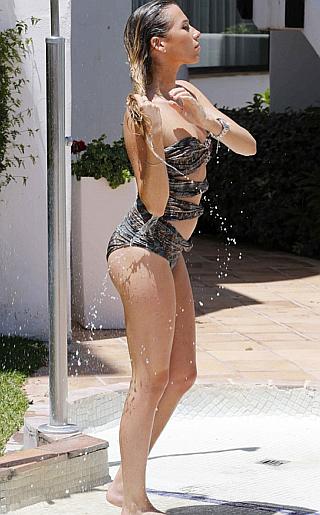 Happy July 4th!!
First timer to Celebrity Bikini Gossip is TOWIE (The Only Way Is Essex) – Robyn Althasen. She is yet to star in a single episode of the series but Robyn Althasen already appeared to have made her mark on Marbella.
Posing for pictures in a one-piece bandeau grey swimsuit that's accessorized with dark sunglasses, she already looks like a budding star. She's best friends with Imogene Leaver and the rest of the TOWIE ladies so get ready to enjoy tons of bikini fun from these hotties who love to hang out by the beach in skimpy bikinis. It's perfect!
Ok, dudes and dudettes, it's time for me and my buddies to jet set out and about town so we can start inviting ladies over to our place for a big party that we're going to have this weekend. I'm in charge of the food but since it's going to have a bikini theme, I most likely will just have carrots and celery sticks because I know how ladies like to look their best. I will let you all know how it turned out. Until next time, remember NO STRAYS and PEACE!!
---
July 3rd, 2014 by
Lance Butts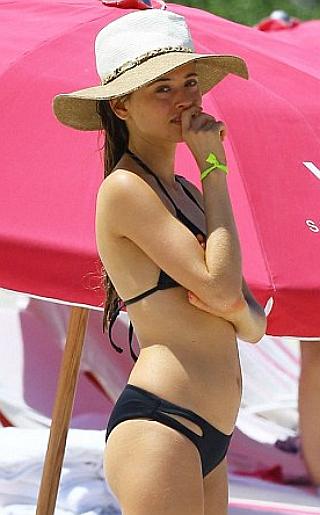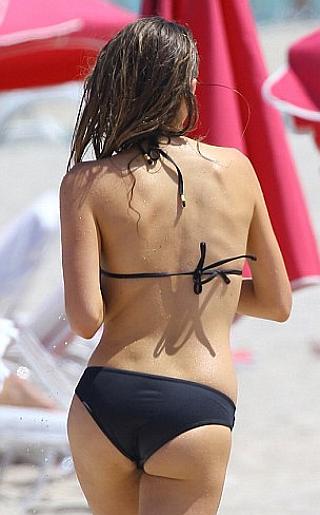 When you have a famous celebrity boyfriend like Ryan Phillippe (starred in movie Cruel Intentions), sooner or later you're going to get noticed.
That's the case with 22 yr old Paulina Slagter.
Toned and tanned: Paulina showcased her incredible bikini body in a black two-piece, while sheltering her face from the sun with a wide-brimmed straw hat.
We're keeping out eyes and ears open to see where this romance goes but it's rumored that they are a tight item. "Hi 5 Ryan!"
---
July 2nd, 2014 by
Lance Butts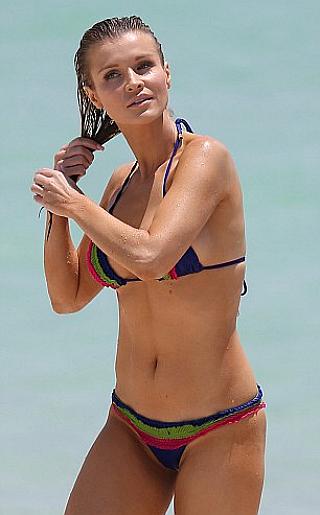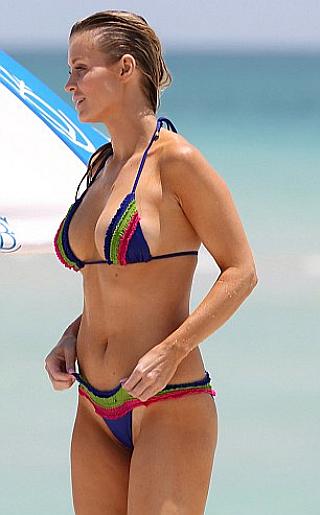 Joanna Krupa's TV show, The Real Housewives Of Miami, allegedly has been cancelled.
However, Joanna Krupa isn't letting the news get her down.
The reality star showed off her toned physique in a skimpy blue, pink and green bikini as she enjoyed a dip oceanside in Miami.
With a body like that, I don't think she'll have any problem getting another show or gig. Do you? Hubba Hubba!
---
July 1st, 2014 by
Lance Butts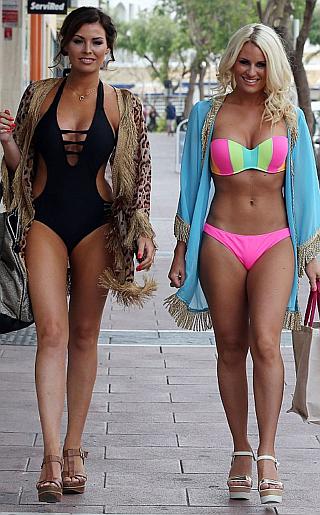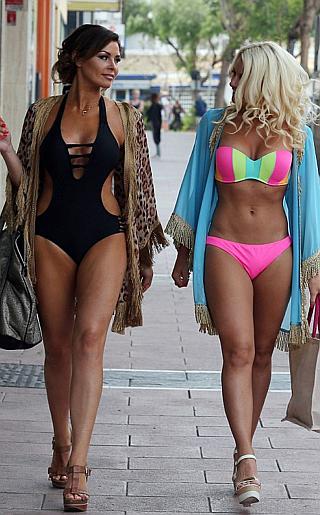 They say that beautiful friends hang together and it must be true because TOWIE's (The Only Way is Essex) stars – Jessica Wright and Danielle Armstrong are strolling along the avenue in sexy bikinis and looking super duper hot!
Raven haired Jessica Wright stuns us in a black monokini that she accessorizes with an oversized bronzed handbag, animal print jacket shawl drape, and wedge heels.
Bleach blonded Danielle Armstrong went for a bolder look in a two-piece neon rainbow bandeau bikini top and neon pink bikini bottoms, paired with a blue jacket, a cream bag and off-white heels.
Both of these ladies look amazing and also expect to see more of them in the weeks to come. How exciting!
---
June 30th, 2014 by
Lance Butts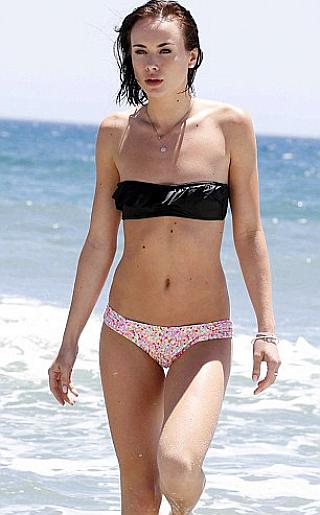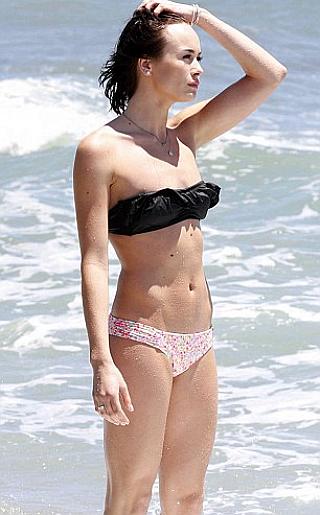 Hey Hey Hey!! Oh yeah, it's the most wonderful, fantastical, fabulous, daring, dynamite and darling Mr. Lance Man hanging out with my "motley crew" of buds, Vinnie Lasagne, Tony Fish and Pauly Meathead in our brand new house! We're living it up like four bachelors and loving every moment. So we're finished with the decorating. We just let Vinnie's sister Agnes handle it since she's an interior designer and now we're ready to invite babes over to party. Our motto is "Bros before H!'s" and we plan on sticking to it so if you wanna hang out with us, get ready to partay!
Alright, let's start out with some newbies this week. Prancing onto the Celebrity Bikini Gossip scene is TOWIE's (The Only Way Is Essex) – Imogene Leaver. You're going to see lots of her in the weeks to come. She loves the beach and wearing bikinis. Imogene Leaver dazzles in a divine two-piece black bandeau bikini top and spicy red and white bikini bottom while splashing oceanside. Loving her short cut and looking forward to more of this beautiful raven haired beauty flaunting svelte slender curves.
---
June 27th, 2014 by
Jenny Bikini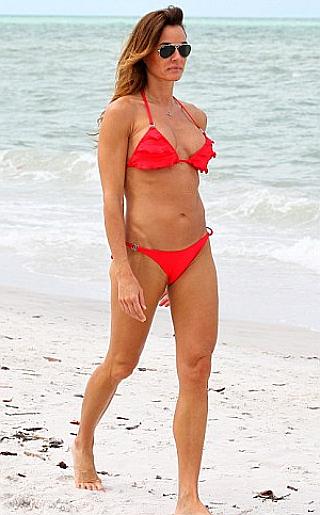 One of the most impressive abs that I've ever seen is the flat tummy on Kelly Bensimon. Her stomach must have a hidden 12-pack. She always looks very svelte. Kelly says 'I eat well and exercise daily!'. She says there's 'no secret' to looking this good at age 45 as she showcases her bikini body in Florida. Uh oh bingo! 45 yrs of age gets her so much attention around here. I think she looks wonderful and it just goes to show that if you take care of your body, it will take care of you. Kelly Bensimon wears a red bikini like it's her skin. I think she should do a workout tape and write a book. I will be one of the first in line to get them. Great going always Kelly!
It's been so wonderful spending time with you this week my Celebrity Bikini Gossip hunnies. I hope that you've enjoyed this week's celebrity bikini showcases because I have had so much pleasure hanging out with you all and am going to miss you terribly. Things around the office are kind of quite since the motley crew of Mr. Lance Butts and his friends have all moved in together. I guess they're too tired from staying up all night long and by the time he gets into the office, he's tuckered out. Yippee!! Ok, my lovelies, always remember to love yourself because JENNY BIKINI LOVES YOU!! Toodles!! Smooches!!
---
June 26th, 2014 by
Jenny Bikini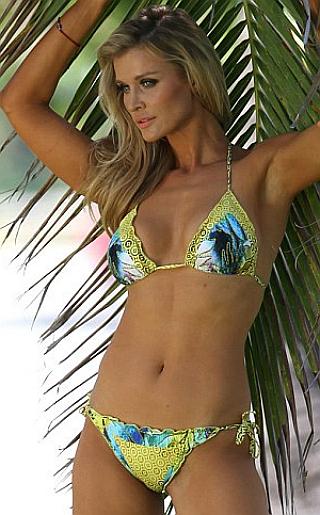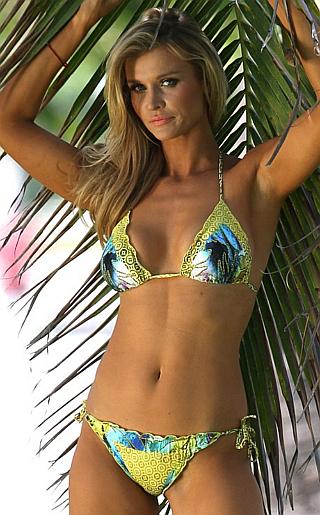 Always looking her best is reality TV star Joanna Krupa looking extra special. She may be a famous reality star but Joanne Krupa is also a stunning model. Recent, the Real Housewives Of Miami star showed the secret to her success during a tropical photo shoot. The 35-year-old star wore a pretty patterned bikini with yellow lace detail. No wonder the guys in the office are hovering over my shoulder. All you have to do around her is mention over 30+ and these guys go crazy for what they call "cougars". Joanna isn't quite a cougar because I think it's closer to 40+ but it doesn't stop them from drooling on the spot over her.
---
June 25th, 2014 by
Jenny Bikini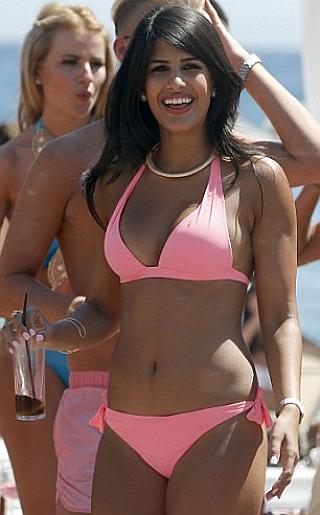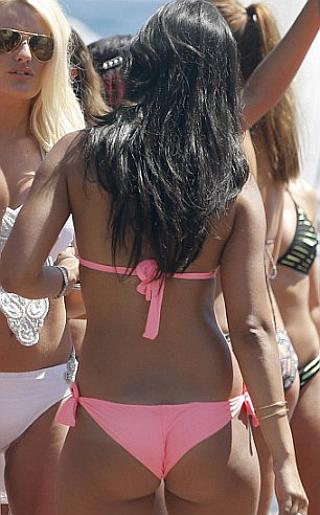 TOWIE's (The Only Way Is Essex) TV show's Jasmine Walia is bursting on the scene and her first time here at Celebrity Bikini Gossip wearing a very alert salmon pink two-piece as she rocked out by the pool. Her eye catching swimwear is very pretty and it matches perfectly with her stunning tan. She accessorized her bikini with a gold necklace, gold watch, gold bracelet and wedge high heels while walking around and frolicking with the other cast members at the event that was going on. The guys in the office are going gaga over her and I can see why. I'm sure you'll see much more of this naturally stunning beauty in the future.
---
June 24th, 2014 by
Jenny Bikini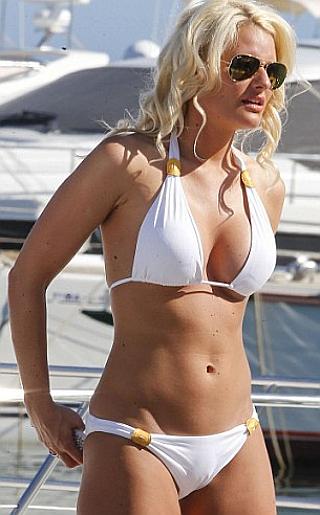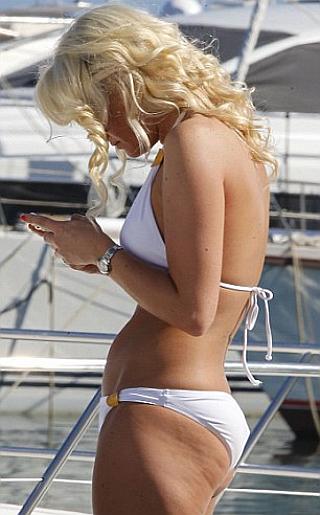 Let's welcome first time to Celebrity Bikini Gossip, Danielle Amstrong. TOWIE's Danielle Armstrong lets it all hang out in a white bikini on cruise holiday in Marbella. The blonde beauty sported a very daring two-piece as she sunned herself on the deck of a private yacht. Accessorizing with a pair of aviator sunglasses, a silver watch and some minimal pink nail-varnish, the reality TV star was clearly body confident as she enjoyed the scorching temperatures. Her Grecian-inspired bikini look was certainly flattering as it featured gold detailing on both pieces. Meanwhile, her hair was worn in a cascade of ringlets, proving that she was keen to make en effort for her Spanish jaunt.
---
June 23rd, 2014 by
Jenny Bikini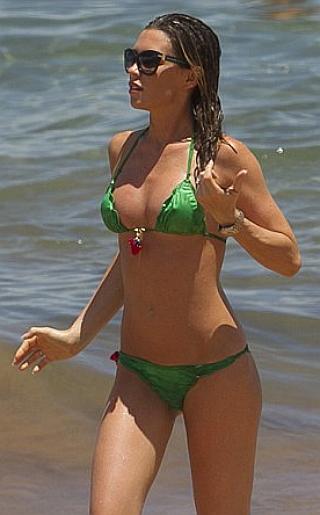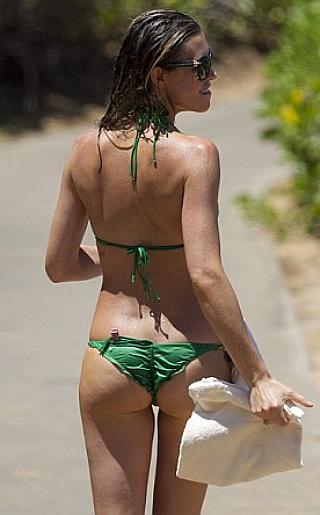 Hello my most delightfully wonderful Celebrity Bikini Gossip babies. Oh how I've missed you so much! It's Mrs. Jenny Bikini, your favorite bikini celebrity reporter and do we have a fantastic week for you! I'm so excited and just want to get started right away.
Back by popular demand is Abbey Clancy who is shaping up nicely! Bikini-clad Abbey Clancy is a vision in green as she parades her taut body on Hawaiian break. She was on form in a stunning forest green bikini that once again gave her the opportunity to flaunt her incredibly toned body.
---
June 20th, 2014 by
Lance Butts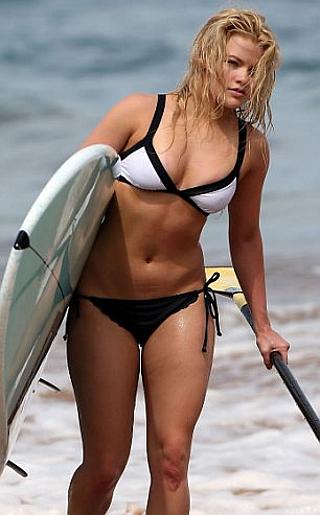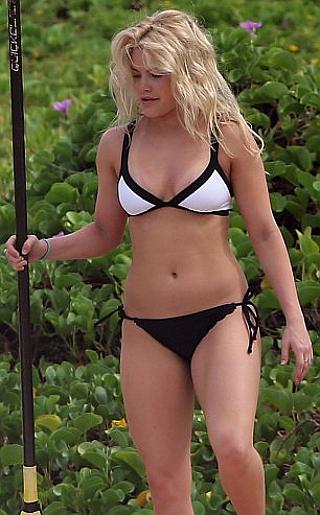 Finishing off this week just right is another newbie to Celebrity Bikini Gossip and that's Dancing with the Stars Pro Witney Carson.
Witney looked stunning in her simple black and white two-piece bikini. Looks like she's a paddle board lover and it helps to keep that perfect dancer's body in wonderful shape.
That day she was hanging out with fellow DWTS professional Lindsay Arnold. It's like that say that the pretty girls hang out together and this is true.
Alright, dudes and dudettes, it's time to pass you over to Mrs. Jenny Bikini. I have to run out and meet with the new furniture guys that are delivering soft leather couches to our new place. Plus, I'm having my bedroom equipped with a red leather sofa because the ladies love red. I have the biggest bedroom with a walk-in closet and my own bathroom so it's extra groovy. It's so much fun because we take turns cooking and cleaning up the place. We all get along and it's like a big fraternity. So far, no strays and that's the way we like it. Although I can see that Vinnie Lasagne is getting weak. He's already talking about inviting over his ex-girlfriend. Ugh, she is a pest but has pretty girlfriends so we don't mind as long as she brings over one of her cute girlfriends with her. Anyways, remember, to take good care of yourself and look after your buds! PEACE!
---
June 19th, 2014 by
Lance Butts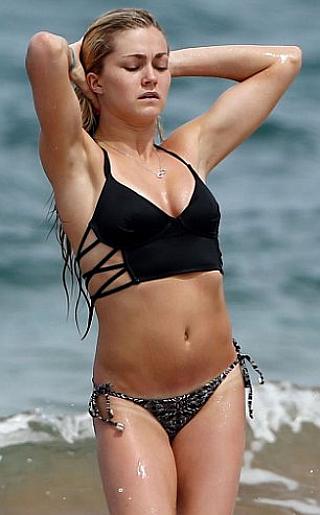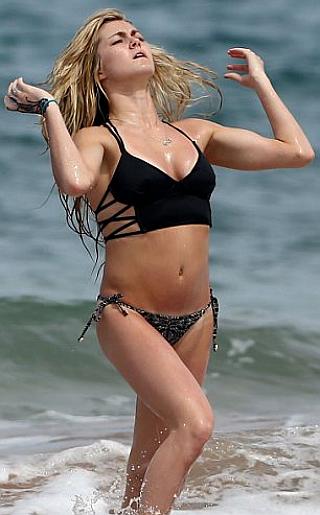 Brand new to Celebrity Bikini Gossip is Dancing With The Stars pro Lindsay Arnold (age 20).
Lindsay splashed around in the ocean waters and wore a black cut-out bikini top with printed monochrome bottoms.
Her bottoms that were so tiny that her impressive tan lines were clearly visible underneath. That's how it goes when you have a perfect dancer's body. That day she was hanging out with fellow DWTS professional Witney Carson who's dancing physique is just as impressive.
---
June 18th, 2014 by
Lance Butts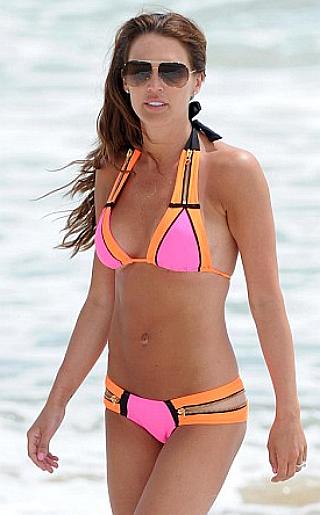 She has made no secret of the fact she has been working out a lot recently.
So it's no surprise that Danielle Lloyd was keen to show off the results of all her hard work during her recent holiday in Portugal.
The mother-of-three looked sensational wearing an orange and pink two-piece featuring unfastened zips around her bikini bottoms.
---
June 17th, 2014 by
Lance Butts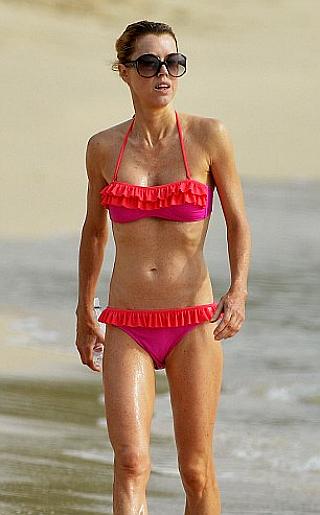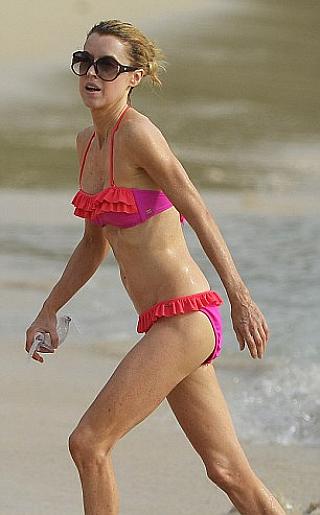 First time to Celebrity Bikini Gossip is the wife of Phil Neville (BBC Commentator) – Julie Neville.
Having fun in the sun, Julie showed off her enviable figure in her pink and red ruffled bikini.
The family has been enjoying a scenic holiday on the West Indian isle with their two children, Isabella and Harvey.
---
June 16th, 2014 by
Lance Butts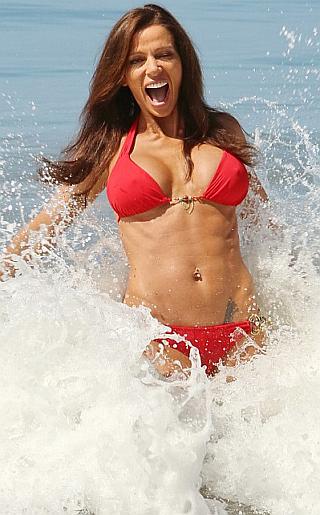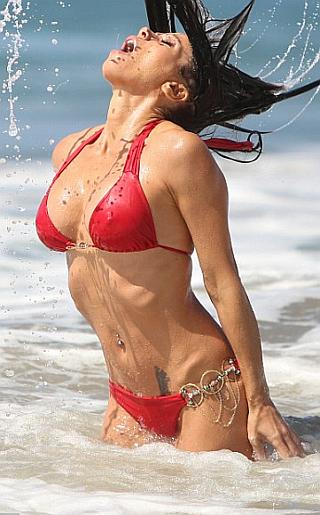 Hey Hey Hey!! Oh yeah, it's the wonderful Mrs. Lance Butts. Leader of the "motley crew" called The Man Cavers. Yes! The move is official and my buddies Vinnie Lasagne, Tony Fish and Pauly Meathead and I have moved in together in a 6 bedroom home in Florida. We're loving every moment and as soon as we "tighten up" some of the loose ends we are going to have the party of the century. We have already set rules and you know what the #1 rule is "Never bring home any strays!!" LOL! We're going to have the time of our lives! So stay tuned!
Ok, let's start this week off with a newbie to Celebrity Bikini Gossip. She was recently fired from the show Real Housewives Of Beverly Hills.
But it doesn't look as though Carlton Gebbia, 40, is letting the news get her down.
On Sunday, the mother-of-three proved that she's not just a washed-up reality star as she showed off her trim and toned physique in a bright red bikini on a beach in Malibu. It sure looks like she enjoys splashing around in the waves. I love cougars and I plan on putting her on the top notch of my radar. Hmmmm…maybe I'll invite her over for a few drinks. Just as friends, you know.
---