Bikini Pictures
March 27th, 2014 by
Lance Butts
Alessandra Ambrosio and Behati Prinsloo look heavenly as they show off their toned stomachs in new Victoria's Secret swimwear. Summer has yet to arrive, but these Victoria's Secret models are still raising temperatures. Alessandra Ambrosio and Behati Prinsloo stripped down to show off the lingerie brand's 2014 Swim Collection at The London Hotel in West Hollywood on Tuesday. Alessandra, 32, displayed her sculpted physique in a white halter-style bikini that featured vivid pink and yellow accents. The tiny two-piece was also accented with a delicate belly chain. But the Brazilian bombshell left a little to imagination by wearing a white mesh cover-up. Meanwhile, Behati, 24, modelled some of the clothing featured in the new VS collection. Very nice all the way.
---
March 26th, 2014 by
Lance Butts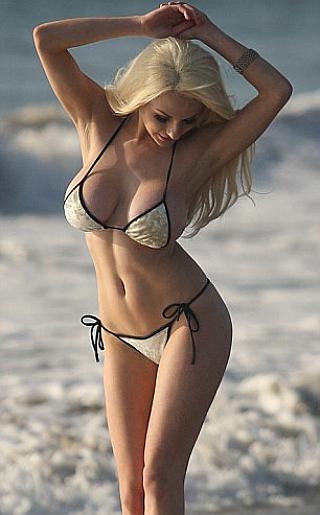 Vivacious and energetic Courtney Stodden strolls along the beach leaving the stripper heels at home. She was seen performing cartwheels on the beach, before making a call on her pink cell phone. But it appeared Courtney, who underwent a breast augmentation last year, could perhaps do with investing in a new bikini. Her gold two-piece looked slightly too small for the blonde. But that didn't worry Courtney. Carefree she skipped, jumped and threw herself in the air, high above the sandy surface. The newly single reality star allowed her bleached locks tumble down around her shoulders in a breezy side parting. Oh it must be so nice to be young and free. Her divorce still isn't final though.
---
March 25th, 2014 by
Lance Butts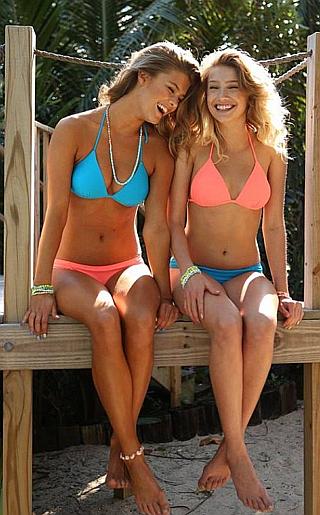 Oh yeah, it feels like it's my birthday! Check out supermodels Nina Agdal (in blue bikini top) and Cailin Russo (in orange bikini top) hanging out on a photo shoot. The 21-year-old Sports Illustrated Swimsuit beauty can certainly turn up the heat all by herself but in this case it didn't hurt to have a partner in 19-year-old Cailin. The girls are wearing complimentary bikinis which show very well. Don't you wish you were at least a fly or frog or something on the set?
---
March 24th, 2014 by
Lance Butts
Hey Hey Hey, oh yeah!!! It's me Mr. Lance Man back from a non-victorious weekend with my buddies Tony Fish, Vinnie Lasagne and Pauly Meathead. I love my buds and they love me! Real mean know how to love! Ok, so we hung out locally and were bored to death so his coming week we are surely going to plan a hot trip some place where there are plenty of single babes around. We're too young and handsome to let all of this go to waste.
I'm so excited about this week's posts because I have all hot babes! Starting off with Lithuanian beauty Deimante Guobyte. Now that's a mouthful right? She's the girlfriend of singer Maxwell (age 40) and he's a lucky dude because she's in her 20′s. They were out and about at the beach and he was snapping pictures of her wearing this sexy blue bikini number. We don't care about him so he's not pictured. We just hope to see much more of her! It's not like she's a household name or anything but she's really fine, right fellas?
---
March 21st, 2014 by
Jenny Bikini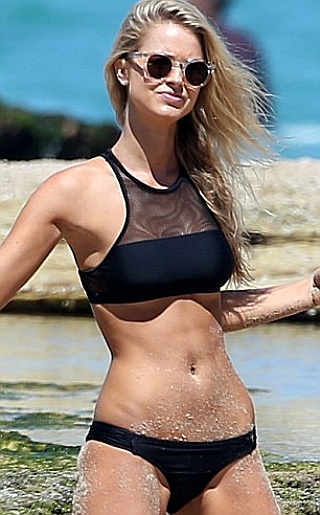 Back by popular demand is the totally stunning Renae Ayris looking super delightful in a black sheer two-piece bikini that shows off her slender figure. When it comes to maintaining her physique, Ayris recently told Popsugar that diet is key. She admitted that snacks are her weakness, but explained that 'I bullet proof my diet by leaning towards healthier options.' 'I love rice paper rolls because they settle my hunger between main meals and workouts. They're also great when you're on the go.' She's also a big fan of sipping coconut water between meals, calling it 'nature's own sports drink'. Take note ladies because if it works for her then it's worth a try! Oh I just love the look on the guy's faces in the office who wish they were posting her pictures!
Ok, my lovelies, it's time to pass you over to Mr. Lance Butts and his "pretend" co-worker dudes who follow him around all of the time. They even dress alike and that's weird. Sometimes one of them gives me weird looks but I try to ignore it because I realize that they are special. So remember to take good care of yourselves because you matter to me. Please always know that Jenny Bikini LOVES YOU!! Smooches!! Toodles!!!
---
March 20th, 2014 by
Jenny Bikini
No wonder she won Miss Universe Australia! Bikini-clad Renae Ayris blazes up Mackenzie's Beach during VERY sexy swimsuit shoot. Last week she was seen working out with her trainer in Sydney.
And on Tuesday Renae Ayris, 23, showed off the fruits of her labour as she had her stunning beach body on full display during a swimsuit shoot. The 2012 Miss Universe Australia winner was on location at MacKenzie's Beach sporting a colorful blue and black bandeau bikini top and black bikini bottoms looking just as breathtaking as she did walking down the Miss Universe runway.
---
March 19th, 2014 by
Jenny Bikini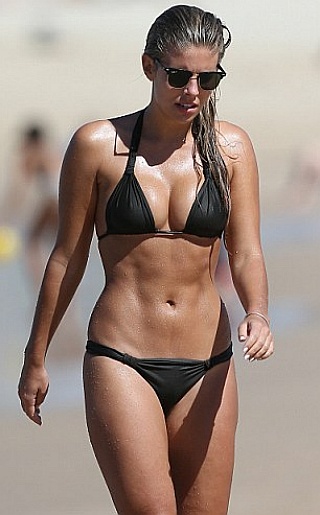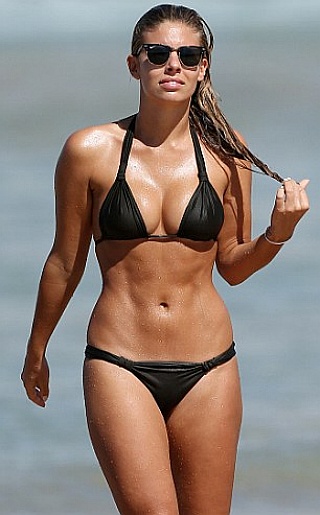 Australian swimsuit model Natasha Oakley shows off her bikini for the day on Sydney's Bondi Beach. Natasha Oakley has more than 400,000 Instagram followers – and with good reason. The twenty-something Australian model and blogger showed off her impressive bikini body as she enjoyed a sunbake and swim at Sydney's famous Bondi Beach this week. Oakley is one of the incredible bodies behind the hugely popular Instagram account A Bikini A Day which she shares with fellow model Devin Brugman. The guys in the office are so jealous that I got to post her pictures in this sexy black bikini. They're all drooling.
---
March 18th, 2014 by
Jenny Bikini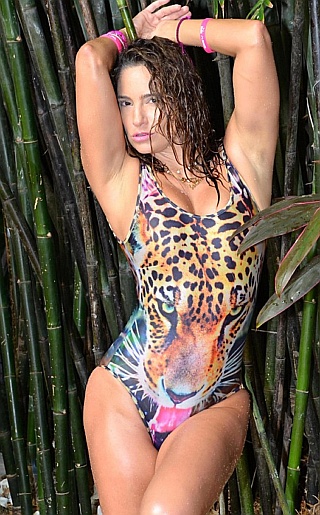 Jennifer Nicole Lee opts for animal magic as she shows off gym-honed figure in a fun tiger-print one-piece poolside in Miami. She's a celebrity fitness guru who has carved out a name for herself after shedding an impressive 70lbs following the birth of her two children back in 2006. Jennifer Nicole Lee showcased the fruits of her labor as she hit the pool in Miami, Florida, for a sexy swimsuit shoot on Monday. Looking every inch the wild thing as she posed up a storm poolside, the 38-year-old workout guru put her gym-honed physique on display in a fun tiger-print one-piece. 38? Wow!
---
March 17th, 2014 by
Jenny Bikini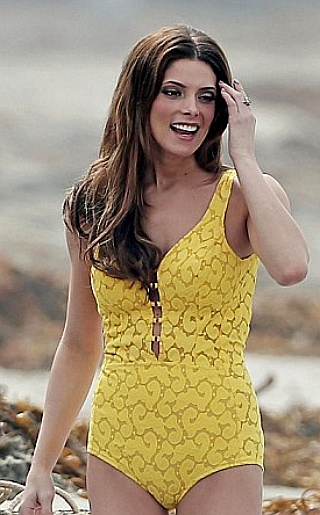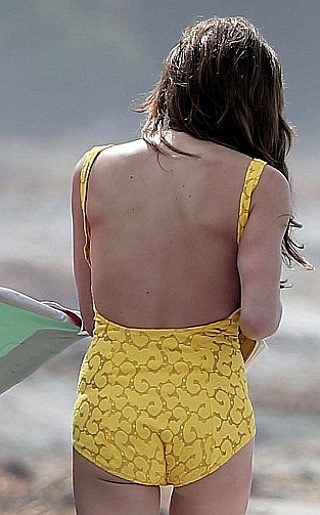 Hello my most beautiful Celebrity Bikini Gossip babies!! It's me Mrs. Jenny Bikini back from a wonderful week with my hubby Gerald. We're so in love and I'm so giddy. We basically just love sitting back on any night and taking in a good movie on TV with popcorn and just snuggling up to each other tight. That's love. I wish you all could experience this kind of love at least once in your life. Alright!!!
Let's start this week off with one of my favorite American actresses Miss Ashley Greene. You may know her from the Twilight movies but she is a great actress and is currently filming a movie about Elvis and she plays Priscilla Presley. She's a dead ringer for her right? I'm loving the yellow swimsuit that's set back in the 1970′s. Also loving the hair! Really looking forward to seeing this movie.
---
March 14th, 2014 by
Lance Butts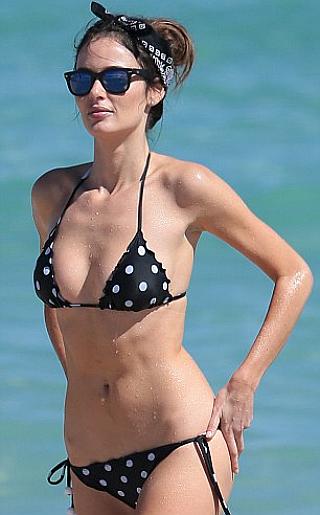 Hanging out at the ocean is super sexy Nicole Trunfio sporting a black and white polka dot bikini. You can never go wrong with polka dots! They're my favorite in any color. She's fashioning her look with dark blue sunglasses and a smart black and white bandana which totally shows off her sense of style. Nicole's body frame is petite and slender and she looks like she's that way naturally without all that dieting. I like a girl who loves to eat and she looks like, given the chance, she could put it away! Keep up the great work.
Alright, dudes and dudettes, it's time to pass you over to Mrs. Jenny Bikini. The way she looks at me and my buddies Tony Fish, Vinnie Lasagne and Pauly Meathead sometimes scares me. She just sits there and stares. I've read some of her posts and she thinks that we're lazy but that's not true. We're just young and free and I think she's secretly jealous and wants to get with me or Pauly. Of course she will never admit it because she doesn't want to piss off her hubby, Gerald, or whatever. I have nothing against him but she's a trip. Ok, remember to never bring home any strays (especially ones named Misha, unless that's what you like..lol) and PEACE!!
---
March 13th, 2014 by
Lance Butts
She has been working hard shooting her new calendar in Miami. But Kelly Brook took time out to frolic around with her new boyfriend David McIntosh in the Florida sea on Monday. The brunette stunner showed off her ample assets in a black and white striped bikini as she played around in the ocean with the former Gladiator. She's looking very curvy these days and that's totally impressive.
---
March 12th, 2014 by
Lance Butts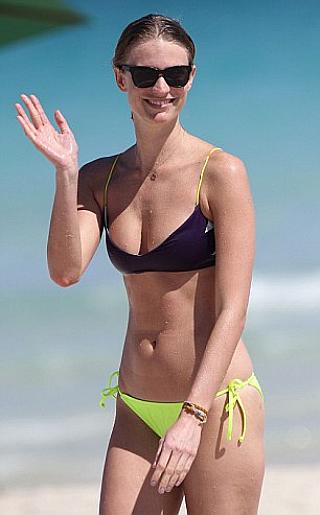 Sports Illustrated model Julie Henderson shows off enviable frame in skimpy bikini as she frolics with boyfriend in Miami. He's not pictured because we're not interested in looking at some bulky dude. She made a name for herself as a Sports Illustrated swimsuit model. Julie Henderson certainly heated things up with her bikini body in Miami on Saturday. The Texas native, who turns 28 on Wednesday, slipped into a skimpy two-piece as she frolicked in the ocean. Julie wore string neon bottoms and a low-cut purple bikini top, and wore her blonde hair in loose waves. Nice match.
---
March 11th, 2014 by
Lance Butts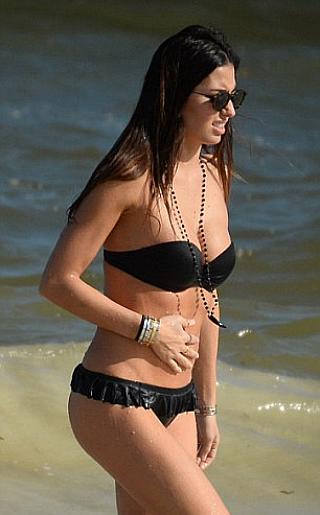 Flavio Briatore and his model wife Elisabetta Gregoraci are spending the holidays along the coast in Malindi, Kenya. Elisabetta wowed in a black two-piece that showed off her fine figure. Her body shape is very slender and I bet Flavio likes that. She knows how to accessorize with a beautiful black necklace and a few bangles. During her beach walk, Elisabetta wore her long dark hair down and even topped her look off with dark sunglasses that gave her the ultimate Hollywood look. What a lucky guy.
---
March 10th, 2014 by
Lance Butts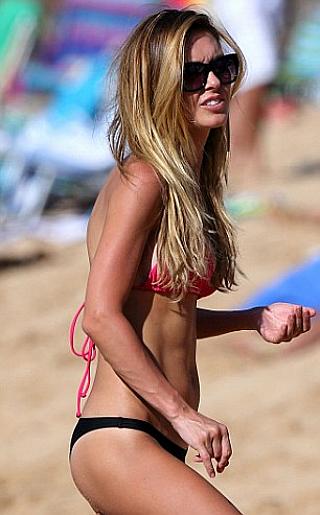 Hey Hey Hey!! Yeah it's the hottest and coolest Mr. Lance Man back from an awesome weekend with my buddies Tony Fish, Vinnie Lasagne and Pauly Meathead. I love my buds! So yeah, we're hanging out at this club in Orlando, Florida and I meet the most beautiful woman and she says her name is Misha. She's part Asian/Italian/Greek so you know she's hot right? Well turns out that Misha was a guy! I normally can figure out that sort of thing but not this time. Oh well, I eventually would have figured it out because she/he had the biggest adam's apple I'd ever seen. Still a nice person and glad that she/he was up front and honest before I gave her/him my number. Oh well, better luck next time. Vinnie still doesn't know. lol
Ok, let's start this week off with hot pictures of reality TV star Audrina Patridge out and about beachside wearing a lovely pink bikini top and black bikini bottoms. In one photo her hair is wet and pulled back and in the other photo her hair is flowing freely so there must have been some time lapse in between the pictures. Hopefully she's working on a new show because she's one of the few that I actually thought had some talent outside of just sitting around and talking about doing her nails.
---
March 7th, 2014 by
Jenny Bikini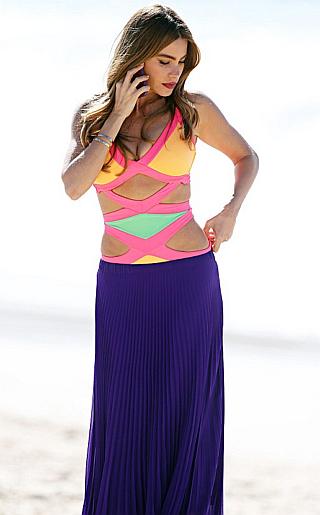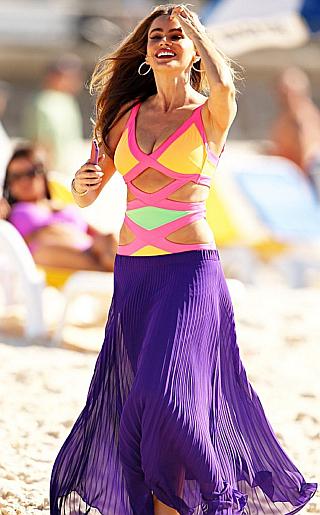 Sofia Vergara gave the Bondi babes a run for their money as she hit the famous Australian beach in Sydney on Friday morning. The stunning Colombian star certainly stood out on the sand as she flaunted her famous curves in a revealing Agent Provocateur swimsuit while she and her fellow Modern Family cast members filmed scenes for the show. The 41-year-old's swimming costume featured several colourful cut out panels, making it a little tricky for the actress to avoid pesky tan lines. I love her sense of style and the way she matched the bathing suit and the long purple skirt…very fashionable. Plus her bright smile adds lovely character. Love her show.
Ok, my lovely babies, it's time to hand you gently over to Mrs. Lance Butts who is always zooming around the globe with his motley crew of misfits who can't seem to hold down jobs but manages to spend money travelling everywhere. I guess their parents don't mind giving money to grown men who are able to work but would rather just gawk at girls. Anyways, I'm so glad my hubby, Gerald, is such a gentleman. Now remember to take good care of yourself and to love yourself because Jenny Bikini LOVES YOU!! So until next time Toodles!! Smooches!!!
---