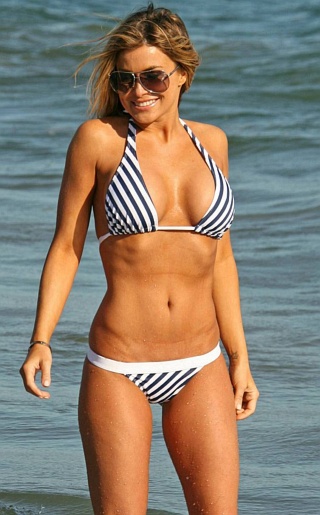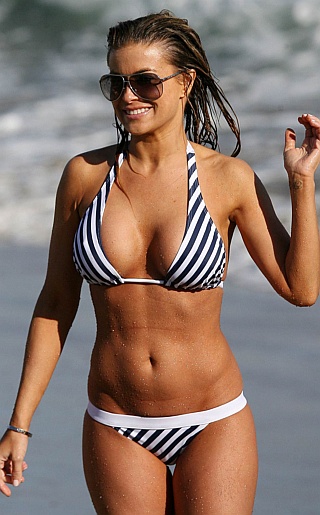 Still looking hot as ever is the super hot Carmen Electra. I remember when she was on MTV, I was so in love with her. She still looks hot after all these years, I wonder what her secret is.
I mean, I know she had to have had some botox done but it doesn't look like she over did it, which is good for her. So many female celebs look like bass fish and swollen blowup dolls from all those botox treatments.
Carmen still looks natural and her body is awesome! Keep up the great work Carmen and hope to see you on tv doing something to show off that hot bikini body soon babe.
Ok, it's time for the Lance Man to hand over the torch to the always "perky" Jenny Bikini. But first, let me tell you about my weekend with the blonde bombshell twins Barbie and Bambi. Yeah, they came over to my place and I had the time of my life! They did like this little acting skit for me where they had a cat fight over me covered in whipped cream. It was soooo much fun. They're both very beautiful and I can't make up my mind which one I like more. They seem to want to share me but I remember an episode of Tales from the Crypt where Joe Pesci was dating twins and they cut him in half so they could share him. These girls seem kinda freaky like those chicks were on that show. Hmmmm…I need to think about this…Well, take care of yourselves and I'll keep you posted on my life with the twins! PEACE!
Photo Credit: TV Shark